SHELDON—The ball is rolling for a soccer program at Northwest Iowa Community College after its board of trustees unanimously approved a sharing agreement with the Sheldon School District for a new turf field.
Donors are aligned and everything is moving onside for the Sheldon two-year institution's second varsity sport after adding a shooting team in the spring 2019.
NCC president John Hartog led a discussion on the probable program at the Sept. 21 board meeting. He stressed that he was not looking for approval of a soccer program. Instead, he wanted the board's blessing for a public-entity agreement with the Sheldon School District, known as a 28E agreement.
"The decision before you to­­day is not a decision regarding soccer per se, but it is soccer that brings about this decision that we present to you for your consideration," Hartog told the trustees.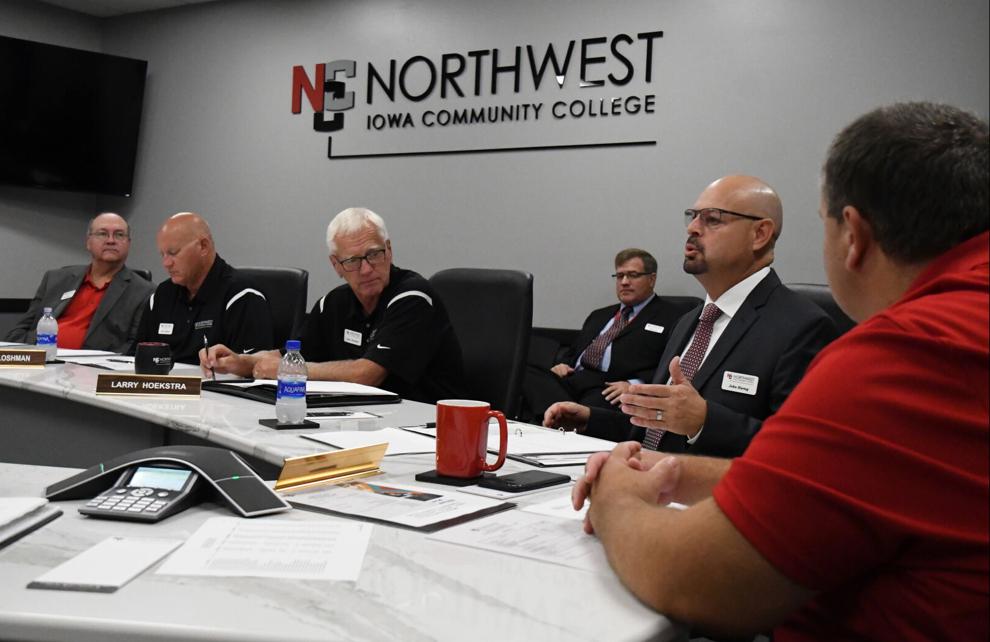 The pitch still centered around the sport, though.
Rumblings of Thunder soccer have rolled through the NCC administration for years. President emeritus Alethea Stubbe told The REVIEW it was one of the few things she wished she had accomplished but did not during her time at the helm.
Her successor said the pieces are finally coming together. Just days after the board meeting, Sanford Health and Premier Communications donated $150,000 and $50,000, respectively, to the turf field. On Oct. 5, Citizens State Bank also announced a $50,000 contribution.
Hartog mentioned perennial themes of the community college, synergy and partnership, as key reasons for NCC to get on board. The field would give the college access to a high-quality game and practice field, lockers rooms and more.
The entire facility is projected to cost $1.5 million, which includes a turf field and a new scoreboard at the Sheldon High School complex. NCC's part of the bill would be $325,000, which Hartog said is "obviously less" than if the college were to decide to go it alone. About $1.1 million needed for the project already is raised, which includes NCC's share.
"Really, from the college's perspective, it would be a benefit to enter into that partnership," he said.
Construction is slated to be­­gin in the spring and be ready for Sheldon High School football game day by fall 2022. NCC would likely take at least one academic year after that and start playing in 2023 or 2024.
Trustees raised questions about cohabitation logistics with the school district, such as what would happen if there were scheduling conflicts.
Booking problems should be minimal since collegiate soccer is a fall sport while the high school soccer season kicks off in the spring. Concurrent kickoff times also won't be an issue; most college soccer matches are played on Wednesdays and Saturdays, not interfering with Friday night high school football.
Hartog explained that many postsecondary athletic departments — especially ones near NCC's size and location — have similar sharing agreements with their local school districts.
Program details are still forthcoming, Hartog said. He said the college would like to have men's and women's teams and use the sport as a way to recruit future students and promote a collegiate atmosphere at the two-year school.
"Part of the mission of a comprehensive community college is the further development of the individual, and part of that maturation process has to do with relationship building and the physicality of the body," Hartog said. "That goal in recruitment goes also in hand with the fulfillment of our mission to enhance the collegiate experience."
The president reiterated that the day's decision was only about sharing the field, but said he is eager for it means for the future.
"We're not asking for a document to be inked today, but we are asking for you to please let it be known that the college is delighted to be partnered with the local school on this exciting, gratifying endeavor," he said.
The board approved the 28E agreement 7-0.
"NCC, as everyone knows, has a long and successful track record of making good things happen with limited resources," Hartog said. "That model is guiding us, not just in this relationship and partnership, but in all that we do."