HOSPERS—Seeing students become better readers is what Michelle TeGrootenhuis enjoys most about her role as the K-8 literacy instructional coach for the MOC-Floyd Valley School District.
Her commitment to the position caught the eye of her peers and eventually the Iowa Reading Association, which honored her as the 2021 Iowa Reading Teacher of the Year.
"It's quite an honor to still be recognized as a teacher, even though I'm officially an instructional coach," said TeGrootenhuis, who taught for 20 years in the district before becoming an instructional coach in 2015. "That was really neat and special."
The longtime educator's name was first put forward for consideration through the Northwest Iowa Reading Council before then being chosen by the statewide association.
No two days are alike for TeGrootenhuis, who works at Hospers Elementary and MOC-Floyd Valley Middle School in Alton. She spends the majority of her time working with teachers.
"In that work, I am either behind the scenes doing some research for them or creating materials," she said. "I might be in the classroom, either observing or co-teaching a lesson. Sometimes I lead lessons. We look at student data a lot and are our kids progressing?"
She also works directly with students if they are struggling with reading. She helps them identify where their knowledge gap is — such as word recognition or language comprehension — and works with their teacher to overcome that obstacle.
"Quite often it's a small group and some kind of short 10- to 15-minute intervention every day or every other day, and then sometimes it's a one-on-one, short-term intervention," she said.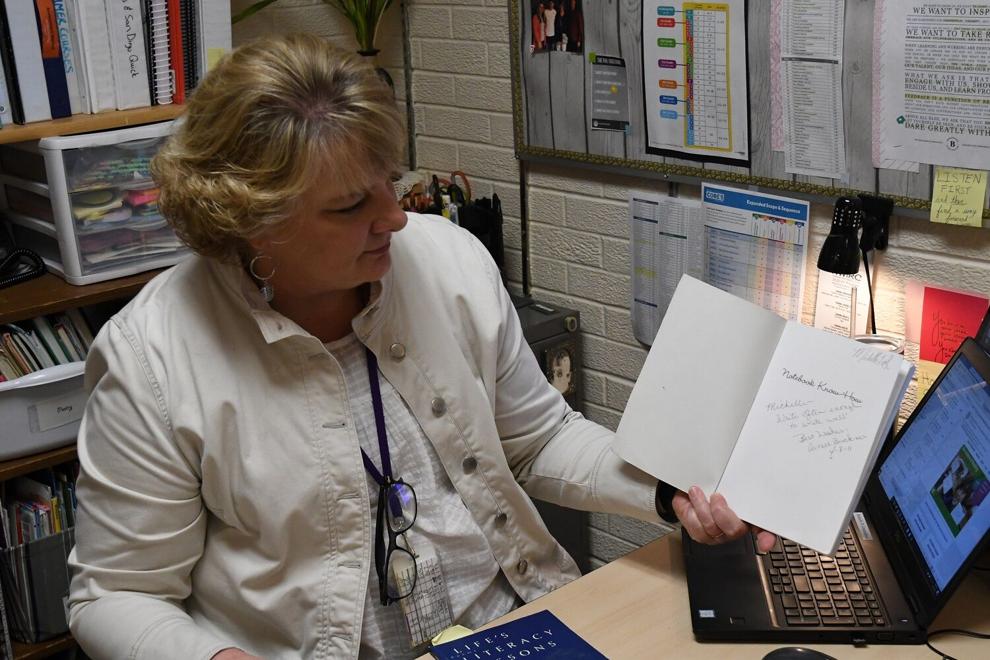 TeGrootenhuis also is involved in developing the reading curriculum for grades K-8. Before becoming the literacy instructional coach, she oversaw the reading curriculum for K-5.
One of the challenges with updating reading curricula through the years has been the cost, especially in instances of reduced education funding.
TeGrootenhuis recalled a time years back when the K-5 reading and writing curriculum slipped away before being re-established about 15 years ago. Within the past five years, the district has pushed to set up a solid phonics curriculum for PK-2, as well as interventions for grades 3-5.
"The curriculum work is a lot of research, which is fun because I like doing that, and then a lot of talking with teachers because they're the ones who ultimately have to put it into practice," TeGrootenhuis said.
She talked about the progress students have made in their reading achievement this academic year, noting reading proficiency was at 74 percent in the fall before jumping to 84 percent in the winter. She anticipates that figure to climb even higher this spring.
"We've really worked our tails off," she said.
Two of the educators who nominated TeGrootenhuis for Iowa Reading Teacher of the Year work in the Sibley-Ocheyedan School District: Julie Schuller and Lindsey Helmers. They know her through the Northwest Iowa Reading Council and from taking summer workshops she leads for teachers in the area.
The other nominators were Laura Heitritter, an education instructor at Northwestern College in Orange City, and Marcia De Graaf, the principal at Hospers Elementary.
"Laura was actually one of my professors during my undergrad years and has been active in the local council, and Marcia has been an advocate for the council, encouraging teachers to join and agreeing to host several sessions over the years here at Hospers," TeGrootenhuis said.
She spoke of her longtime involvement with the regional reading council, which hosts events such as book talks for teachers, reading strategy workshops and guest speakers. The organization also puts on annual poetry and creative writing contests for area students.
TeGrootenhuis also recalled attending the Iowa Reading Association's annual reading conference at Iowa State University in Ames, which it puts on with the Iowa Association of School Librarians.
Going to the event has allowed her to meet and get signed books from authors such as Kwame Alexander, Aimee Buckner, Tim Green, Donalyn Miller and Jerry Pallotta.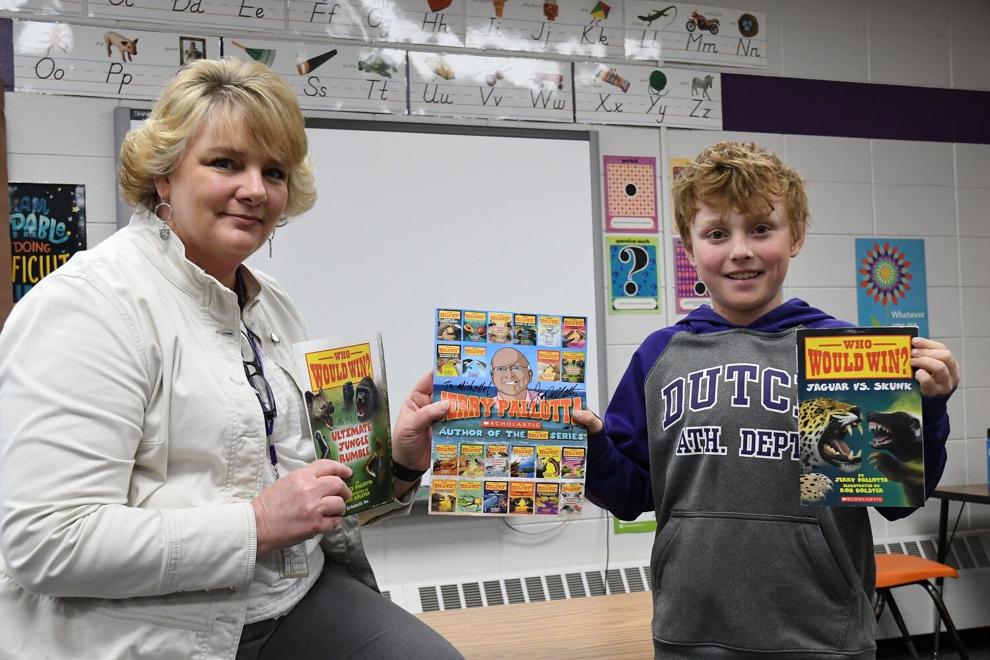 TeGrootenhuis met Pallotta two years ago and said his "Who Would Win?" book series about theoretical animal fights is particularly popular among grades 2-5 in MOC-Floyd Valley. Abe Bunkers, who was a second-grade student in the district at the time, enjoyed the books so much he wrote his own version of a "Who Would Win?" story.
TeGrootenhuis took Bunkers' work with her to the conference and asked Pallotta to sign it, which he did. She then delivered it and other signed books of Pallotta's to Abe that summer.
"That was just so neat for him," TeGrootenhuis said of the student.