SHELDON—The Sheldon High School football field echoed with the sound of music Monday morning but not from high school band marching band rehearsal.
The River City Rhythm Drum & Bugle Corps, which consists of about 80 members, rehearsed its routine 9 a.m.-1 p.m. on Orab Field.
Based out of Minneapolis, the group was preparing for its performance at the Drum Corps International Shoreline Classic competition later that evening at Buena Vista University in Storm Lake.
"These kids commit from November through mid-August," said Sheldon High School band director Cliff St. Clair said. "During the school year, they have monthly rehearsals where they get together for a weekend, learn the basics, rehearse their music so that then when the summer comes around, these kids are literally on the bus from June, all of July and half of August."
St. Clair said there are two corps levels in the Drum Corps International circuits: Open Class and World Class. The River City Rhythm competes in the Open Class, which tends to have corps with fewer people in them.
The members of the corps range in age 14-22. They arrived in Sheldon on Sunday night and slept in the high school gymnasium on cots and air mattresses.
According to the corps' head drum major, 21-year-old Adam Shew of Spirit Lake, sleeping on gym floors is routine during the corps' summer travel season.
"It's a very unique experience," Shew said of the summer season. "It's very demanding, physically and mentally. And as a growing musician, or just as a growing person, it's very, very beneficial to participate. You learn a lot."
Auditions for the River City Rhythm Drum & Bugle Corps begin in November, Shew said, and audition camps are held each month after for prospective members to audition, rehearse and learn more about the corps. From there, the corps selects who will be in the group for the summer.
This year's River City Rhythm ensemble has musicians from 16 states, some who even traveled as far away as Florida, Shew said.
"Last year, we had a number from Australia. The year before that, we had a number from Japan. So really, it attracts people from all over," he said.
The corps has competed in about 15 shows so far with a break in the middle of July to focus on rehearsing, Shew said. At each competition, they receive scores and feedback from eight judges who evaluate their performance based on the music, visual performance and overall effect of their routine. They then use that feedback to improve their routine for the next show.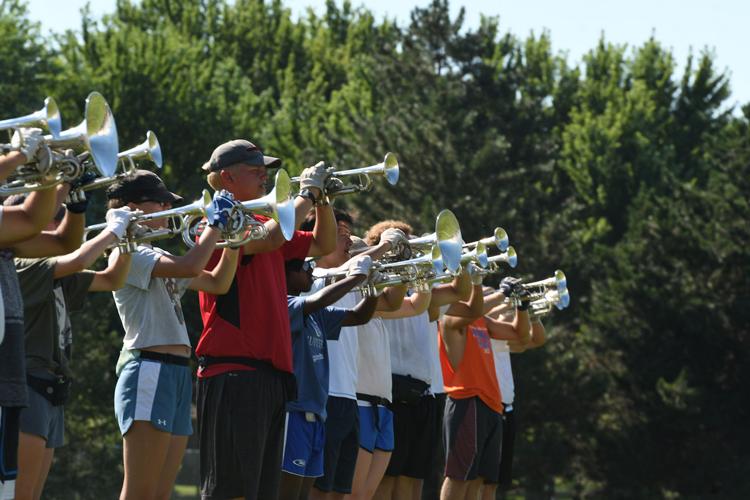 The group's final competition will be the Drum Corps International Open Class World Championships. The preliminaries for that event begin Aug. 5 in Marion, IN.
The River City Rhythm Drum & Bugle Corps is something 23-year-old assistant corps director Spencer Pierson said he is passionate about, having competed as a member in 2016 and 2018.
"I was lucky enough to be asked back to help keep the corps running because it's something I care about," Pierson said.
As an administrative staffer, he said he is responsible for logistics and keeping everyone one track. Meanwhile, the instructional staff give the corps members hands-on musical instruction during rehearsals.
Monday morning also was the first day of the Sheldon High School band camp, which meant the high school marching band members had the opportunity to observe the Drum and Bugle Corps in action.
"When they're right, literally, in our facilities, we can certainly learn from, in terms of how they would run their rehearsals and what they accomplish and how hard they work," St. Clair said. "So this is a perfect opportunity for us to observe a group of the Drum Corps International Drum and Bugle Corps."