MAY CITY—One of the smallest communities in N'West Iowa held its largest annual event on Nov. 14, a tradition that has taken multiple forms in its decadeslong history.
The May City Harvest Festival was held at St. John's Lutheran Church. The three-hour midday event featured a fall-flavored benefit dinner for the congregation's mission fund as well as a charity auction after the meal.
The town get-together has been held in some form since the 1960s, but was canceled last year as fall 2020 was a particularly dire season of the ongoing pandemic.
"We were really busy this year with more than we expected. We had more than we thought. People were generous with their time and their money," Kathi Noble said.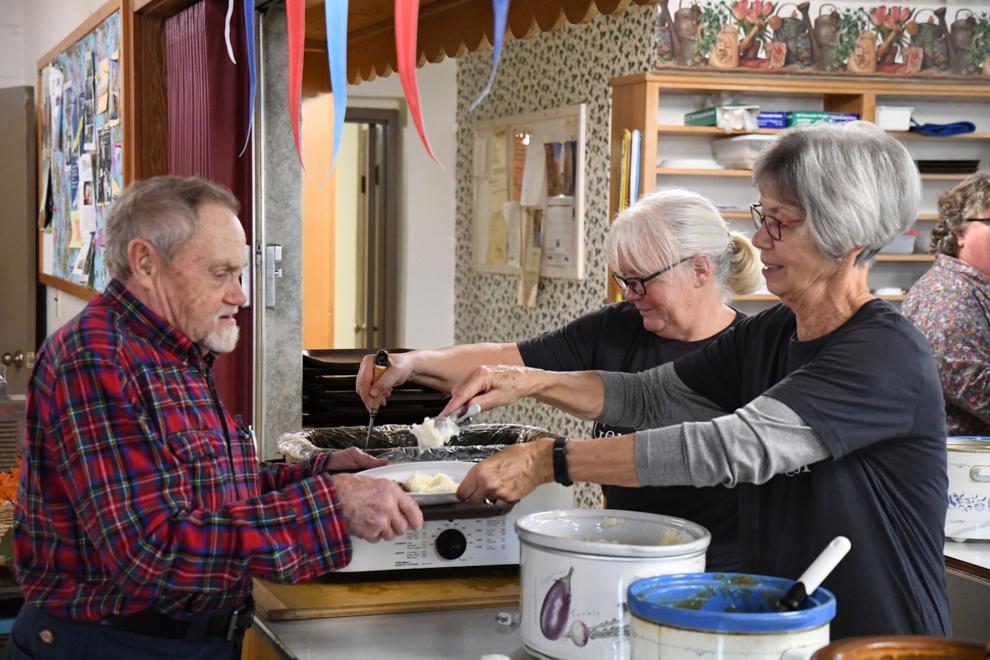 Noble co-chaired the Harvest Festival with Luella Heilman. The duo put together a menu with all the seasonal fixings such as corn and mashed potatoes. This year's meat dish was roast beef.
"We change the menu every year," Noble said. "We might do pork. We might do chicken. We thought despite the rise in beef prices, we were going to serve beef this year."
The return of the church chow down saw 76 plates served plus several of the youngest parishioners, who spent most of their time crawling and drooling throughout the St. John's Lutheran basement.
Noble remembers when the an­­nual fundraiser looked more like its name might suggest.
"It used to be for corn shelling," she said. "They used to bring in their huge piles of corn for shelling, but now it's more of a community event."
That hands-on harvest faded away about a decade ago, but it's not the first time May City's perennial party has been rebranded. The original fundraiser was a bazaar-style gathering with a focus on family fun.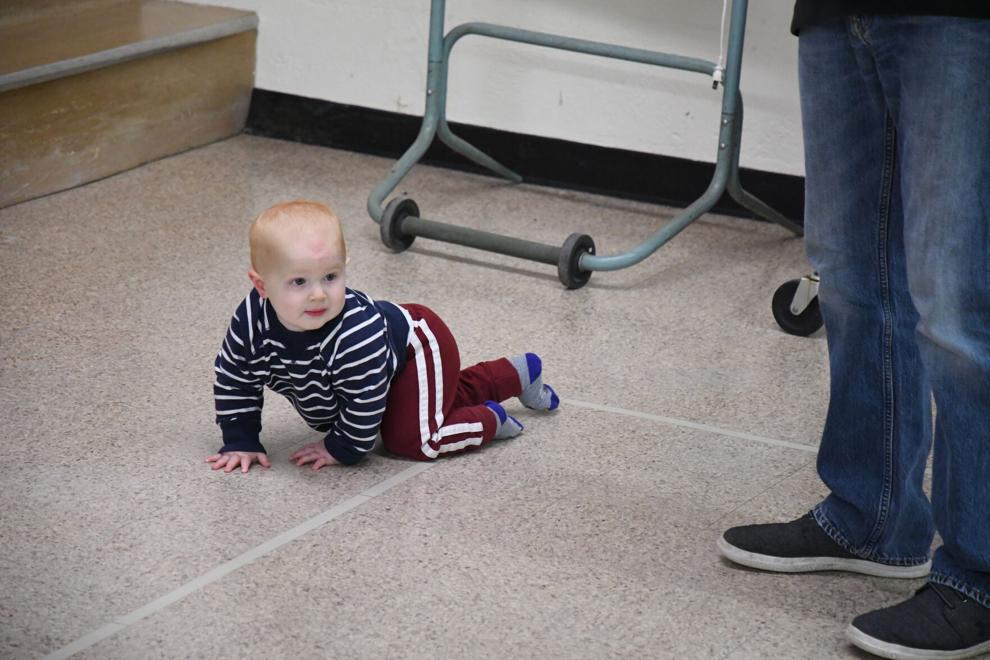 Those days are even longer gone, Noble said, but she still is pleased that the event is able to pull in a crowd larger than the population of the unincorporated community in southeast Osceola County.
"Considering the size of the church, like any other church that's slowly losing members, this is our big event," she said.
St. John's Lutheran Church Council president Gene Fenske helped lead the auction — and do the dishes — alongside Noble's husband, Gary.
The two spent their Saturday afternoon hawking anything from knickknacks to cupcakes for a gallery that included dozens of church members, May City residents and relatives who drove in from as far away as Plymouth County.
Some of the marquee items up for bid were quilts made by the Lutheran Women's Missionary League. Those proceeds went to the group's own mission fund.
Separate from a general fund, which is used to cover anything from paying water bills to printing bulletins, a mission fund is used for specific outreach and discipleship efforts.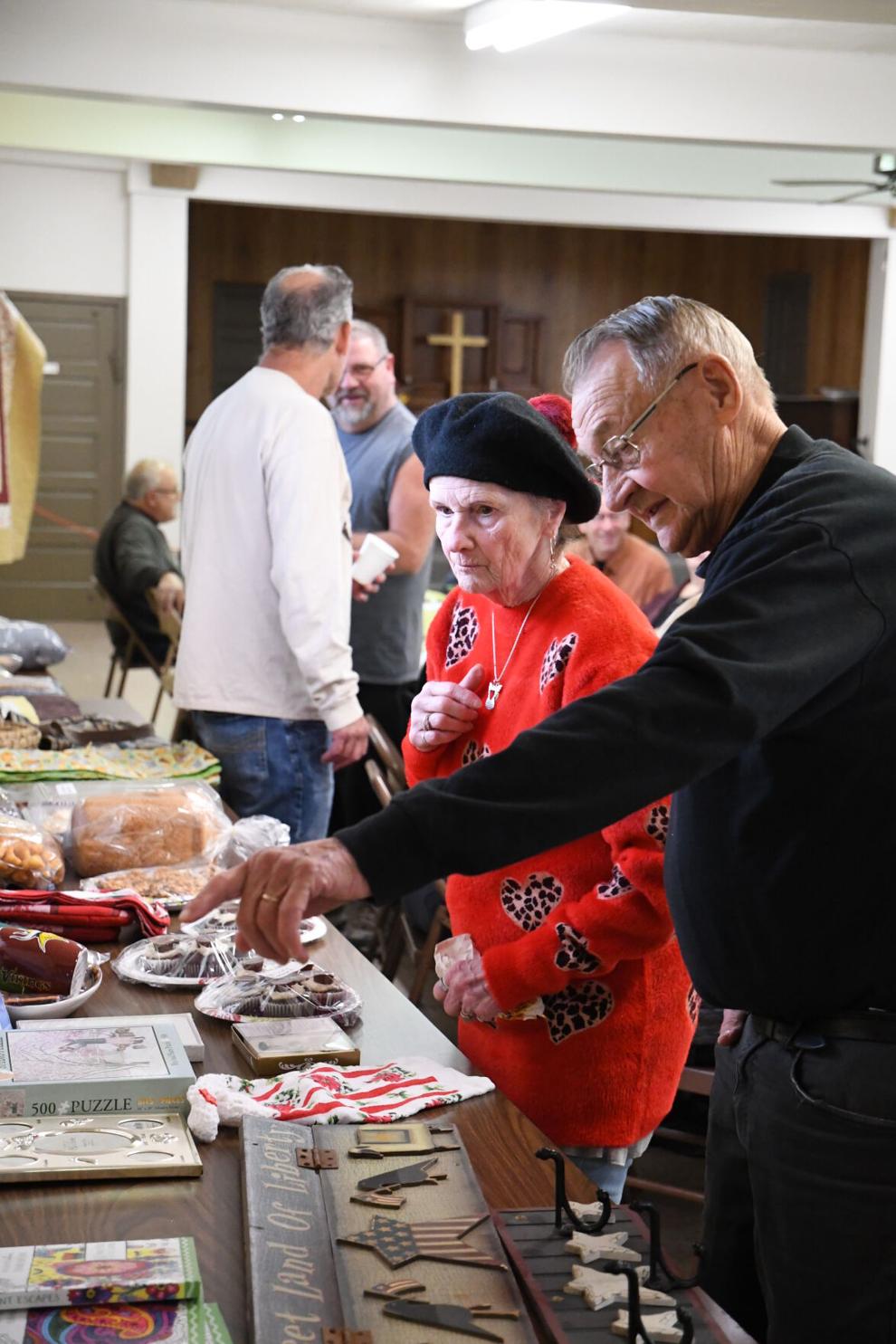 Fenske said that the long-term life of a small country church like his relies on support from similar congregations in the area. The May City denomination combines with the two Lutheran churches in nearby Ocheyedan, Zion Lutheran and St. Peter, to form a tri-parish.
"There's not many tri-parishes that you see, but that's how the smaller churches seem to be surviving," Fenske said.
May City resident Russ Holst has been a St. John's Lutheran member for 35 years. Originally from rural Everly, he said the town and the church exemplify the best parts of rural living.
A farmer by trade, Holst remembers when the Harvest Festival still had ties to the agricultural year's fi­­nale.
"We used to put up a big pile of ear corn, but no one picks corn anymore. It's all combines," he said.
The new ways of doing things are not all bad, he said. The old-timer said he is happy to see May City find the path forward and credited recent Hispanic immigration for helping keep the town population from dwindling and for bringing young families to town.
The Harvest Festival may change forms once again in the future, but he said the community will always make it worthwhile.
"I've never been sorry to move here. Just perfect people — I wouldn't change anything," Holst said. "We're doing all right."
---