ROCK VALLEY—Leonardo Marquez's hand shook when he saw the e-mail from the University of Michigan School of Dentistry appear on his phone with the word "Congratulations" on Sept. 15.
The week before, the 28-year-old dental assistant at Rock Valley Dental completed two virtual interviews with the school.
He had been anxiously checking his cellphone for the e-mail, which congratulated him for being conditionally accepted into the college.
All Marquez had to do was formally accept the offer and make the deposit to become one of about 20 students in the class of 2023 at the No. 1 dental school in the country.
Online orientation starts for Marquez in December and he will begin on-campus classes Jan. 11 in Ann Arbor, MI.
"I still don't believe this is happening," Marquez said. "I mean, I am still in Iowa. I bought my cap for the University of Michigan, I got a hoodie from the University of Michigan but this is still unreal. I feel like this is not happening."
His journey of applying and getting accepted to his dream school did not just involve years of hard work and saving money but required the Mexican native to master English to pass the highly difficult, two-part National Board Dental Examinations.
It required him to be the underdog.
"When an underdog is finally caught up to the average people, the underdog has a lot of momentum," Marquez said. "Right now, I have a lot of momentum."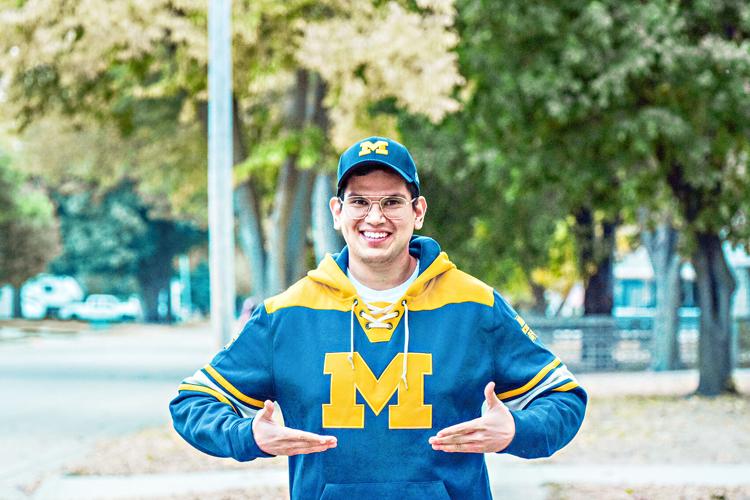 Growing up in the southwestern Mexican state of Jalisco, Marquez did not speak English at home but still enjoyed watching American movies and listening to American music. He attended English classes for a few hours per week at his public high school but noted they only taught him basic vocabulary and how to say simple sentences.
'Learning English'
Marquez graduated high school in 2010, the same year he and his family moved to Rock Valley. However, he later returned to Mexico to attend dental training classes at the University of Guadalajara in Jalisco.
In February 2016, however, he moved back to Rock Valley with two goals in mind: Earn money and learn English well enough to be able to apply to a graduate dental program in the United States.
Although he already had dental training in Mexico, Marquez noted the vast difference in the quality of education between schools in his native country and the United States. He said the reason for the difference was twofold: Dental programs in the United States only accepted the best applicants and they have better technology.
"The first time I had the opportunity to have digital X-rays was here in the States," Marquez said.
When he moved back to Rock Valley to pursue a job, Marquez tried learning English on his own through the online Rosetta Stone program. With hard work, pupils of the program could supposedly complete it in a matter of months.
Marquez finished it in about two weeks, all the while immersing himself in the Rock Valley community and trying to strike up conversations with other N'West Iowans in English.
He eventually got hired to work in the warehouse at A&I Products. He only stayed there about two months before he got hired as a dental assistant at Promise Community Health Center.
A big reason he said the health center hired him was so he could help the staff with communicating with a client population that was majority Spanish-speaking.
"Back then, they didn't have anybody who was a bilingual. I mean, to be honest, I wasn't a bilingual. I was speaking Spanish, but I was learning English," Marquez said. "They were like, 'All right, we prefer to have a hard time with you learning English than us communicating in Spanish with them.'"
'It's a big deal'
He worked there for about a year, all the while keeping alive his dream of becoming a full-fledged American dentist.
That dream led him to move to San Marcos, TX, in 2017 to enroll in Texas State University's intensive English program. The curriculum offered classes for nonnative speakers wanting to hone their grasp of the language before furthering their college education.
Marquez could only afford one semester, or 12 weeks of three of the four classes offered. Since he already was confident in his listening skills, he enrolled in the speaking, reading and writing courses. He also found work as a dental assistant while in Texas.
He moved back to Rock Valley in early 2018 as living in the N'West Iowa community with his family was less expensive than living in Texas on his own.
Marquez spent nearly all his time February-July 2018 studying for the first part of the National Board Dental Examination. He did, however, return to work at Promise Community Health Center in July.
Then in August 2018, he took the exam at the educational testing service site, Prometric, in Sioux Falls, SD. That part of the exam dealt with more general anatomy questions than questions specifically about dentistry.
The 400-question exam was not just brutal to study for; taking it also was intense.
"It's a big deal," Marquez said. "I still remember taking my 15-minute break and just going to the restroom just to do some pushups or something just to raise my blood a little bit because I was so exhausted in the middle of the exam."
He passed the test on his first try, then spent the remainder of 2018 working at Promise Community Health Center and studying for the second part of the board exam.
That test — which is made up of 500 questions and is taken over the course of two days — focuses entirely on dentistry knowledge. The latter 100 questions deal with real-world dental scenarios where test-takers have to correctly choose the best course of action.
He sat down to take it in early 2019 and failed to pass by one point.
'That was hard'
After that, Marquez put in his two-week notice at Promise Community Health Center so he could dedicate himself to studying. He did not want to fail again the next time he took the test.
"I went all-in from February 2019 to June 2019," Marquez said. "I was studying like four months, every single day, for a minimum of eight hours every single day."
When he retook the second part of the exam that July, he passed.
His next move was to apply to dental schools around the country. Since the application period for that cycle began in March, and the deadlines varied for different dental schools, Marquez was only able to apply to five places.
By December, he had only succeeded in getting on the waitlist for one. The others rejected him.
"That was hard," Marquez said. "I mean, when you have to achieve something, you have to get rejected. There is no other way to do it because if this were easy, everybody could achieve it then."
During that period, Marquez also was working at the Agropur plant in Hull to earn extra money. In his days off from the cheese plant, he was working at Rock Valley Dental as an expanded functions dental assistant.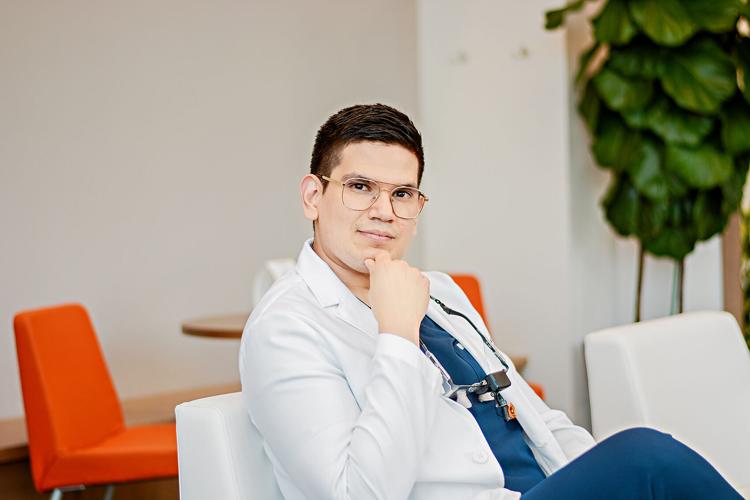 To be certified in that capacity, he had completed online classes through Western Iowa Tech Community College in Sioux City in whatever spare time he could find.
Marquez said part of the reason he did not get into the five schools to which he first applied was because of his late submissions. He also thought he had not prepared enough for the rigorous interviews he had to go through at each school or the bench tests which measure applicants' dental skills working on mannequins.
He also pointed out the acceptance rate for dental schools can be as slim as 2 percent to 5 percent, depending on how many people apply in a given year.
'You're inspiring'
When the application period opened again this year, Marquez had a game plan: He not only revamped his application materials — such as a statement of purpose and recommendation letters — but applied to 15 dental schools in a one-week period in April to improve his chances of getting one to accept him.
Another resume-building activity he started was creating his own Spanish-language YouTube channel and podcast, each of which are called "OdontoAcademy." In his videos and podcast episodes, he offers advice to other Hispanic students pursuing dental careers. His content also frequently features guests, including dentists and dental specialists, who talk about their own experiences in the profession.
"I have been encouraging a lot of people to come to the States just to pursue this dream," Marquez said. "A lot of people have already been sending me like messages like, 'You are inspiring me to get something bigger, you're inspiring me to chase bigger dreams.'"
In late July, Marquez got his first acceptance from the University of Illinois at Chicago College of Dentistry. Then in mid-September, he landed a spot in his dream dental school in Michigan.
Marquez knows dental school will not be easy, but he said the process of getting accepted was not easy either. He noted his time-management skills, combined with his strong work ethic and passion for dentistry, will serve him well. He plans to keep maintaining his YouTube channel and podcasting during school too.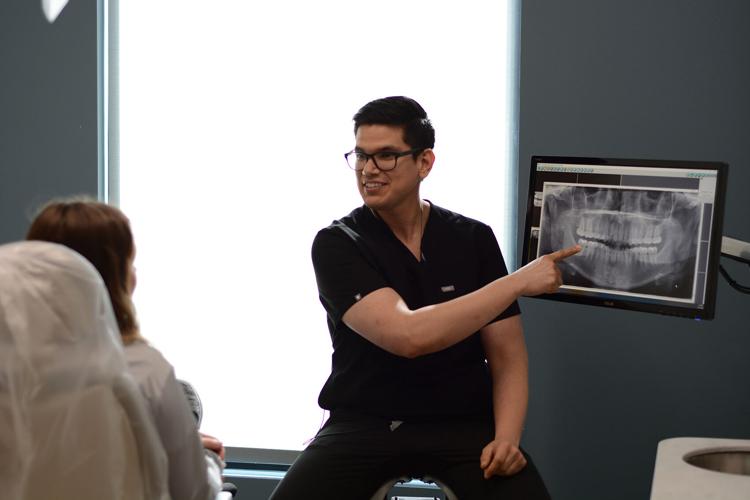 "I wasn't the greatest applicant," Marquez said. "I wasn't the one with the best exams. I wasn't the one with the best grades. I wasn't the best with experience. I wasn't the best with English communication. But I let them know that I was the one who was obsessed and I was willing to work harder than anybody else. And at the end of the day, I feel that mindset will help me a lot to achieve anything."
His ultimate career goal is not just to become a dentist but a prosthodontist, which is a specialist who does reconstructive work in patients' mouths.
"I want to create beautiful smiles," Marquez said. "This is going to be a way for me to express an art because when you are doing something beautiful, when you are doing something that nobody else or 99.9 percent of the dentists can't achieve, I think that is art."