SHELDON—Jenny Pomerenke wants to be brutally honest about why she's closing Marigolds, a downtown Sheldon staple.
"I couldn't make a go of it anymore," she said. "Sales have dwindled so much this past year; no one wants to hear it."
Marigolds, located at 916 Third Ave. and named after the flower that once served as the inspiration for a former Sheldon nickname, was Pomerenke's dream job.
"I wanted to bring affordable but yet in-style fashion, home decor and gifts to Sheldon," she said. "We kind of always said we were the one-stop-shop for gift giving; you don't have to go out to the city, you don't have to go online. You come here and you'll get a good customer experience."
Pomerenke took ownership of the store in 2014 and she has worked at the location since 2001. Back then it was the Creative Craft Cellar, a cooperative of people who created and sold various handmade items.
The shopkeeper said it has been a rough year for Marigolds and she does think the downward trend in the agricultural economy — spurred by low commodity prices and multiple trade wars — played a role in that.
"If you don't have years of good years behind you to withstand these rough years, you can't do it; you just can't do it and that's the worst part," Pomerenke said.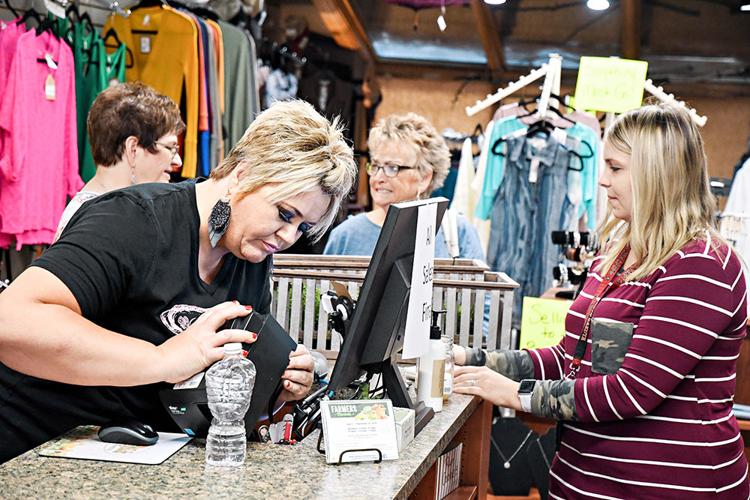 Other factors include not enough local shoppers — most of Marigolds' loyal customers come from out of town — and the elephant in the room that's decimating Main Streets across America: Amazon.
"People going online, going to Amazon — and we are all guilty of it — but I always say, 'If you can buy it in your hometown, buy it there first and then go search for it somewhere,'" Pomerenke said.
Marigolds announced the closure on its Facebook page and the status generated more than 130 comments within a day of the post going up. Many of the commenters shared memories of shopping at the store and concern for the future of downtown Sheldon.
In addition to Marigolds, Revolution Consignment, another downtown fixture, announced in July it was no longer accepting new consignments and that if a buyer was not found the store would be closing on Oct. 31.
"We will be having closeout sales," said Revolution owner Alicia McDonald.
McDonald said she has three interested buyers so far, a promising lead for the 8-year-old business.
After she announced her decision, McDonald said the rumor mill went wild, so she wants to clear up why she is stepping away from the business.
"I have a 4-year-old and a 3½-month-old, so I want to stay with them," she said. "I also have a successful Arbonne business."
Arbonne is a brand that specializes in direct selling natural products to consumers and employs independent consultants in a similar fashion as Avon. McDonald has done it on the side for a few years but wants to transition more into that area.
As she noted, the reason is so she can spend more time with her children. Rather than working at Revolution during the day and spending time with her kids at night as she currently does, McDonald wants to flip it and spend her days with them and work some nights.
"Weston goes to preschool next week and then it's kindergarten and then it's like" — McDonald snaps — "graduation," she said.
There is another longtime downtown business on the market as well. Amy Burnette, owner of A Country Florist, said the store is for sale; however, she is waiting on the right buyer and the store will stay open until she does.
Additionally, Dr. John Michels, owner of Sheldon Vision Care, also located downtown, purchased the former Hy-Vee building on Highway 18 under the name of 20/20 Properties LLC on June 13, according to county and state records.
Michels has not returned multiple calls from The Mail-Sun to share his future plans for the former grocery store which houses an Edward Jones office and an AT&T retail store.
Curt Strouth, community development director for the Sheldon Chamber and Development Corporation, has been watching the happenings downtown closely and does not think it is all doom and gloom for the district.
"Our downtown has some very successful key anchor businesses and hungry business owners that will help in keeping our downtown very opportunistic to new businesses going forward," he said.
However, Strouth acknowledges the loss of Marigolds was a blow for downtown.
"Marigolds was a great business for Sheldon, with a very loyal customer base and great ownership," he said. "Anytime that we lose a business in our community it hurts."
Part of the SCDC's role is helping grow local businesses and recruiting new businesses and Strouth said the organization has a number of programs to assist in that area.
"Locally, we offer a number of very competitive incentives that can assist in new business startups and/or existing business growth which includes our storefront program, interior renovation program, and revolving loan fund program," he said.
"We will continue to review and add to those incentives to ensure that we are in a position to assist with the recruitment and growth of businesses going forward."
In the meantime, Pomerenke is preparing to move on with her life.
Marigolds official going out of business sale started Wednesday, Aug. 28, although e-mail and Facebook customers were granted early access on Monday and Tuesday.
While her long-term future is uncertain, Pomerenke will keep Marigolds open until she empties out the 5,000-plus-square-foot storefront.
"I'll be here until everything is gone," she said.