ROCK RAPIDS—Lyon County might have found a new fishing hole.
The board of supervisors decided to wait and see if it can negotiate down the asking price but new land for the conservation department could soon get approval.
Conservation director Justin Smith first spoke about the idea in August and gave a more detailed presentation at the board meeting Tuesday, Sept. 13, in Rock Rapids.
"My goal for this would be a daytime use area. Maybe some picnic shelters, a boat ramp, stuff people could use for the day. That would alleviate some of the issues out there," Smith said.
The land in question is 157 acres about a mile southwest of Little Rock on Highway 9. However, Smith's plan would only have the county buying a fourth of it. The 40-acre cut includes the pond, which is about 20 acres in area, and the land surrounding it.
The other 117 acres of pasture would be covered by the linchpin of Smith's proposal, the National Heritage Foundation.
"They're kind of like a bank for organizations like us if we don't have dollar amounts enough to cover, we can write grants and they'll act as a bank," Smith said. "This property qualifies for a federal grant, so the feds would buy whatever we wouldn't want."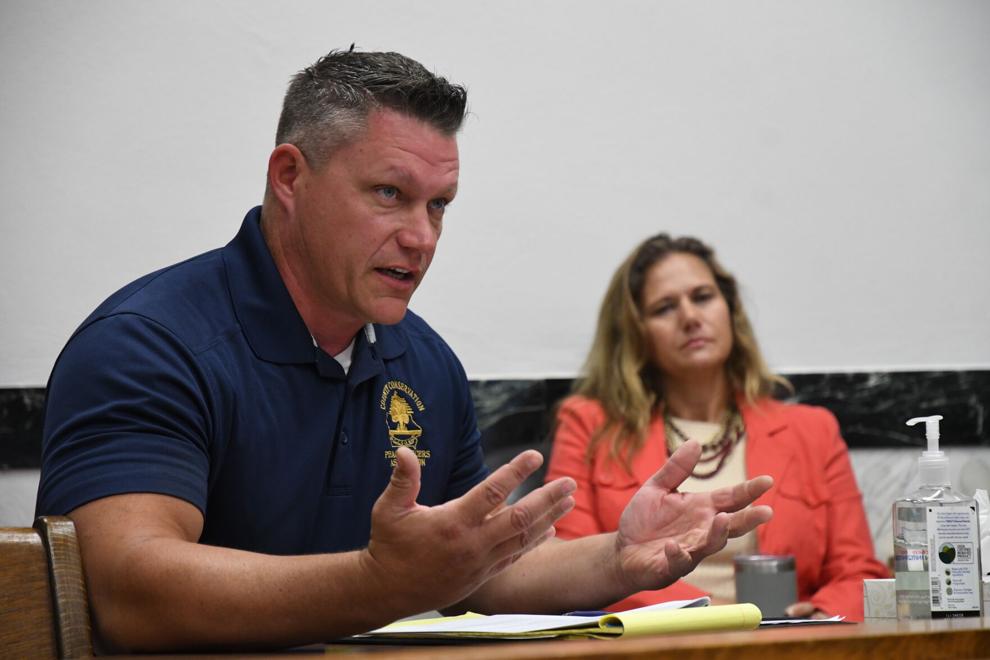 The 40 acres would cost the county $132,000 at its listed price.
Smith said he would apply to the foundation but was confident it would buy the rest of the land. The nonprofit would be responsible for maintaining its share.
"How it was explained to me is the Heritage Foundation, they would fill out all the grants, then the feds come in and take it over, and it's done. We would have nothing else to do with the rest of that. They would do it," Smith said.
As for the conservation team, Smith said its 40 acres would just become another property to watch, and he does not plan to hire extra help.
"We can handle it. It's a matter of us getting a hold of equipment — which we can get from other counties or rent — getting out there, seeding it. That's stuff we've done before on any of the new areas we've purchased," Smith said.
Supervisor Steve Herman asked if another recreation would detract from the county's flagship at Lake Pahoja Recreation Area northwest of Inwood. Smith said there would be little to do other than open and close a gate every day. It likely will not become a campground.
The price remained an issue for Herman and other board members, but Smith's significantly cheaper proposal of 40 acres would leave room in the budget for the initial makeover the land needs.
"I was prepared to vote 'no' today for this whole thing," supervisor Jerry Birkey said but added the new cost-saving might make it worthwhile.
At Herman's suggestion, the board unanimously directed Smith to ask the landowner if $2,300 an acre, $92,000 total, would work. Supervisors also gave the direction permission to haggle a potential compromise price.
The county plans on discussing future steps at its next meeting, set for 8:30 a.m. Tuesday, Sept. 27, in the Lyon County Courthouse in Rock Rapids.
Supervisor Cory Altena, whose district includes the would-be park, said he wants to see the sale go through albeit a better price.
"The biggest reason I feel that we should go and do this is because there is value if somebody just wanted to come in and buy the pasture versus buying the pond," Altena said. "The pond adds a lot more worth than if someone is just going to come in and buy the pasture. That pond probably needs to be cheaper."