SHELDON—In another timeline, Lt. Dean Fjeld could be the one writing this story.
The 50-year-old Sheldon man retired from the O'Brien County Sheriff's Office based in Primghar on Friday, Jan. 31, but before he entered law enforcement, Fjeld was a communications major at Northwestern College in Orange City.
"I was one of those kids who came out of high school and knew what he wanted; 100 percent sure of it," Fjeld said.
"Then when I got into my first semester, I decided maybe I wasn't into what maybe I should be. The scary part was, at that time, I didn't know what to do."
As a student at what was then Primghar High School, Fjeld often would get placed into the law enforcement category when he took career-aptitude tests.
He initially dismissed the idea but decided to do a little more research after realizing communications was not suited for him. Ironically, an older brother Dave Fjeld is a reporter and works for the Cottonwood County Citizen in Windom, MN.
Dean Fjeld reached out to a then member of the O'Brien County Sheriff's Office for advice on a career in law enforcement.
"He had just completed the academy and I talked to him about it and he kind of got me excited about it," Fjeld said.
"He arranged for me to do a ride-along with the local police department in Paullina at the time and I think I was hooked from the first time I did it,"
That one ride-along turned into weekend ride-alongs with the Paullina Police Department and a member of that agency helped connect Fjeld with the sheriff's office.
The budding law enforcement officer spent the winters of 1987-88 and 1988-89 shadowing deputies from the larger agency.
Those experiences led to him transferring to Iowa Lakes Community College in Estherville where he earned an associate of applied science degree in criminal justice in 1989.
An internship was required to complete the program; however, when the college found out he already had been doing regular ride-alongs they accepted that as an alternative.
Fjeld's timing was perfect because the O'Brien County Sheriff's Office had an opening around the same time he was finishing up college. He applied for it, beat out about 35 other applicants and passed the required tests.
"It was a series of events that lined up for me," Fjeld.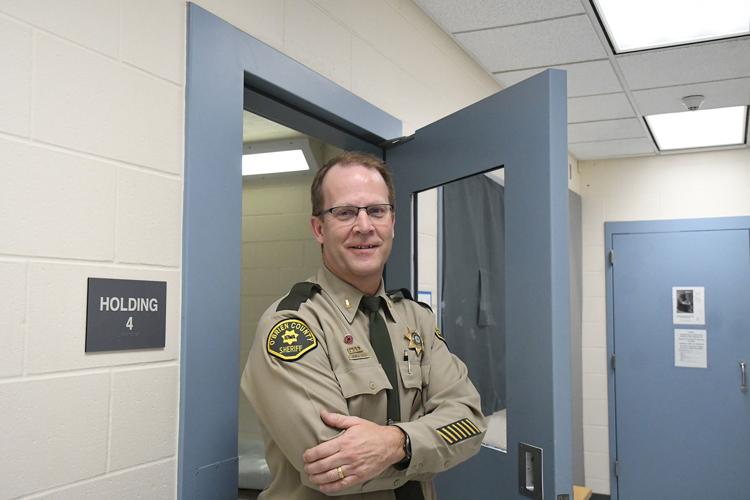 Again, Fjeld had a carefully laid out plan that he did not adhere to.
His goal was to get five- or six-years' experience at the sheriff's office, which was then led by Mike Anderson, who retired in 2016 as Iowa's longest-tenured sheriff, and flip that into a job with the Iowa Division of Criminal Investigation.
"I just found out that there was a lot of different types of experiences that you get in a sheriff's office that you don't get in maybe some of the other types of agencies and it's just so well-rounded that I really enjoyed it and decided to stay with it," Fjeld said.
"I never imagined, at the time, that it would be almost 31 years later that I would still be here, but I have zero regret of it."
Fjeld was a deputy until 2016 when he was promoted to lieutenant — the agency's third-highest rank — upon Allen Schuknecht's elevation to sheriff.
Schuknecht has worked in the office since 1976 and has witnessed Fjeld's law enforcement career from beginning to end.
"He's going to be missed," Schuknecht said. "I've worked with him for 30-something years and he's been an excellent deputy. He's very detailed oriented and he will be missed."
Before leaving law enforcement, Fjeld weighed running for sheriff but instead chose to pivot to real estate.
On Monday, Feb. 3, he started his new gig as an agent for Northwest Realty of Sheldon where he will focus primarily on selling residential properties across N'West Iowa as well as the occasional commercial listing.
"After a lot of thought put into that over or year or so, I just decided that I was not going to run for sheriff and instead I was going to consider stay doing what I'm doing or consider alternative things like what I ended up going into," he said.
Fjeld had some contacts in real estate who asked him if he would be interested in working for them if he could get licensed. His interest was piqued and March-August of 2018 he worked on passing the required state and national tests and interviewed with a few firms before choosing Northwest Realty.
Finding the time to study for those tests while working full time and spending time with his family — Fjeld is a married father of three — was challenging.
His wife, Tara, an assistant registrar at Northwest Iowa Community College in Sheldon gave him a nickname during this period.
"She called me the typical nontraditional student," Dean Fjeld said. "I guess that was a favorable comment and she just meant that, usually, nontraditional students had a tendency to put forth a lot of effort and work hard at it and that's what I did and it paid off."
Becoming a real estate agent will not be as major of a transition for Fjeld as might be expected. As lieutenant, he oversaw a lot of sheriff's auctions and has been part of numerous private real estate deals, which is how he caught the real estate bug.
The former lawman hopes his previous experience can help him in his new line of work.
"People that I've left a positive impression with, hopefully, will think of me when it comes to real estate needs and I can make use of that," Fjeld said.
"I wanted to do a job that was going to give me an opportunity to work with people, but maybe do it in a little bit more positive setting."