HARTLEY—The Hartley-Melvin-Sanborn School District is losing two of its longtime administrators after this academic year.
Elementary principal Cathy Jochims and middle school principal Mark Dorhout recently announced they will step down from their roles. Jochims will be retiring while Dorhout will be teaching middle school science in the Panorama School District.
Cathy Jochims
Students at Hartley-Melvin-Sanborn Elementary have filled Cathy Jochims' bucket with positivity for almost three decades and will be what she most misses about working in the district.
"A full bucket gives us a positive outlook and renewed energy. Every drop in that bucket makes us stronger and more optimistic," said Jochims, 58, who is retiring as elementary principal June 18.
"When you fill someone else's bucket with a smile, hug, kind word or gesture you fill your own. The more you fill buckets, the quicker your own bucket fills up."
Jochims moved to Hartley with her husband, David, in 1992 after having previously taught in various capacities in the West Bend-Mallard School District for four years.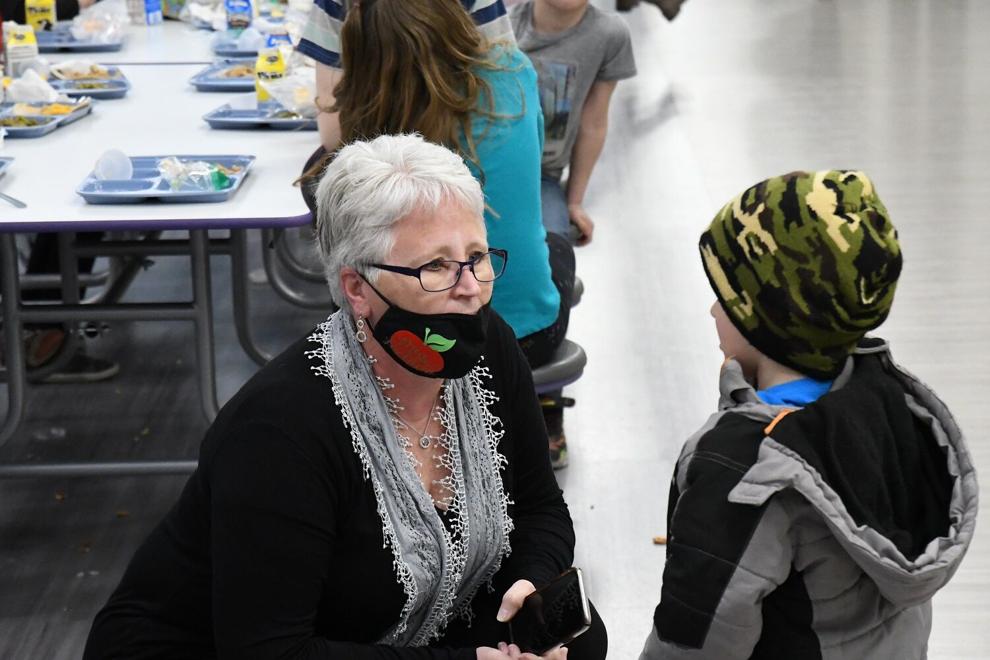 She originally applied for a substitute teacher position at Hartley-Melvin-Sanborn that August. Due to increased enrollment, however, the district needed a fifth-sixth grade English teacher on short notice. Jochims took it.
"I was hired just two weeks before school started," Jochims said. "It was a whirlwind because we moved into our house and then a week later, I got hired for a job and then it started the week after. It was fast. I know I didn't have all my boxes unpacked."
Jochims went on to teach at Hartley-Melvin-Sanborn for 21 more years — mainly in third-grade classrooms — before making the jump to elementary principal in 2014.
"I've been here long enough now that I've also had the children of parents that I taught initially, so that's enjoyable," she said. "When you have that bond and that connection to a community, it really does capture a place in your heart."
She recalled in the early 1990s then-superintendent Steve Litts approaching her to ask if she would be interested in administrative work. He had noticed her leadership skills and willingness to step up for volunteer roles within the school in addition to her teaching.
She did not take him up on the idea at the time, although she eventually decided to pursue her master's degree in teaching alongside a fellow Hartley-Melvin-Sanborn teacher in the early 2000s. She later began growing her professional network of educators, which included people in administrative positions.
She received her PK-12 administrative licensure — as well as her PK-12 special education supervisor licensure and evaluator certification — from the Iowa Principals Leadership Academy 2009-11. After getting her administrative credentials, Jochims did not immediately begin looking for job openings elsewhere as to avoid having to relocate her family.
"If some opened up in the area, then I would apply for it," Jochims said. "Then it just happened by chance that the one in Hartley is what opened up first."
When it came to switching from a teaching role to an administrative one, a big fear of hers was that she would miss being in the classroom with students and would not find being a principal as enjoyable as teaching.
To prevent that from happening, Jochims took a hands-on approach as principal as far as regularly visiting classrooms and maintaining strong connections with students. She also regularly fills in as a substitute for her teachers when needed.
"Yesterday I was a music teacher for an hour and a half," Jochims said Wednesday, March 24.
She also has taken on various challenges through the years as the fulfillment of cancer fundraisers the school has held for Breast Cancer Awareness Month to raise money for cancer research. Those challenges have included kissing a pig, spending time in a "jail" within the school, hanging out on the roof for several hours, getting slime poured on her and dying her hair blue.
"They were always fun things, and it was so motivational for the students to see that I was willing to be vulnerable in some of those situations and have fun at the same time," Jochims said.
Jochims encouraged the person who will replace her to take time to build relationships with the school staff and get to know students beyond the ones who are sent to the principal's office. She also challenged her successor to be a visionary and not be afraid to be innovative.
Superintendent Patrick Carlin and the district board of education conducted interviews for Jochims' successor in late March and chose Hartley-Melvin-Sanborn instructional coach Ashley Benz to fill the role during a board meeting Monday, April 5. Benz will become principal July 1.
Meanwhile, Jochims is looking forward to seeing the elementary students continue to learn, grow and have fun during the remainder of this academic year.
"It's just nice to have everybody here, nice to be able to say hi and greet them and see them learn."
Mark Dorhout
Mark Dorhout is ready to get back in the classroom full time.
The longtime Hartley-Melvin-Sanborn Middle School principal will leave his post at the end of this academic year to relocate to the Panorama School District in Panora where he will teach middle school science. His wife, Nicole — a middle school English teacher in the district — will likewise continue teaching at Panorama.
"I was ready for a change and having the opportunity to be around middle schoolers, I continue to love what I do in teaching them," said Dorhout, 52, who has been principal at the middle school since 2004. "It'll just be a complement to what I've done in the past."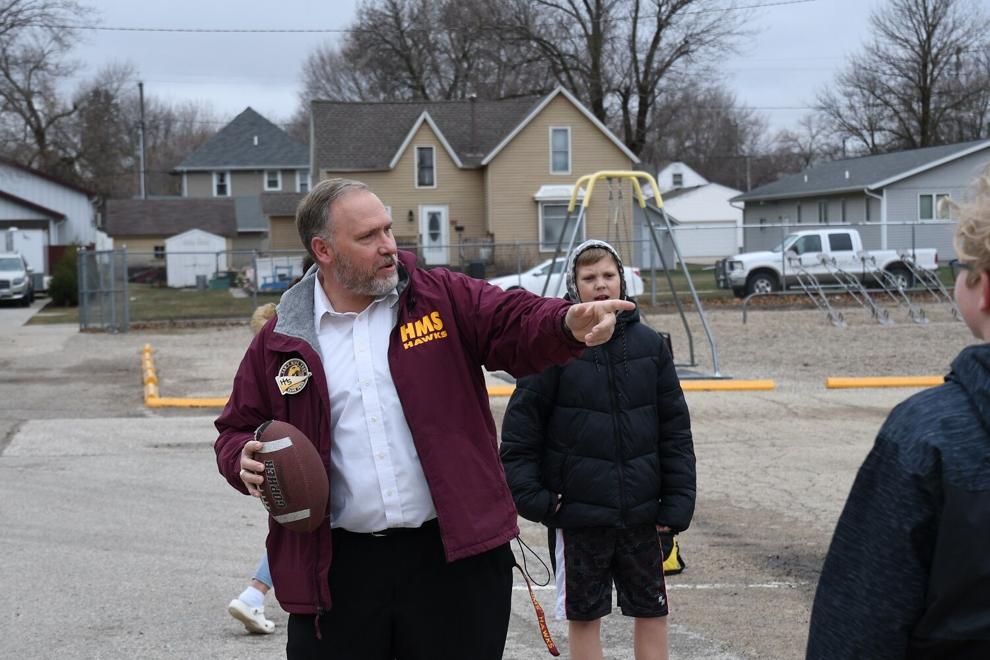 Science has been a passion for Dorhout, a Rock Valley native, throughout his life. He majored in biology and wildlife fishery when he attended South Dakota State University in Brookings. He also spent five summers engaged in a variety of research projects.
"It was a lot of field work, and I really appreciated getting out in nature, understanding how we fit into this world," Dorhout said. "That idea is something that I want to pass on to my kids in Panorama."
He and his wife lived in South Dakota for about 13 years and taught in the Brookings School District much of that time: He was at the middle school and she at the high school. When Nicole had their second child, she chose to stay at home with the kids. Around that time, Mark Dorhout chose to get his administrative license to become a principal.
He had a yearlong stint as a middle school principal in Wisconsin before going to West Delaware Middle School in Manchester to be principal for three years. However, since he wanted to be closer to family in N'West Iowa and desired a smaller school setting, Dorhout jumped at the opening of Hartley-Melvin-Sanborn principal when it opened.
"I've been glad every day that I've been a small-school principal," he said. "I've always felt like I'm part of a team making decisions, trying to help the entire district."
Being a principal in a smaller school has allowed Dorhout to maintain a stronger connection with students and encourage them to do their best. At Hartley-Melvin-Sanborn Middle School, for instance, he has advocated for students to become involved in extracurricular activities such as band, choir and athletics.
"I'm proud that we have a really high participation in that kind of stuff because I think it does help mold a kid. It gives them an opportunity to do something that they hadn't done," Dorhout said.
He also spoke about challenges he and the district have faced through his years as principal. When he first took over the role, for instance, the district was experiencing enrollment declines and prompted the staff to become more flexible in their jobs.
The coronavirus pandemic the past year also forced Dorhout and his staff to problem solve and find reasonable ways to educate students. One socially distant method of face-to-face instruction has involved teachers splitting classes into two rooms, with one group listening over live video.
"While we made it work, it wasn't an ideal. And kudos to my staff for their willingness to try to make things work like that," Dorhout said.
Dorhout will miss the people of Hartley-Melvin-Sanborn to whom he's grown close during the past 17 years. At the same time, he is excited to get back into the groove of teaching at Panorama Middle School.
Living in Panora also will mean being closer to his oldest son, Casey, and his wife, Val, who live in Polk City and are expecting their first child in June.
"That's the other thing that kind of prompted this, to have some time to be able to do grandparent duty things," Dorhout said.
Superintendent Patrick Carlin and the district board of education selected Corey Ramsey of the Davenport School District to fill Dorhout's role during a board meeting Monday, April 5. Ramsey, who is serving as Davenport's special education facilitator at Williams Intermediate School, will become principal July 1.
Dorhout's advice to his successor was to prioritize listening to others before using their own voice.
"And make those connections, both with kids and with their parents and staff every chance you get."