LARCHWOOD—Stensland Family Farms' pizzas have hit retail shelves.
The rural Larchwood dairy operation recently began producing six varieties of frozen pizzas at its on-site bakery at its facility about eight miles southwest of the Lyon County community.
"It's been going good," said Justin Stensland, one of the owners of the dairy. "We're slowly getting into retail stores and bars and restaurants."
Stensland Family Farms first began making and selling pizzas directly out of one of its stores in Sioux Falls, SD, early last year to a positive reception from customers.
Demand for the pizzas eventually grew to the point the dairy needed to start producing them at its Larchwood location.
The pizzas use Stensland mozzarella cheese produced on the farm's creamery as well as sourdough crust and tomato sauce the company makes in house.
The six pizza varieties available are:
Cheese.
Pepperoni.
Chicken fajita.
Veggie.
Barbecue chicken.
Sausage.
Justin said three additional pizza options will be available in early June: Bacon cheeseburger, hamburger and three meat.
The process of starting pizza production meant setting up pizza-making equipment in the bakery space and training staff how to use it. Justin said it also required the company to pass a marathon of inspections before getting the all-clear to make the pizzas.
"Inspections took forever with COVID and all that with getting inspectors out here. It's been a heck of a process," he said.
The bakery itself was inspected for pizza production and the labels for the pizza products also had to be certified.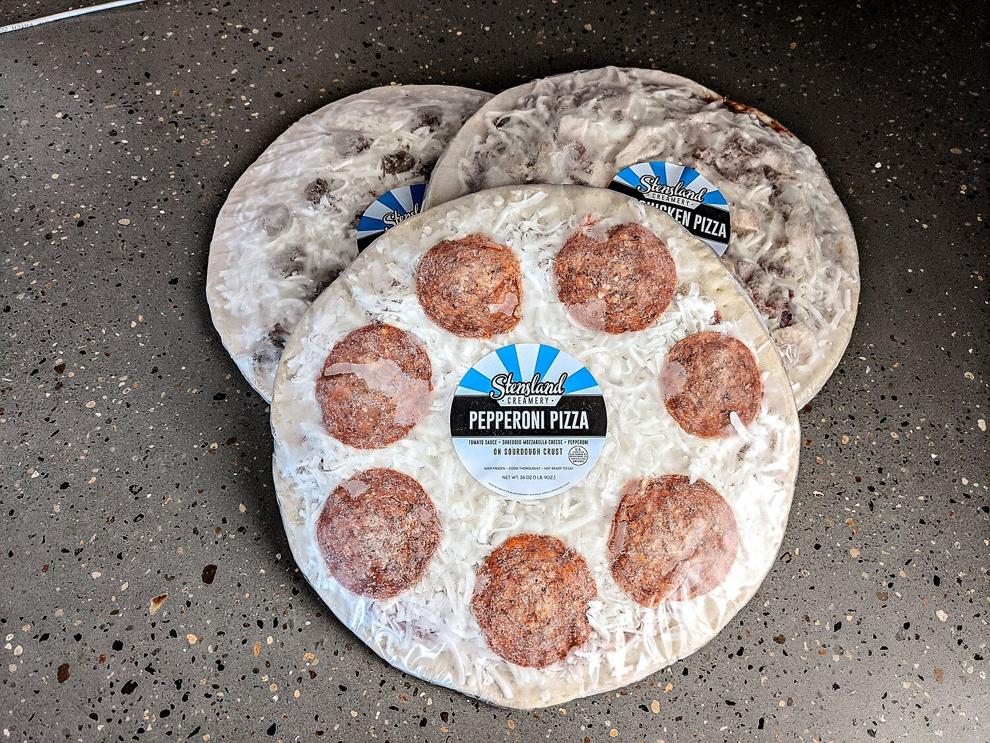 "We did get through it fine. It'll be worth it. We're excited about it," Justin said.
The mozzarella cheese Stensland Family Farms uses for the pizzas comes in 40-pound blocks, which sit for about two weeks before being cut into five-pound blocks. The smaller blocks then are shredded fresh the same day the cheese is applied to the frozen pizzas.
Once the prebaked pizza crusts are loaded up with the sauce, cheese and other toppings, they are vacuum sealed, labeled and sent to the freezer with a shelf life of six months.
The idea for producing pizzas with Stensland mozzarella initially arose as a way to use leftover scraps of the cheese from the 40-pound blocks after they were cut down into other products the creamery makes.
"We've really enjoyed having something completely different, a different way to utilize our dairy," said the dairy's accounts manager, Paige Stensland.
"It's just a way to really well round what we can offer. It's helped increase sales and visibility."
The U.S. Department of Agriculture's undersecretary for rural development, Bette Brand, visited the dairy in September and announced it would receive $250,000 in funding through the agency's Value-Added Producer Grant to assist with marketing and sales of the frozen pizza line.
The pizzas are available for sale in Stensland Family Farms' five stores in Sioux Falls as well as the on-site farm store at its Larchwood site.
The company also has been working to make pizzas available for sale in grocery stores such as Sunshine Foods, Lewis Drug and Hy-Vee in Sioux Falls and other retail locations in N'West Iowa.
Part of the challenge has been to find stores with available freezer shelf space to stock the pizzas, although Paige noted some Lewis Drug stores that recently began carrying the pizzas quickly sold out.