ASHTON—If his constituents want to see him debate one of his three Republican primary opponents, Steve King is up for it.
"A lot of people have called for town hall meetings and I'm doing a lot town hall meetings and a lot of people have called for debates, so that's the most likely scenario," said King, who represents Iowa's 4th Congressional District.
King made the remark after his Osceola County town hall meeting Thursday, Sept. 5, in the Ashton Legion Community Center, his 36th such gathering this year and fourth and final one in N'West Iowa.
The nine-term conservative followed up by noting he is no stranger to informal debates.
"Truthfully, I debate every day in one scenario or another and especially in Congress I'm constantly doing that," King said.
"Those that imply that I don't want to or don't like to for whatever reason debate, of course, that wouldn't be true; that's been my life and I enjoy it."
King is being challenged in the 2020 GOP primary by state Sen. Randy Feenstra of Hull, Woodbury County supervisor Jeremy Taylor of Sioux City and Brett Richards of Irwin, all of whom are championing themselves as effective conservative alternates to the incumbent.
In formal settings, King held a primary debate with Sioux City businessman and former state Sen. Rick Bertrand in 2016, but the last time he debated a Democratic opponent was when he faced off against former Iowa first lady Kristie Vilsack in 2012.
During his town hall, King addressed multiple topics including immigration, trade negotiations and the struggles of the agricultural renewable fuels community.
POET Biorefining, the nation's largest ethanol producer, has a plant south of Ashton, which King made reference to when questioning a recent decision by the U.S. Environmental Protection Agency.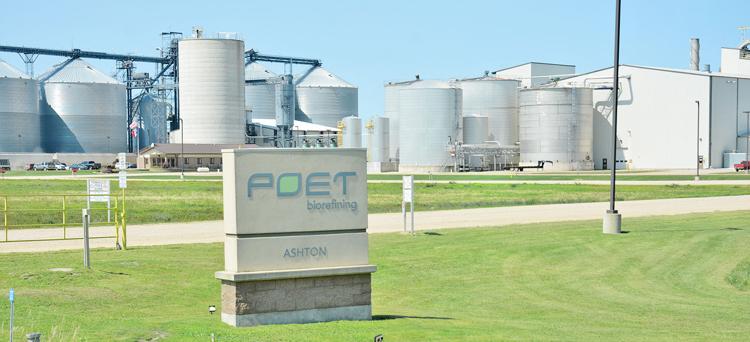 The EPA's recent approval of 31 small refinery exemptions, which allows those facilities to circumvent measures set for the in the Renewable Fuel Standard, was viewed as an attack on the industry by its supporters.
The RFS is a bipartisan piece of legislation that requires a certain amount of biofuels be blended into petroleum fuels.
"I'm told that the president actually approved that decision," King said of President Donald Trump. "Those 31 refineries no longer have to blend ethanol because of the waiver decision by the EPA totals 1.43 billion gallons of ethanol."
The congressman noted the average ethanol plant produces 100 million gallons a year and said the EPA waivers was equivalent to shutting down 14 of them.
"That's the hit that we've taken," he said.
King said he is working with the administration on restoring order to the RFS, but he is afraid to take the issue up in Congress due to lack of support.
"We have lost a lot of ground in the House," King said. "The Senate still is able to hold our renewable fuels together.
"On the House side, I'm not anxious to have a vote because the petroleum industry has had their way there; their dream team of a lobby has had their way there."
In the past, King has noted he has a close relationship with Trump and the administration and touted his access to the White House as value for his constituents.
Recent media reports suggested a rift between the two — in July, Trump did not allow King to fly in Air Force One when he traveled to Iowa for a visit — but the congressman said after his town hall meeting that this is not the case.
"It's pretty clear the president has a lot of chances to take a shot at me — the press is constantly asking him, trying to get him to — he's passed on every one of them," King said.
"We have a lot of things in common. People are hypersensitive to anything I say — they make things up and try to blow it out of proportion — they do the same thing with the president so we have those things in common."
King went on to offer praise to the president for his policies on immigration, which were mirrored after his proposals.
"He's the one that carried our Iowa values into the Oval Office," King said.
"When I walk in there, I look around and I think, 'We actually accomplished something. We built a platform here in Iowa and we delivered it in the Oval Office in the form of Donald Trump."