PRIMGHAR—O'Brien County Emergency Management Agency coordinator Jared Johnson demonstrated the use of personal protective equipment and cleaning equipment to the board of supervisors during his weekly coronavirus pandemic update at its July 7 meeting.
The first item Johnson showed the board was a controlled air purifying respirator from Irvine, CA-based company MaxAir Systems.
The respirator system consists of a helmet with an attachable lens cuff, which fits snugly against the face. Built into the helmet is a high-efficiency air filtration system that circulates clean air to the user from a motor. The battery for the system, which is worn on the hip, connects to the helmet with a cord.
"We have five new systems in use in different areas around the county, and then we've offered it to our ambulance team and they're kind of testing it out right now to see if it's something they want," Johnson said.
The respirators have been in high demand this year due to the coronavirus pandemic, but O'Brien County ordered its supply throughout the past few months.
Johnson explained the equipment can be used as an alternative to N95 masks and, with proper maintenance, can last several months.
"Potentially this filter can last six months up to a year with regular use, so it would just be cleaning and then having cuffs available as well," Johnson said.
The University of Iowa in Iowa City has been distributing information explaining how the gear can be cleaned for reuse, even though parts such as the lens cuff are disposable.
"Once you use one, at this point it's kind of assigned to you," Johnson said. "Fortunately in February, we did order quite a few of these, so we have quite a few backups. We have extra filters and then we've also got the caps."
The other piece of protective equipment Johnson showed the board was a PX5 powered air purifying respirator from Royal Oak, MI-based company RPB.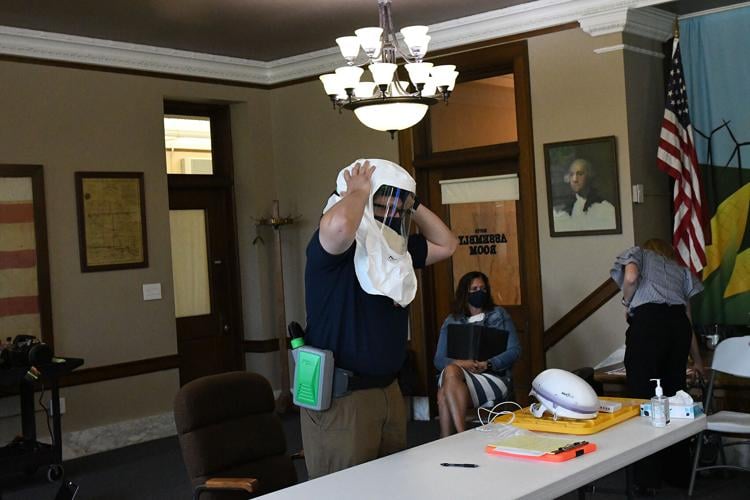 The system is similar to the MaxAir Systems product, however, its filtration system is powered by a fan unit worn on a belt as opposed to the motor housed in the helmet. A protective shroud also goes inside and around the helmet to fully cover the user's head.
Wearers can control the fan speed at their side and communicate to others using a built-in intercom system.
"There is a slight audible noise that you can hear just from the fan, but for a longer call or if you're with a patient and they have COVID, these are masks you can wear for an extended period of time compared to an N95 mask," Johnson said. "Just more fresh air."
He explained some ambulance teams in N'West Iowa prefer N95 masks while others keep on hand a variety of protective equipment options, such as the purifying respirators, for potential COVID-19 calls.
The final piece of equipment Johnson demonstrated to the supervisors was a disinfecting mister machine from Hinton-based company TNT Sales & Services.
The machine is a modified car wash sprayer that is connected to a 5-gallon container of distilled water mixed with 7.5 ounces of the concentrated disinfectant.
"You're supposed to spray and just let it sit for 10 minutes and usually within the 10 minutes, it's dry to the touch," Johnson said after spraying a small amount of the disinfectant in a corner of the meeting room.
The tables and chairs as well as the doors in the room were sprayed earlier that morning. The previous weekend, the machine was used to sanitize the O'Brien County Jail in Primghar.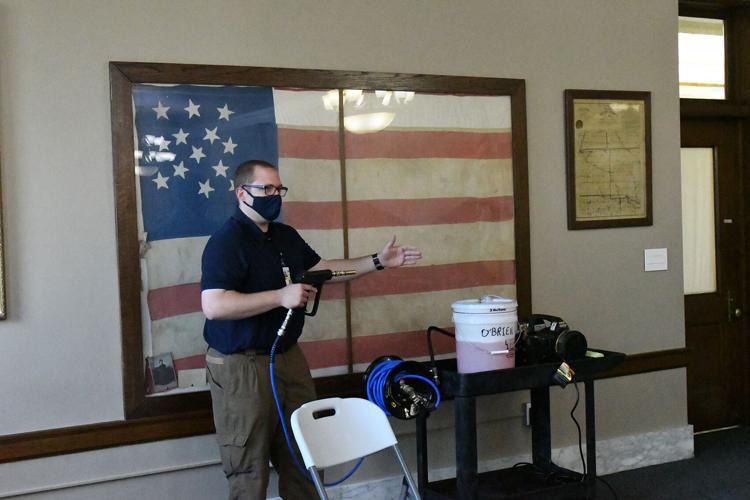 Board member Dennis Vanden Hull asked if using the mister is considered a deep clean of a space.
Johnson said it could be used for a deep clean but explained one aspect of cleaning involves letting a room air out before cleaning in case the coronavirus lingers in the air.
"A lot of places, they're letting things aerosol for maybe 24 hours and then coming in, spraying and wiping things down again," Johnson said.