LE MARS—Joel DeJong's career of sowing agricultural knowledge throughout N'West Iowa went by much faster than the Sioux County native thought it would.
"It's been a great run. It really has," said DeJong, a longtime field agronomist for Iowa State University Extension and Outreach based in Le Mars.
The 64-year-old crop expert is retiring on Aug. 31 after more than four decades working for the Ames university's Extension and Outreach.
"I've had a chance to work with a lot of great people over those 40 years, and I am forever appreciative of their kindness and the kind words I hear from them and all those things," he said. "It makes you feel good about what you've done."
DeJong grew up between Maurice and Orange City, the youngest of six children. His father retired from farming while DeJong was still in high school and sold the family's farm.
"If I wanted to stay in ag, I had to find another way to stay in agriculture than farming," DeJong said.
That other way involved enrolling at Iowa State in the late 1970s. DeJong graduated with a bachelor's degree in agriculture business and a finance minor in 1980.
The following November, he started his first ISU job as Extension director for Adair County in Greenfield. He was there for about three years before moving northwest to take a job as Woodbury County's Extension director and agriculturist.
In that position, DeJong served a seven-county area stretching north from Woodbury up to southern Minnesota. He and his wife, Lorraine, had relocated to an acreage near Le Mars, which meant DeJong commuted to the Extension office in Sioux City.
"I'm one of those people that likes to start the day in the office, so I was going most days. But then finally, there was an opening in Le Mars, and they let me move my office to Le Mars," he said. "I've been there ever since."
He worked for Woodbury County's Extension Office until 1992, when state budget cuts led the university's Extension program to downsize by laying off workers. Those who wanted to keep working for Extension and Outreach had to apply for positions within the organization.
For DeJong, that meant applying to become the Extension's field agronomist for northwest Iowa — a position he would stick with for the next 30 years.
"That was the best career move I ever could have made," he said. "It was kind of ironic that everybody was worried about change, including myself, but that change was the best thing that happened to me in my career."
No two days have been the same for DeJong as a field agronomist. If he had to describe his work simply, he would say, "My job is to take research-based information and put it in the hands of farmers."
He also got creative in how he carried out that task, whether it be through direct contact with farmers or indirect contact by helping educate other crop specialists through his ISU network.
Since Iowa State is a research-based institution with connections across the country, DeJong got to know countless other researchers with whom he shared feedback and questions he received from farmers.
"The ability to learn is incredible. That never ends, and I've been very fortunate to be able to do that," DeJong said.
"The relationships with many of the people that I've worked with, the clients, that's incredible. I've been really lucky. A lot of people have told me how much of an impact it's made in their operations. You do have a feeling that you're not just beating your head against the wall; you're actually making some progress."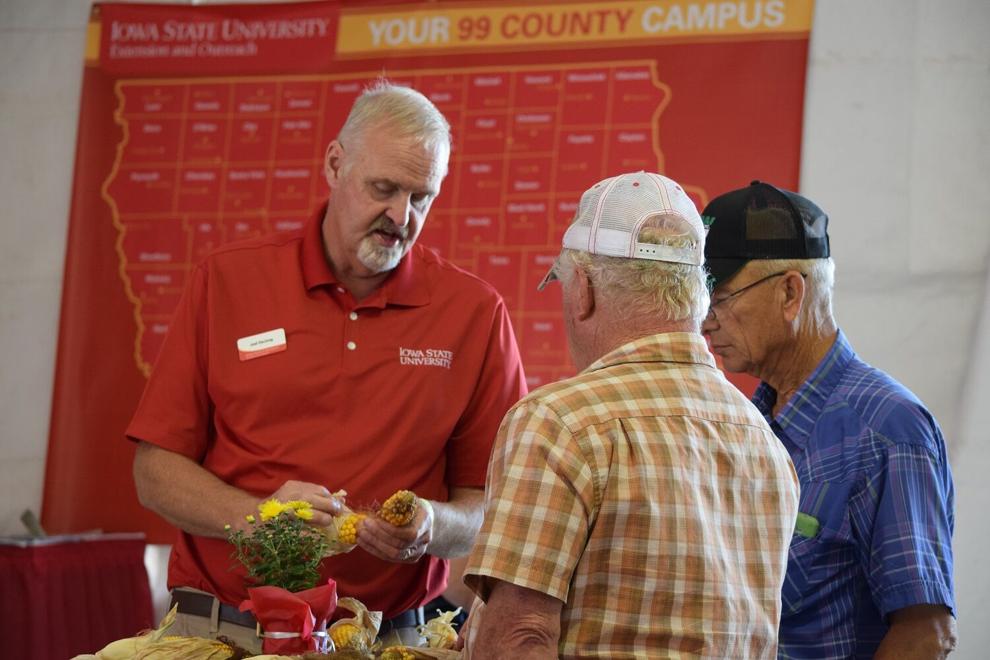 In the winter, DeJong often helped lead educational events such as pesticide applicator training sessions, crop advantage conferences and manure applicator certifications. He also has directed soil fertility and pest management workshops.
During the growing season, DeJong spent much of his time troubleshooting in fields to get to the bottom of issues farmers were having and find solutions for them. He also occasionally conducted crop research, either at ISU Extension's Northwest Iowa Research and Demonstration Farm near Sutherland or on farmers' fields.
The research farm is the site of annual summer field days, where DeJong and other agriculture experts share educational findings and growing tips.
DeJong also was responsible for penning the northwest Iowa Extension's "Crop Update" newsletter, which is published about once a month and offers insight into the growing season, weather trends and other relevant agricultural topics for farmers. The online newsletter reaches about 1,250 people.
Learning to communicate through the internet — including social media — is just one of the many changes to which DeJong has adapted throughout his career. He also did not have a cellphone when he started working as an agronomist and said the devices have "made a world of difference in time saving."
"But," he added, "cellphones make you much more accessible, so the demand today of having an almost immediate answer is much higher than it was because it's easier."
The content about which DeJong communicated to his northwest Iowa peers also evolved as new issues in agriculture emerged.
When he first started working for Extension, for instance, he said a big problem weed at the time was woolly cupgrass. Since then, waterhemp has overtaken it as a nuisance weed. Other crop problems he has helped producers navigate included the appearance of soybean aphids in the early 2000s and the increasing frequency of crop diseases.
DeJong also recalled how, early in his career, livestock manure was mostly thought of as a waste product instead of as a source of nutrients for crops.
"We had a huge educational effort trying to convince people that there's nutrient value that our crop could use in manure, and I think we helped set the stage for that becoming much more acceptable," he said.
DeJong voiced his amazement at how much agriculture has changed since his career started. In northwest Iowa specifically, he has noticed that corn yields have shot up by about 100 bushels per acre.
"I'd love to take credit — I know I don't deserve virtually any of it, so I'm not going to — but it's just amazing how much everything's changed in that time period," he said.
When it comes to what's next, DeJong said he is not yet sure. Most of his time recently has been spent focusing on his remaining work with the Extension Office before Aug. 31.
He hopes to stay busy with activities that will satisfy his interests and that may perhaps involve more agriculture knowledge.
"I've had a great opportunity to learn a lot about agronomy, and I don't want to die without sharing it again," DeJong said.
"I've got to find something that perhaps I can share some of this knowledge with others. What shape that'll take, I don't know, but that's my hope. On a much more flexible time frame."