SHELDON—Torey Peterson is getting involved in the political process early.
The 12-year-old Ashton girl was the second-youngest person to attend former second lady Jill Biden's visit to Northwest Iowa Community College in Sheldon on Saturday, Nov. 16.
The youngest person to attend was Torey's 8-year-old brother, Dane, who sported a pair of aviator sunglasses during a photo op as a nod former Vice President Joe Biden's signature look.
Jill Biden, a community college professor, was campaigning on behalf of her husband who is seeking the Democratic nomination to take on President Donald Trump in 2020.
Although she cannot vote yet, Torey is a fan of Joe Biden.
"He's better than Trump," she said.
In addition to her distaste for the current commander in chief, Torey also has policy concerns.
"Gun shootings," she said. "One of my friends in Florida had a gun shooting."
Dane's concerns were similar.
"I worry about people dying," he said. "And about people getting arrested for no reason."
Torey followed up by noting she is afraid of a shooting happening locally and liked what Jill Biden had to say about her husband's policies regarding guns and the powerful and influential National Rifle Association.
Jill Biden said her husband would stand up to the NRA and keep schools and children safe, a line that drew applause.
"No matter where I go — Iowa, Nevada, New Hampshire — that is one place where everybody reacts to what I say," she said.
"So I know that has to be our number one priority; keeping our kids in our schools safe when Joe gets into the White House."
Jill Biden championed her husband a person who could bring steadiness to the White House and whose tweets you don't have to worry about seeing in headlines the next day.
"When they cut to the president of the United States, you don't turn the channel," she said. "You call in your kids from the other room — just like these two children who are here today — and you say, 'Come in! Come in! The president of the United States is on the television!,' because you want your children to hear what the president has to say.
"A commander in chief you can trust, a leader who brings people together and not tear families apart, a president you can feel proud of who believes that our best days are ahead of us. That's my husband Joe Biden."
Jill Biden praised the rest of the Democratic field and noted they have great policy proposals and can tell you what they will do in office, but her husband, who was a U.S. senator for 36 years before serving eight years as vice president, can tell you he has already done.
Going over her husband's accomplishments, Jill Biden listed three:
The Violence Against Women Act, a 1994 federal law that established the Office on Violence Against Women under the U.S. Department of Justice's umbrella and put federal resources toward investigating persecuting violent crimes against women.
The American Recovery and Reinvestment Act, a stimulus package enacted in 2009 to help boost the national following the Great Recession of 2008.
The Cancer Moonshot, a $1 billion initiative launched in 2016 created with the purpose of eliminating cancer.
After her speech, Jill Biden conducted an informal question and answer segment with the audience of about 40 including her staff, and one questioner asked about her son Hunter Biden's connections to Ukraine.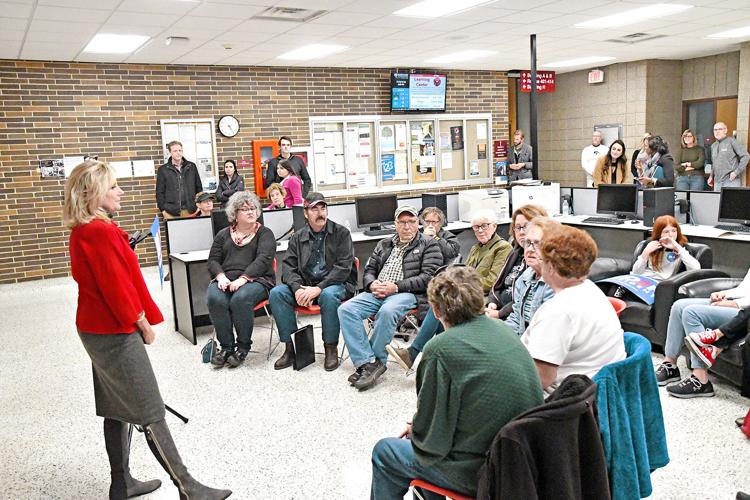 Trump and his attorney Rudy Giuliani have questioned the actions of Hunter Biden sitting on the board of a Ukrainian energy company while his father was vice president as a response to questions about the president asking the president of Ukraine to investigate his political rival on his behalf, which sparked the current impeachment inquiry against Trump.
The questioner asked Jill Biden if the Ukraine topic would impact her husband's chances in the election and she was blunt in her defense.
"It shouldn't because they were all lies," she said. "There was an investigation and they proved that Joe and Hunter did nothing wrong; that they did nothing. This is a distraction for Trump.
"He keeps trying to say 'Look at the Bidens, look at the Bidens,' because there's no one like Joe that Trump wants to go up against so he's just trying to distract the public and look what he did to himself."
Because N'West Iowa is such a Republican stronghold, Jill Biden also made sure to mention how important it was for Democrats to try and make inroads in the area and praised O'Brien County party chair Karen Sterk.
"I know it must feel like the Democrats have forgotten the SOLO counties, but not Joe Biden," she said. "He hasn't forgotten you. I know it's not always easy being a leader in the Democratic Party when you live in a sea of red, but you're doing a great a job here."