REGIONAL—The Iowa Division of Labor got ahead of the U.S. Supreme Court as both authorities blocked federal rules that would have required employees of large companies and the public sector to either be vaccinated against the coronavirus or follow masking and testing procedures.
State labor commissioner Rod Roberts announced Jan. 7 that his division would not enforce the regulations set by the Occupational Safety and Health Administration. That was the same day the high court heard oral arguments in a suit challenging the law, which originated in President Joe Biden's U.S. Department of Labor.
"Iowa doesn't have a standard requiring the COVID-19 vaccine or testing. But after closely reviewing the federal OSHA vaccine mandate, Iowa has determined it will not adopt the federal standard," Roberts said in announcing the state's decision. "Iowa has concluded that it is not necessary because Iowa's existing standards are at least as effective as the federal standard change."
The U.S. Supreme Court issued its own regulation-canceling 6-3 verdict on Thursday although the point was already moot in the Hawkeye State.
The phrase "at least as effective" is central to how OSHA works. Iowa, and 24 other states, have had a working agreement with the federal agency dating before the pandemic. That agreement gives authority to state-level OSHAs to develop "state plans" to oversee and enforce workplace safety rules.
If there are deviations from the federal guidelines, according to the Occupational Safety and Health Act of 1970, the lower levels of government must be "at least as effective."
The OSHA rule did not require COVID-19 vaccination and would not have applied to businesses with less than 100 employees. If an affected worker did not want to get their shots, they can could have chose Option B: Wear a mask while indoors and submit a virus test every seven days.
A 5-4 U.S. Supreme Court decision, also from Thursday, allowed the regulation to stand for health-care workers, reasoning that medical workplaces are particularly vulnerable to ongoing pandemic.
Throughout the coronavirus era, Iowa state authorities — mostly controlled by Republicans such as Roberts and Gov. Kim Reynolds — have been largely hands-off in terms of requirements. In October, Reynolds signed a law that allows religious exemptions for private employers requiring their workers to be vaccinated.
This month, GOP lawmakers in the Iowa Legislature have introduced bills that maintain that approach. The five legislators that represent N'West Iowa in Des Moines are all publicly opposed to what they see as government overreach.
"I am against any form of mandates on a constitutional, as well as moral basis. It gives far too much power to a central government in my opinion, and we should all be discerning of this, regardless of party," said state Sen. Dave Rowley (R-Spirit Lake).
Many members of local government in N'West Iowa also were vehemently against to pro-shot rules.
"I've already had an elected official tell me they're not going to enforce this," said Lyon County supervisor Jerry Birkey. "What's our recourse going to be?"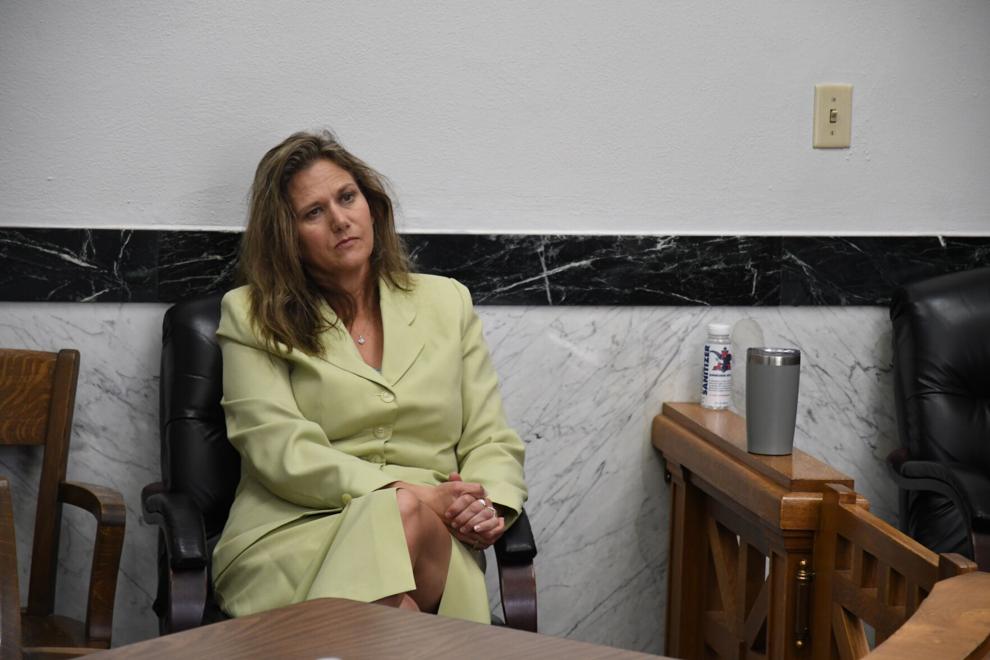 Amy Oetken, the county's attorney, explained that oversight from the state and federal levels is difficult but not impossible.
She described fines from OSHA as "onerous" if it learned of willful noncompliance.
"Our job is to do the best job we can do for the county. I don't know how we're doing that if we're subjecting the county to the possibility of paying hundreds of thousands of dollars in fines. Even if we don't agree with the law, that's what we're doing," Oetken said.
But for the time being, it seems unlikely Iowa will execute any mandates for COVID-19.
Six of the nine Supreme Court justices were appointed by Republican presidents, and they generally defer to state control. The OSHA rule's status as a temporary, emergency measure did not alter its legal standing. Even if the country's highest court upheld the OSHA rules, it was unlikely to undo the Iowa Division of Labor decision on the issue.
Oetken said she operated under the presumption that there will not be a vaccine rule in the Hawkeye State barring further pushback from OSHA.
The lawyer explained that the federal administration could challenge the Iowa division's decision by saying the state's effort are not "at least as effective" as the federal rules. However, the court ruling probably ended the OSHA route for the Biden administration going forward.
"There's been no word that that's happening at this point, so that's where we are," Oetken said.