REGIONAL—When coronavirus epidemics broke out in parts of the world in 2002 and 2012, medical experts braced for global spread similar to that of the COVID-19 pandemic.
Dr. Pat Winokur, executive dean of the Carver College of Medicine at the University of Iowa in Iowa City, said scientific studies into those previous outbreaks played a major role in helping experts study COVID-19 and develop inoculations for it in a short time frame.
"There was a lot of scientific evaluation that went on to understand these two coronaviruses. The scientists really understood what was causing disease, how these viruses got into the cell," Winokur said Monday, April 19, during a webinar the Iowa Department of Public Health held in collaboration with Iowa State University Extension and Outreach and the University of Iowa to present facts about the COVID-19 vaccines and answer questions from viewers.
Winokur, who also is co-director of the University of Iowa's Institute for Clinical and Translational Science and a professor of internal medicine specializing in infectious disease, said ongoing improvements to vaccine technologies likewise contributed to the COVID-19 vaccines' rapid development.
The three approved coronavirus vaccines in the country were made by Moderna, Pfizer and Johnson & Johnson and each followed the same basic process for development.
First, they were tested on animals to see if they were effective at preventing disease and did not cause severe side effects. After that, the vaccines were tested in small numbers of humans to prove their safety in people. Testing later moves into what Winokur called a Phase 3 study that takes place among a larger group of people.
Usually, about 3,000 people participate in Phase 3 studies; however, for the COVID-19 vaccines, 30,000-40,000 people took part so researchers could better evaluate safety and efficacy. Half the participants received the real vaccine while the others were given placebos of saltwater.
"What we found is these vaccines — all three of them — were highly, highly effective, somewhere between 70 and 85 percent effective," Winokur said. "What that meant is almost all the cases that we saw occurred in the people that got saltwater. Those who got the vaccine were very protected from getting symptomatic COVID-19."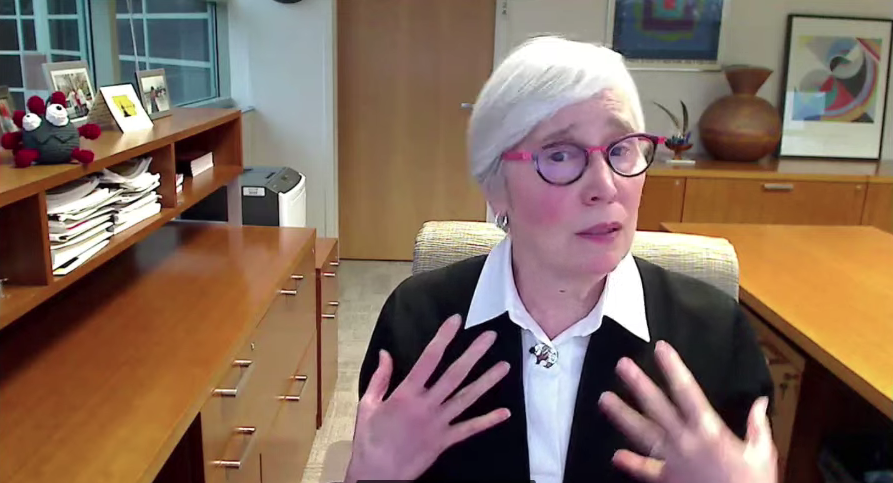 Temporary, mild side effects such as sore arms, headaches and low-grade fevers were reported among some vaccine recipients though Winokur said those are common effects from other types of vaccines.
Medical experts have continued to monitor the effects of the vaccines since they were approved for distribution. Such monitoring was what led to the one-shot Johnson & Johnson vaccine being paused in response to six cases of recipients developing a rare blood clot condition from it.
Although that effect was rare among Johnson & Johnson recipients — the six cases were out of 7 million Johnson & Johnson doses distributed — Winokur said the U.S. Food and Drug Administration and Centers for Disease Control and Prevention did the right thing by pausing the rollout of that vaccine to the general public as a CDC advisory committee studies it further.
She also noted researchers have not found similar problems with the Moderna and Pfizer vaccines, which still are being distributed, and encouraged people to get vaccinated if they have not done so yet.
Dr. Caitlin Pedati, medical director of the Iowa Department of Public Health and the state epidemiologist, spoke during the webinar and likewise urged the public to get vaccinated against COVID-19.
Pedati talked about the importance of having many people being vaccinated to achieve herd immunity, which occurs when enough people become immune to a disease to make its spread unlikely. Herd immunity also protects people who may not be able to get the vaccine due to an impaired immune system or because they are not old enough to qualify.
About two-thirds of Iowa's population had received at least one dose of the vaccine while just under one-third had completed a vaccination series at the time of the webinar, Pedati said.
The first viewer-submitted question was why people who already had COVID-19 and recovered should consider getting the vaccine.
Winokur said data has shown antibodies that fight COVID-19 tend to be higher among people who get the vaccine compared to those who develop antibodies naturally in response to infection from the disease. She also said reinfection of COVID-19 can occur in someone who already had it.
Another viewer asked if Winokur and Pedati thought the Johnson & Johnson vaccine would be made available again. They each thought it would be made available again, with Pedati saying the fact it was paused showed the safety monitoring system for it was working the way it is supposed to.
Winokur said it also could be possible the Johnson & Johnson vaccine could be available only for certain population groups and not others. She also noted the likelihood of developing blood clots is greater from a COVID-19 infection than the likelihood of getting clots from the vaccine.
Another query was why people should continue to wear masks and social distance if they are immune to COVID-19 two weeks after becoming fully vaccinated. Pedati said it was important to keep following those measures in public because there still are people eligible to get the vaccine who have not done so; following the safety measures would help keep virus activity low in the meantime.
Pedati also answered a question from someone asking about the significance of low county positivity rates and when health experts would know when the pandemic is over. Pedati said there would not be a single benchmark to determine the end of the pandemic but a range of factors such as cases, hospitalizations, school absenteeism and others.
Winokur also reminded viewers the pandemic is global, meaning it is important to distribute vaccines all over the world to get COVID-19 under control. She said Iowa is just "a piece of the puzzle."
"There's a lot more to it."