INWOOD—Taryn Slade lifts the fragile, burned Bible from its nest in a cardboard box.
Tucking aside the plastic bag, she reveals brown marks from where flames seared away the top edge of the book, making each page crackle as she turns it.
This possession of Taryn's is the only object to survive an explosion — a remnant of a day that she won't forget.
A year ago July 22, 31-year-old Taryn Slade and her 3-year-old daughter, Josie, were traveling in a 2016 Hyundai Elantra west of Doon when a gas can in the trunk of their vehicle exploded.
Mother and daughter escaped the blaze, but received severe burns from which they are still recovering after initially being transported to Hegg Health Center in Rock Valley and later airlifted to Regions Hospital Burns Center in St. Paul, MN.
Taryn — who suffered burns over 30 percent of her body — was hospitalized for nine weeks and Josie — who suffered burns over 50 percent of her body — was hospitalized for 13 weeks.
Taryn is trying to make a home from the house in Inwood that she moved into one month before the accident. Josie is in the care of Taryn's mother, Janelle Meendering, who also lives in Inwood.
Taryn said caretakers told her "the easy part is done" when she left the hospital.
Every day since then has been an experience learning — mentally and physically — how to do basic life tasks again.
"They say the first year is the hardest," Taryn said.
As a result of the accident, Taryn and Josie had parts of their fingers amputated. That means relearning things people don't give a second thought to, like holding a toothbrush.
"You don't know how it is until you can't use your fingers," Taryn said.
Most activities take twice as long. Opening a Gatorade bottle without tools is a victory.
"I've learned to be very mindful of what I'm doing," Taryn said, gently turning the globe in the center of the table in front of her.
Her hands have been busy doing other things as well. Before the accident, she gained an interest in acrylic painting. She has always liked art, but it is becoming something more.
"Next thing I know I have all these canvasses and paints," Taryn said.
She has a Facebook page, Remember Me Artistry, where she advertises her abstract painting business. She is doing custom commission work for customers. It has gotten to the point where she made her garage into an art studio.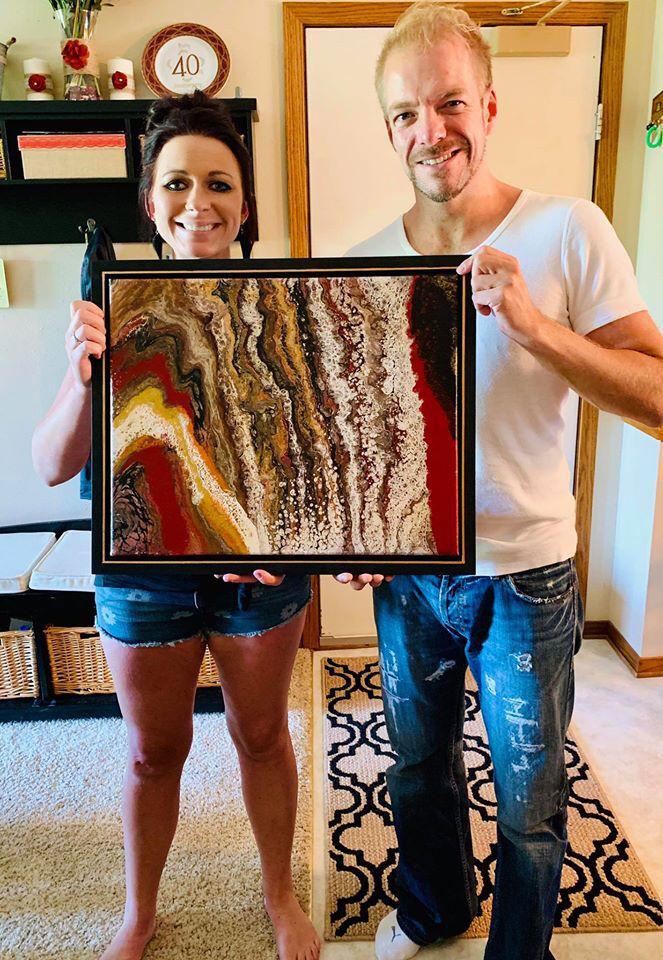 She has found painting to be therapeutic, and a great boost to her mental health after the accident.
"It's a perfect outlet," Taryn said.
Other ways that Taryn has been working on healing is through guided meditation, journaling, reading books about World War II and the Cold War, walking in the evening while listening to music and spending time doing activities with Josie.
"She loves life; she's busy," Taryn said.
Per typical 4-year-old, Josie is into unicorns, sparkles and the color purple.
Josie stays with Meendering, who organizes her appointments and cares for her. A nurse is with Josie eight hours a day, caring for her and giving her daily activities. She goes to occupational therapy once every week.
Nothing slows Josie down, according to Taryn.
Josie recklessly rides her bicycle and has to be reminded to be careful of her scars and the danger of too much UV light. Josie doesn't remember much before the accident; this is just who she is. The accident did not traumatize her, Taryn said; Josie is merely curious about the things like compression sleeves that make up her sense of normal.
"She is the definition of a survivor," Meendering said.
Her appetite has not been affected in the least by this stage of the healing process; according to Meendering, Josie can never eat enough.
Josie is going to preschool this fall, two days a week 8 a.m.-1:30 p.m. A social child, she expressed her eagerness to ride the school bus, but was told she has to wait until next year. Taryn said the community has stepped up to make sure Josie feels welcomed and loved.
Taryn is so proud of her and is daily encouraged by her daughter's confidence.
"We heard from the beginning that children are resilient," Taryn said. "If anything, she's become a little bit feistier."
Faith is what has held Taryn through this past year's events. She recalled the story of how a friend, walking by the burned car after the accident, recovered what was left of Taryn's Bible.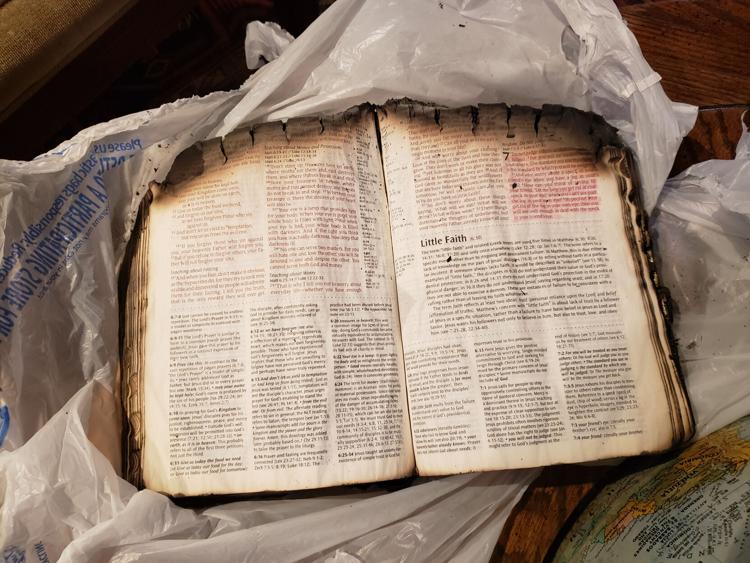 It should not have survived, because the explosion came from the gas tank in the trunk, close to where the book was found. The leather Bible covering had burned away, but for the most part it was intact — something Taryn doesn't consider an accident.
"Like a rainbow, it was a promise of something better," Taryn said.
Some friends offered to put the Bible in a shadow box or case to preserve it, but Taryn hesitated to let them put it away.
"Being able to touch it makes it a little more real," Taryn said, resting her fingers on the pages.
Faith, for her, goes beyond physically seeing or touching, but she often flips through the pages to see where it lands, and gains encouragement from reading her Bible.
When asked if her faith changed as a result of the accident, she didn't look up from the Bible but replied without hesitation, "It didn't."
"Everything was gone, but the one thing that remained was God's word," Taryn said.
There still are appointments, surgeries and healing to happen in the upcoming months and years.
"We're thankful for every single person — the first responders, family, friends," Taryn said. "I don't know how we would have gotten through this without them."
"We wish we could thank everyone," Meendering said.
Taryn has no qualms about sharing their recovery story, because she knows that when people in the community ask questions, they genuinely care. In a bigger city, people might stare at them or prefer to look away, but here she feels encouraged by the way people show love.
"We learned to embrace our scars," Taryn said. "I'm excited to see where we will be in five years."