SPENCER—That gadget you pieced together to complete an odd task at home could earn some recognition in the Town & Country Innovation Show.
The show is marking its fifth year as part of the 2019 Clay County Fair, Sept. 7-15, in Spencer.
The innovation show is the brainchild of competition superintendent and author Karen Schwaller of Milford.
The wheels started turning for Schwaller when she noticed her family's interest in a section of Successful Farming magazine that highlighted inventions by everyday farmers.
"My family would get that magazine, flip it over and look at that back page," she said. "To me, there must be something we can do with that."
During the first three years, the show was limited to entries related to farming. In 2018, it was opened up to people living in town that have something they use around the house.
The event has shown a variety of inventions — big and small — that were either pieced together with parts that were lying around and repurposed or parts bought new. There is no limit to what can be done.
"If they can't find what they need, oftentimes they'll go back to their farm shop and make something that will work," Schwaller said. "Your entries don't have to look like they came off the showroom floor. They can look like they have their work clothes on."
Pieces are judged on workmanship, design, usefulness, appearance, safety and creative use of resources. There are small and large exhibit categories as well as youth and adult divisions.
Awards for class/division are $100 for a blue ribbon, $50 for red and $25 for white.
Some inventions from past years include a barrel mover, trailer-light tester, calf catcher and an air pressure portable fuel tank.
"It's just fun to see what people bring," the superintendent said. "One kid brought a homemade mouse trap. It was just a 5-gallon bucket and a piece of wood leading up to it and a Coke can. It was so creative. It was the simplest, coolest thing."
Aside from the main innovation show competition, the Bucket of Junk Challenge is another opportunity to demonstrate your creativity.
Contestants provide their own 5-gallon bucket full of junk and build a sculpture. Seventy-five percent of the items in the bucket must be used and they must be photographed so judges can find them on the sculpture. The ribbon prizes are the same as the innovation show.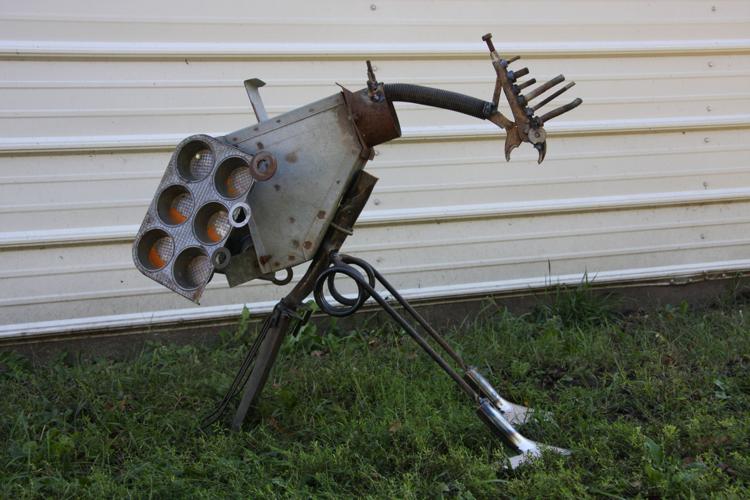 For fairgoers, stop in and take part in the Guess the Gadget contest. Various tools and gadgets will be on display and contestants submit their guesses for what each one is used for.
"The conversations that take place in that room — that's what it's all about," Schwaller said. "It's so fun to hear, 'Dad used to use this; Grandpa used that.' It's those conversations between generations that are so valuable."
If you have a gadget that you would like to submit for the Guess a Gadget contest, contact Karen Schwaller through the Clay County Fair at 712-580-3000.