HULL—Randy Feenstra said he has what it takes to be N'West Iowa's voice in Washington.
Feenstra, a Hull native and Dordt University business professor who has represented Iowa's Senate District 2 since 2009, unseated longtime U.S. Rep. Steve King in the June 2 Republican primary by about 10 percentage points.
That means for the first time since 2003, someone other than King will represent Iowa's 4th Congressional District in the House of Representatives next year.
Feenstra, 51, is facing 40-year-old Democrat J.D. Scholten of Sioux City, a paralegal and former professional baseball player who came close to taking King's congressional seat in the 2018 elections.
The state senator has been traveling the district listening to potential constituents' concerns about topics ranging from the economy, agriculture and trade.
"The big issue that I'm hearing in every area is unique, every community saying, 'Hey, our hospital — we're struggling keeping open our maternity unit' or 'We have this business that employs a couple hundred people. We have to make sure that they're successful,' or 'We're struggling with our Main Street. We need more employees, so we need to match jobs with skills,'" Feenstra told The REVIEW Monday, Oct. 26.
Regarding agriculture, Feenstra spoke of the need to grow Iowa's ethanol markets, which have been on a roller-coaster ride the past year since President Donald Trump's administration granted small-refinery exemptions to large oil refineries in August 2019.
On Sept. 14, the government reversed course by striking down pending gap-year small-refinery exemptions to the Renewable Fuel Standard for past compliance years 2011-18. The agency has yet to take action on 31 pending waivers for 2019-20.
"We're No. 1 in the country with ethanol production, so how can we expand it? How can we tell the world that this is the cleanest form of clean energy?" Feenstra said.
In a Sept. 15 agriculture forum, Feenstra and Scholten were in agreement regarding their support for the Renewable Fuel Standard. During the event, Feenstra mentioned one way to help the ethanol industry grow would be a nationwide version of a bill the Iowa Legislature passed June 3 which incentivizes transitioning fuel pumps from 10 to 15 percent ethanol.
Scholten meanwhile said the government needs to ensure the 15 billion-gallon target of ethanol blended into the fuel supply is mandated. He also voiced support for a low carbon fuel standard to assist with that goal.
If elected, Feenstra said his No. 1 goal starting out would be to get on the House Agriculture Committee to have a say in crafting the upcoming Farm Bill in 2022. He mentioned agriculture also is one area in which he thinks Republicans and Democrats can work in a bipartisan manner.
"That's why I look forward to it. I think both parties take off their hats and say, 'All right, well, how can we help ethanol? How can we help the farming community?'" Feenstra said.
Agriculture also was a topic Feenstra spoke with Trump about earlier this month when the state senator visited the White House.
"That was really neat. I spent 45 minutes with him. He wanted me there to talk about, if he gets elected, that he wants people that can support his efforts in agriculture and the budget and stuff like that," Feenstra said.
Before Feenstra secured the Republican nomination in June, the coronavirus pandemic prompted his campaign to change how it operated due to the disruptions the outbreak was creating in the state.
"We sort of changed our campaign to saying 'How can we help our neighbors? How can we be there for them?'" Feenstra said. "When COVID hit, we sent postcards to everybody saying, 'Hey, we want to help,' and we were delivering food, delivering Pampers, delivering toilet paper, whatever it might be."
He noted further steps that should be taken regarding the pandemic, such as increasing the availability of rapid testing and personal protective equipment, continuing to protect critical supply chains and connecting more people to jobs.
"We have to match skills with jobs, we have to get people to work," Feenstra said. "What can we do to create skills in the people that aren't employed and get them out in the workforce?"
He credited his Christian faith to be the foundation of who he is and what has guided him through life.
"I tell this to my kids in class and to my Sunday School kids, that God created each one of us for a purpose and a reason and He created me for this time and this place," Feenstra said. "I firmly believe that He is training me to further his kingdom in government, and what I mean by that is to show love and kindness and humbleness and respect, unity, but also to make sure you're helping others, helping the farming community, helping manufacturers and the Main Street."
Feenstra also spoke of the importance of hard work in his life, recalling when he used to deliver newspapers at age nine, working in a bakery at 14 and working at Sioux-Preme Packing Co. — now called Perdue Premium Meat Co. — in Sioux Center to help pay for college.
He later became head of sales at The Foreign Candy Company in Hull before later becoming the city administrator for the Sioux County community.
"I went from a very fast-paced, exciting candy company to a land of red tape and bureaucracy and I said, 'There's got to be a better way for government.' That's where I really went down the path of results-based government, of creating results and looking at everybody as customers in government and how we can help and how we can be more efficient, more effective," Feenstra said.
In his role in the state Senate, where he served as assistant majority leader and chair of the Ways and Means Committee, he said his businesslike view of government is why he has sought to push for lower taxes and reduced regulations.
Feenstra often reflects on two periods during his time in the Iowa Legislature. The first is his time helping craft a tax-reform bill that Gov. Kim Reynolds signed in May 2018. The second is when he worked on a health and human services budget bill Gov. Terry Branstad signed in May 2017 that blocked public money from clinics that provide abortion services.
"You never know what those outcomes are and those policies that can be dramatic changes for society," Feenstra said.
Feenstra and Scholten are running for a congressional district that has reliably voted Republican for decades. The last Democrat to hold the post was Rep. Neal Smith in the early 1990s, which was about 20 years before the district merged with Iowa's 5th Congressional District in 2013.
Results from a Monmouth University poll released Oct. 22 had Feenstra leading Scholten 48 percent to 42 percent among registered voters, with 6 percent undecided. Among high-turnout likely voters, Feenstra remained at 48 percent while Scholten polled 43 percent.
Feenstra reflected on what his future holds in the event Scholten pulls off a win, saying he would continue to teach business and economics full time at Dordt.
"I'd carry on my role at the university and put Christian light into the world," Feenstra said. "God's got a plan, and whatever that plan is Nov. 4, I move forward in either occupation."
---
SCHOLTEN'S SECOND BID:
The Republican candidate for Iowa's 4th Congressional District will be different from the 2018 midterm election, but the Democratic hopeful will be the same.
J.D. Scholten, a 40-year-old Sioux City native who came close to beating Republican incumbent Steve King last cycle, spoke to The REVIEW Wednesday, Oct. 28, about the home stretch of the race.
Scholten, a paralegal and former professional baseball player, conducted a "Don't Forget About Us" tour during last fall in which he visited towns of 1,000 or fewer people. Since then, he has continued to be on the road touring all 39 counties and 374 towns in the 4th District to connect with potential voters.
"We're just kind of circling back in a lot of different places and making sure that on Election Day, nobody has a doubt, when you're going to the ballot box, nobody has a doubt on where I stand on any issue," Scholten said.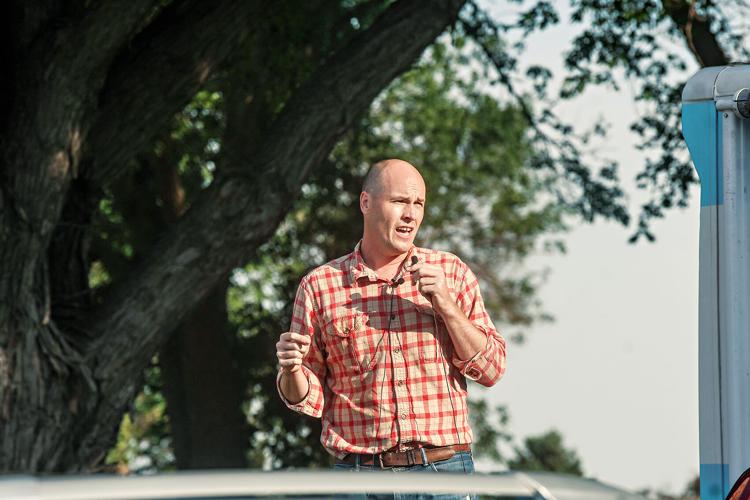 His stops this year have featured parking lot rallies in which audience members sit in their vehicles while Scholten speaks to them over a local radio channel to ensure social distancing.
He noted some of the main topics he has discussed with people include health care and an economy that is not working for many.
If Scholten is elected, however, he said his No. 1 priority would be working to enforce antitrust laws in the agricultural industry.
"I've talked with farmers who will always vote for me and farmers who will never vote for me and everywhere in between and every one of them said I'm exactly right on this issue," he said.
Scholten recalled a visit he had south of Emmetsburg with two brothers who owned the remaining dairy farm in Palo Alto County.
"Here are these guys who have milked cows their entire life and their family has been doing it for over a century and so they've done everything right," he said. "Yet these policies of 'Get big or get off the farm' really left them by the wayside."
Scholten also expressed frustration with leaders in Washington and Des Moines regarding their response to the coronavirus pandemic, noting how community spread of the virus is rampant in western Iowa up to southern Minnesota.
"There's just a disconnect in that and I feel that's what we should be doing as a nation: Figure out how do we get out of this. And what even does success look like? I don't think that's been defined either," Scholten said.
When it comes to partisan gridlock in Washington, Scholten argued a potential solution could be reforming campaign finance laws so politicians could spend less time fundraising for re-election and more time collaborating on legislation.
"Let's say there's a hearing on a certain day: You'd go in and give your five minutes' worth of questions for the hearing and then you're expected immediately to go across the street and start fundraising," Scholten said. "That doesn't allow for people to work together."
In the event Scholten's bid for the House does not succeed this time around, he said his plans for the future are unclear.
"Other than taking a nap on Nov. 4, I have literally no plans. I don't know what's next," he said.
"Everything I have in my life, I've put on hold for the last cycle and this cycle to run for office. That's how important this is to me."