HULL—Te Slaa Manufacturing is angling to become a one-stop shop for livestock producers' feed lot and equipment needs in N'West Iowa.
The Hull welding and manufacturing business became a dealer of Tarter Farm and Ranch products in early January, expanding its inventory of gates, feeders and other agricultural equipment which until now have been manufactured entirely in-house.
Justin Te Slaa, who owns the business with his parents, Mel and Kathy, said Tarter products round out Te Slaa Manufacturing's inventory with cheaper and more lightweight options.
"We're known for quality, super high quality," Justin said. "Tarter comes in more with the value, more of a budget-friendly product line. I wanted to try and get a full line basically and that's where Tarter comes in. They make thousands of products, some that I never even dreamed of offering that they offer."
Tarter, based in Dunnville, KY, is an industry-leading producer of gates, which Te Slaa Manufacturing carries in addition to feeders, stock tanks and other Tarter equipment.
It is unusual for a manufacturer to use another manufacturer as a dealer, but Justin said the partnership is working well.
The first truck of Tarter supplies arrived in early January and most of that product already has been sold, giving him confidence he is filling a niche need in the area. Mainly that's by offering a little more variety to producers who do not need something as heavy duty as Te Slaa makes.
"There's places where you don't have to have the world's best gates. That's where that Tarter gate comes into play," Justin said. "You have a low-pressure gate you need, we have it here."
Te Slaa Manufacturing's biggest selling product is heavy-duty gates. Te Slaa also makes feeders, hog and cattle chutes and attachments for cultivators and planters, all manufactured in Hull from U.S. steel.
Te Slaa is not the only Tarter dealer in N'West Iowa. Bomgaars locations have a select amount of Tarter products, but Justin said Te Slaa carries the widest range in the area.
"The thing I'm going to do you can't do at Bomgaars is I offer all the different hinges," Justin said. "I offer 10 different styles of hinges in this economy style of gate. That's something nobody else that I know of locally does."
Becoming a Tarter dealer is a goal Justin has been working toward for nearly a decade as a way to expand inventory without shouldering additional manufacturing costs.
"We're so busy and we can't get help," Justin said. "If we have it, we can sell it and we don't have time to make it."
He added that although Tarter has lower prices for comparable products, he is not worried about undercutting Te Slaa's manufacturing by becoming a dealer.
"We're not getting out of manufacturing, we're just expanding on different stuff that local, mostly beef producers, but suppliers need in the area and beyond," he said.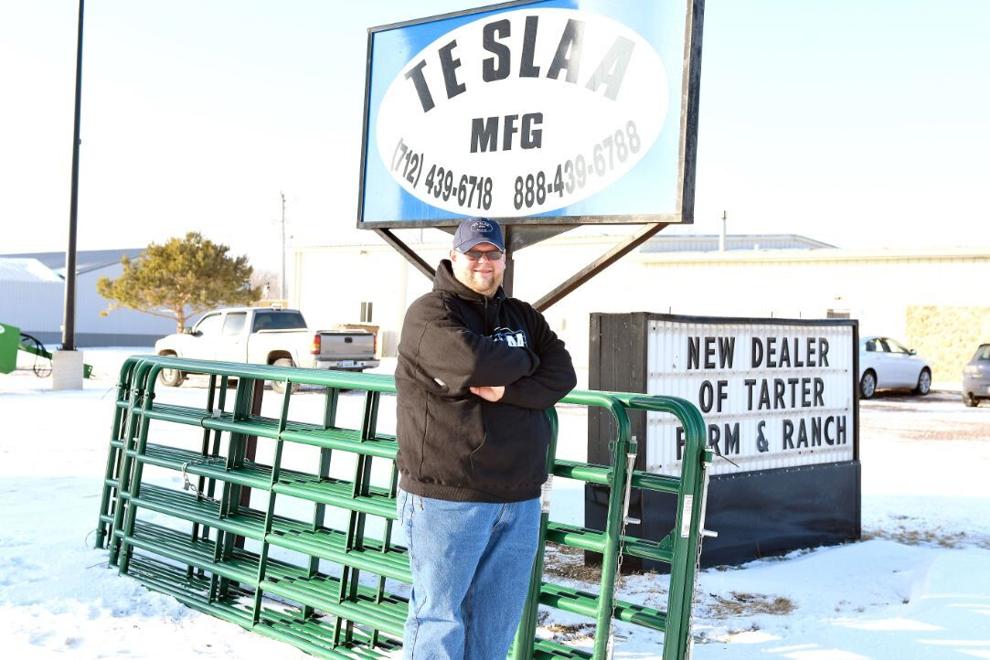 In the same vein, he has spent four years building Te Slaa into a wholesale fencing supplies for beef producers. Te Slaa manufactures some continuous fencing, but also carries railroad ties, guard rails, used I-beams from construction, metal pipes and other materials used to build feed lots.
"I like to say we have a lot of dollars worth of rust, but to farmers this is gold," Justin said. "We're able to offer all the fencing at one spot basically."
Becoming a dealer takes off some of the manufacturing pressure Te Slaa has been feeling during the coronavirus pandemic, which has brought ups and downs.
"When it first started it was like someone turned the water completely off," Justin said.
Working hours were slashed in the spring as customers dried up, although Te Slaa's three employees stayed on the payroll. Once June hit, the situation reversed. Te Slaa worked flat out to keep up with demand for feeders, gates and loading chutes.
"It was like someone knocked the spigot off and it's been full-bore since. We're just starting to see a bit of a slowdown," Justin said.
Shipping delays and steel shortages with suppliers have pushed manufacturing timelines back somewhat, but Justin said he has been able to plan ahead and warn customers to place orders a little earlier to compensate. Supplementing with Tarter products also has helped meet demand.
Justin added that mild weather in November and December extended fencing season by six weeks or more. The demand for fencing products gave the business a boost that has helped them recover from losses early in the year.
"Normally, we start wrapping up fencing season in October but guys were doing fencing all the way into the first part of December this year, so that helped us a lot," Justin said. "That was the silver lining."