HULL—Hull Christian School principal Randy Ten Pas was a hard sight to miss for Hull residents driving past the corner of Chestnut and Sixth streets last Wednesday and Thursday.
Ten Pas spent those days cooped up in a tree outside the elementary school as fulfillment of a personal challenge he undertook for Hull Christian's Rally Day Sale.
"Every year I try to do something unique like this. It's been going on for several years," Ten Pas said.
For every $100 he raised during the school's Rally Day Sale auction on Saturday, Sept. 21, he committed to spending one hour in the tree. Since Ten Pas raised $3,750, he was to spend 37.5 hours in the tree.
The auction as a whole raised $60,000 for the school. Ten Pas said the event was a collaborative effort between the school board members and businesses in the area that contributed more than 200 items to be auctioned off.
The idea of spending time in the tree came to Ten Pas this summer while heading to church at Hope Christian Reformed, which is located on the opposite corner of Chestnut and Sixth streets where the tree stands.
He spoke with his friend Evan Wielenga, a former president of the Hull Christian School board, about his idea and asked if Wielenga could build a platform on which Ten Pas could camp out. Wielenga agreed and installed the 4-by-8-foot plywood platform in the tree Monday night.
"The only thing I requested was having some type of guard rail," he said, referencing the two-by-four rails around the perimeter of the platform.
Ten Pas began his 37.5-hour campout in the tree at 6 a.m. Wednesday, only leaving his post to use the restroom.
He originally planned on starting his campout Tuesday morning, since it was supposed to be warmer that day. However, a chance of rain in the forecast for that afternoon caused him to push his campout back a day.
"I thought, 'I'd rather be a little bit cooler than get wet, so we'll go Wednesday-Thursday," Ten Pas said.
Along with his backpack full of snacks, his iPad, some books and his cellphone, Ten Pas had a crate attached to a rope with him in the tree. He used the crate to haul up meals and a thermal sleeping bag his wife brought him.
"Just to keep warm tonight because it's supposed to get in the low 40s," he said Wednesday morning from his perch.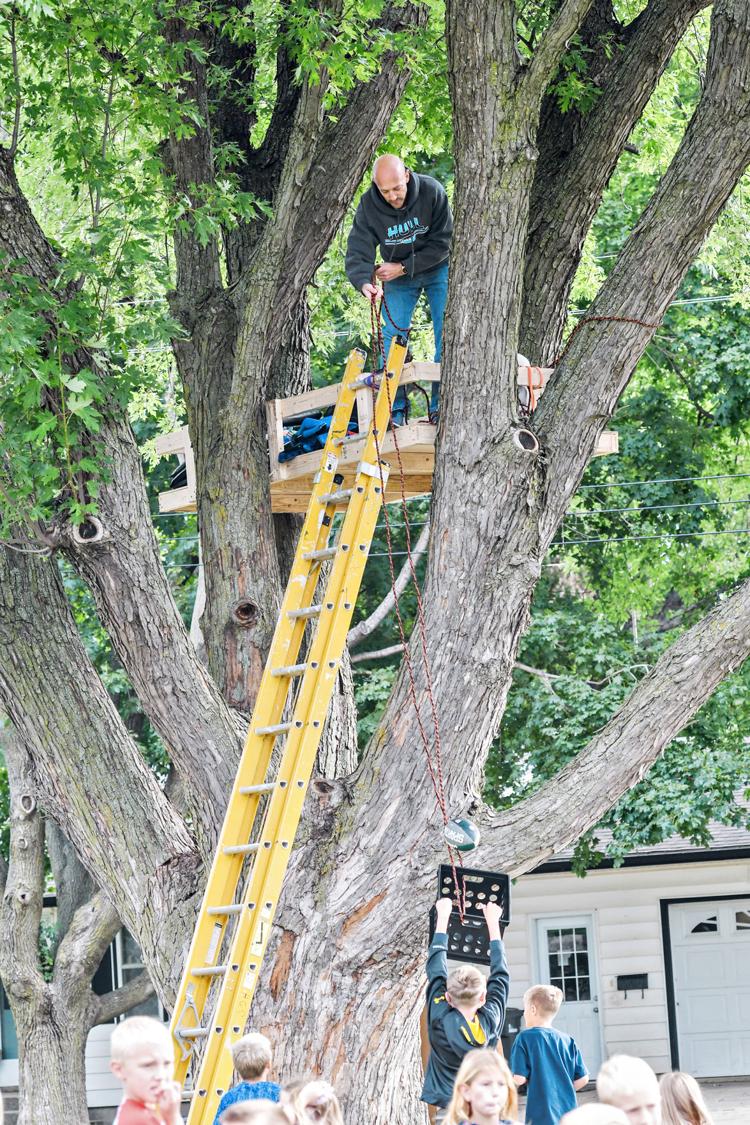 He also used the crate during school recesses to hoist up footballs, soccer balls and kickballs while playing catch with students in the grass field by the tree.
Beneath the tree is a cardboard sign his youngest daughter suggested he make that reads, "No, I am not Zacchaeus. I am raising money for Hull Christian School." The message references Luke 19:1-10, in which a tax collector named Zacchaeus climbs a tree to get a better view of Jesus in Jericho.
This wasn't the first time Ten Pas has found himself in a unique location to raise money for the school.
In 2012, the principal spent more than a day camping out on the school's roof. Three years later, he spent about two days in a makeshift jail Wielenga had built for him inside the school.
For another year's challenge, Ten Pas agreed to be stuck to a wall in the school with duct tape after running out of ideas. That challenge, however, went awry when Ten Pas fainted after being stuck to the wall for about four hours.
To build anticipation for what he does every year, Ten Pas said he does not reveal details of his challenge until after the Rally Day auction.
"That helps just the Rally Day of selling itself as well," he said. "It kind of brings some excitement."