HULL—Todd Hartbecke has about as much hair on top of his head as Hull Christian School has debt: None.
The fourth-grade teacher had his head shaved in front of the school Thursday, April 29, to fulfill the final challenge of Hull Christian's "Debt Eliminating Challenge Days," which ran April 19-30.
During the two-week period, the school raised money to pay off the remaining $68,000 of debt it owed on a $1.9 million building renovation project that was completed about six years ago.
The project included putting in air conditioning throughout the school, updating the security system, adding a science lab and additional classrooms for preschool through third grade. Older classrooms were also converted into conference rooms.
Principal Randy Ten Pas unveiled the final amount raised at the assembly Thursday before Hull Christian parent Faye De Kam cut Hartbecke's hair: $97,231.
To put that in perspective, he told the students what that would look like if it were stacked in $1 bills.
"The total amount would be above the ceiling of the gym. That's how much money we raised," he said.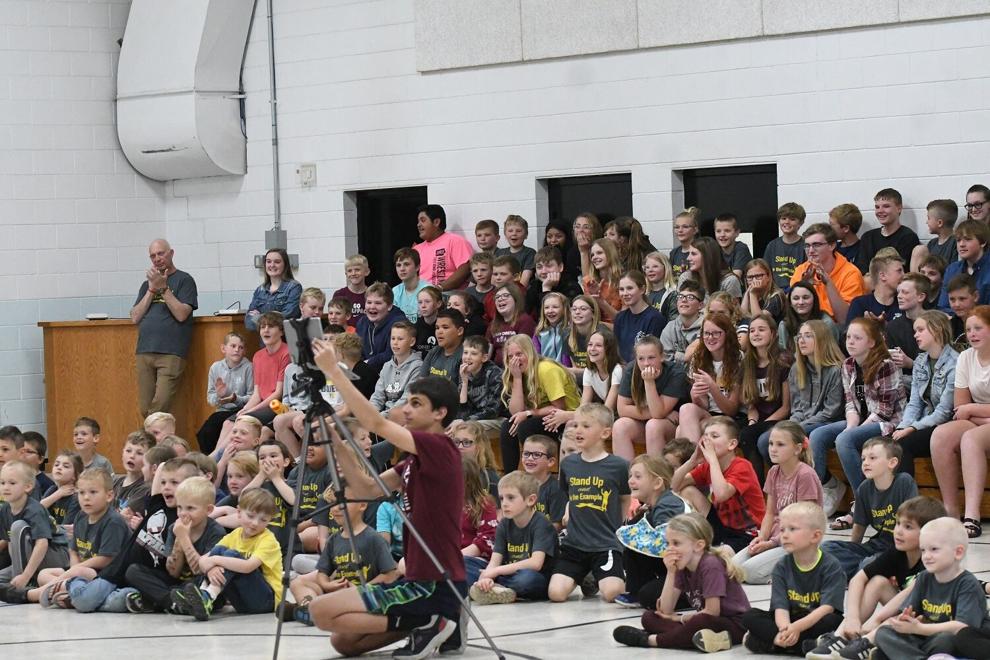 The excess of the amount raised will go toward purchasing new flooring in the gym.
Before the school's fundraising drive started in April, it had erased much of the debt through previous phases of fundraising and eventually was left with the $68,000.
"We were kind of — I don't want to say stuck — but we were at the point of $68,000 and we'd knocked a lot of doors already, things like that, trying to find something unique to raise some money," Ten Pas said.
The idea of holding a series of challenges to encourage donations came from a similar fundraising drive Ten Pas said Orange City Christian School did.
Hull Christian's first challenge — a pie-eating contest — took place April 19 after the school raised $15,000.
Eighth-graders Makenna Fedders and Kellen Beukelman and seventh-graders Jessica Wielenga and Landon De Stigter competed in the challenge.
The twist was that the two winners — Fedders and De Stigter — then were able to throw a pie into the faces of eighth-grade teacher Kerrigan Kats and music teacher Elizabeth Van Maanen.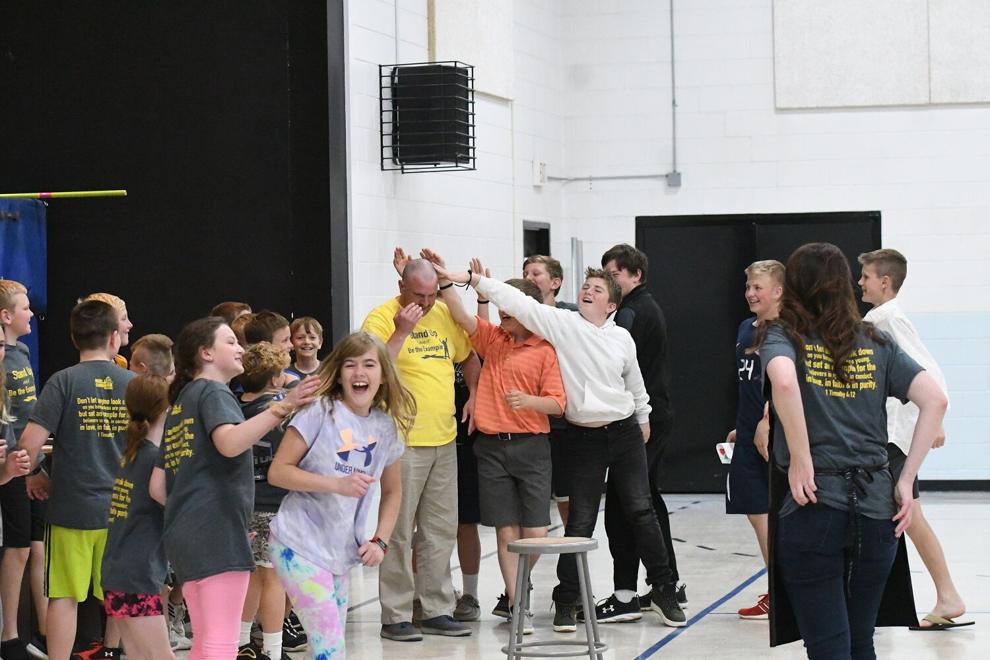 The second challenge was a round of the game "Bean Boozled," which happened April 20 after the school reached the $30,000 milestone.
Sixth-grader Lydia Bleeker, fifth-grader Cohen Broek, fifth-grade teacher Heather Negen and kindergarten teacher Shae Pollema took part in the jelly bean-eating game of chance. They each spun a wheel when it was their turn to eat a jellybean; however, some of the jelly beans were meant to taste good while others had a nasty flavor.
"We had butter popcorn or rotten eggs, strawberry banana smoothie or dead fish, birthday cake or dirty dishwasher, tutti-frutti or stinky socks, coconut and spoiled milk," Ten Pas said, listing off just some of the flavor options.
In honor of the school hitting the $50,000 mark, students and staff were challenged Monday to wear 50 items of clothing or other accessories. Ten Pas for instance wore 26 ties along with 24 other pieces of apparel.
The next challenge involved Ten Pas and three others locking lips with a pig to mark $40,000 raised. He, along with fourth-grader Charlie Oostenink, sixth-grader Brooklyn Poppema and school secretary Janelle De Wit, kissed a hog belonging to a family at the school.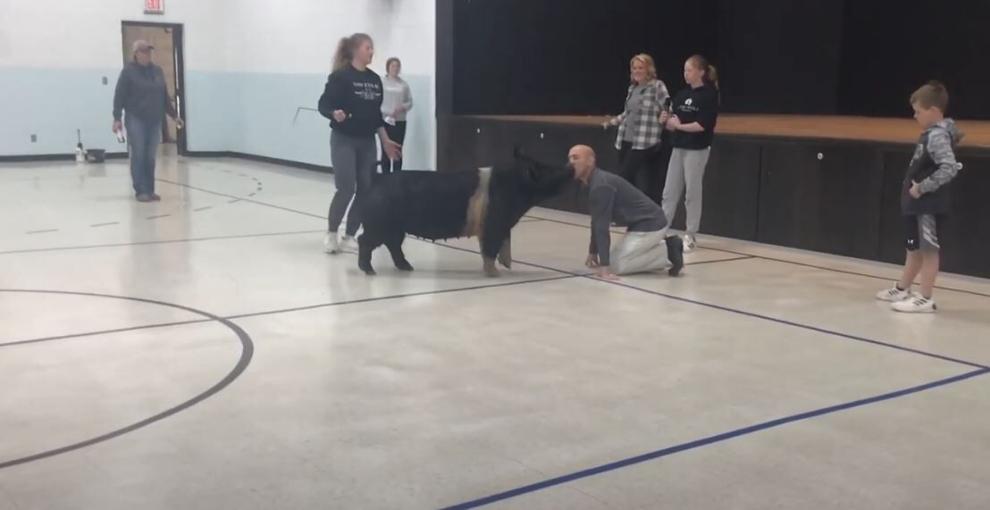 Ten Pas was impressed at the speed in which the donations started rolling after the school's first challenge.
"It's really been coming in very, very, very steady," Ten Pas said.
That's why he felt comfortable giving Hartbecke a heads-up about getting his hair shaved a week before the deed was to be done.
The donations mainly came from people connected to the school, although not all donors necessarily lived in N'West Iowa. Ten Pas said the school received financial contributions from people from five states who wanted to support Hull Christian.
"It's just a great feeling to know that debt is finally going to be paid off," Ten Pas said. "We have faithful donors and we have a faithful God."