HARTLEY—It's a good sign that the faculty of a school is excited for an event when the principal drives the bus.
That happened for Hartley-Melvin-Sanborn High School students attending the Pocahontas County STEM Festival on Friday, Nov. 8.
Hartley-Melvin-Sanborn students in the STEM (science, technology, engineering and mathematics) class traveled to Laurens and taught students ranging in age from kindergarten through sixth grade.
"I was really proud of our kids and how they interacted with the kids that day," said Hartley-Melvin-Sanborn principal Nathan Hemiller.
Sophomore Anthony Larson helped the younger students with an egg drop. The students attempted to protect their egg so it would not break when it was dropped from about eight feet.
"We saw if their egg cracked or if their egg survived," Larson said. "Then we had a talk at the end to see how they did."
He said about half the students, ranging from third grade through sixth grade, had their eggs break.
Sophomore Jesse Garcia, who was part of the ramps and pathways group, said they had groups of students come in and they had them build ramps.
"We had two different kinds of sets for them to use and some of them were building houses and stuff," Garcia said. "So they had the bigger sets and smaller ones but the kids did more with the bigger ones because they just had more available to them. So we just had them separate into groups and just let them build."
Sophomore Nick Bronstad, also part of the ramps and pathways group, said some of the groups had clever ideas.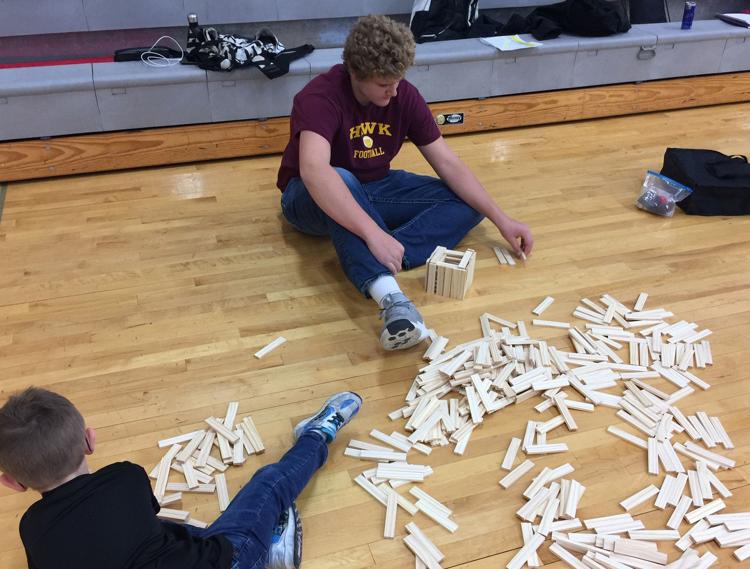 "There was one group and they had bigger blocks," Bronstad said. "They built one that went halfway across the gym so that was pretty impressive."
Garcia said it was interesting doing the teaching instead of being a student.
"After a while it kind of got hard to keep them concentrated then they kind of got out of it," Garcia said. "They were good most of the time so it was a good experience."
Terry Putnam, the STEM teacher that was behind taking the students to the festival, was proud of her students.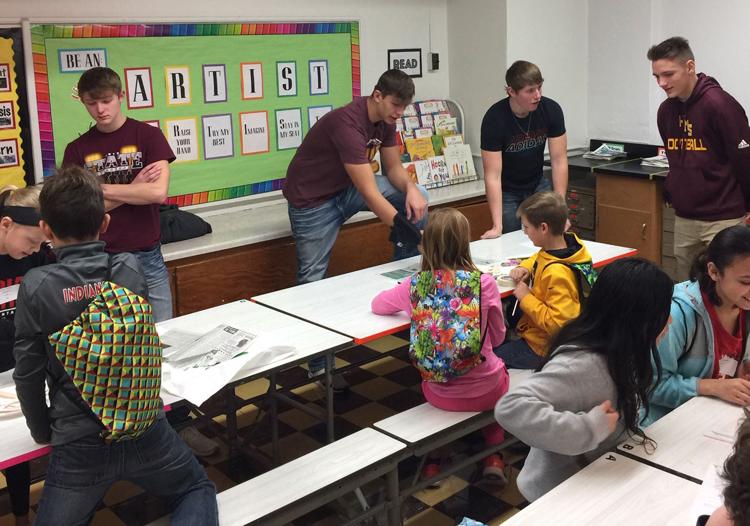 "I could go through my thesaurus and go through the words," Putnam said. "These young men, they were nervous, which to me is a great asset to their character. If you're nervous that means you care, and they wanted to represent our school."
She said the Hartley-Melvin-Sanborn students got compliments from other teachers and faculty.
"The kids didn't want to leave their sessions because a student role model teaching another student, or peer teaching, is phenomenal," Putnam said. "When you have a role model, like somebody that's 17 or 18, working with somebody that's 6 or 7, it's dynamic."
Hemiller said it was a great experience for everyone.
"It was awesome for me to see my kids teaching little kids about something that they're passionate about and STEM activities that are very important in today's education," Hemiller said.
He also noted that he had to drive everyone about an hour and 15 minutes and asked Putnam why they were not doing one closer to home.
"She basically told me that she would love to do it here locally, so going forward, we're going to look to do something with that here at H-M-S," Hemiller said. "Our kids liked it, the little kids loved it and it was awesome to see my high schoolers get on the floor and teach a little kid how to build a Lego car that would be fast going on a ramp."
He said if Pocahontas County has a STEM Festival then there is no reason for other schools in O'Brien County not to be involved.
"We could also have one where there's coordination between us, South O'Brien and Sheldon to possibly do this in the future," Hemiller said. "If we could get kids who are passionate from all three of those schools, and even bus our kids 10 or 20 miles to take part in these different activities like they did, it would be awesome."
If Hartley-Melvin-Sanborn does host a STEM festival in the future, hopefully it goes as well as the one in Pocahontas County did.
"They took the philosophy of STEM, and they brought it to them," Putnam said. "I couldn't have asked for a better job. We could have scripted it, but we didn't have to because they knew exactly what they needed to do intuitively."