HARTLEY—Students don't just learn the basics of writing and editing in Danielle Kleinhesselink's first-grade classroom at Hartley-Melvin-Sanborn Elementary; they get to publish their own book before the end of the academic year.
For the past four years, Kleinhesselink's first-graders have published a book containing their original writing and artwork through the company Studentreasures Publishing.
"Basically, this stems from the idea that we want kids to be able to publish their writing," Kleinhesselink said.
Last spring, her students' book was titled, "It's Elementary." Each student wrote a page in which they stated what generation of Hartley-Melvin-Sanborn they belonged to in their families. They also reflected on what they would miss about the existing elementary school once the district's new elementary building opens next fall.
"We wanted to focus on the positive," Kleinhesselink said. "Some of our kids, they've been in this district for their whole lives, their parents, their grandparents. So I wanted to know what generation of people have been coming here."
She had assistance with the project last spring from Vella Smith, who was her teaching associate that academic year and is working in the school's library this year. Smith also designed the cover for the book and came up with the title.
Smith pointed out how the cover's final design has a cartoonlike appearance.
"I'm not an exact kind of artist, but it seemed to fit," she said.
The class started working on "It's Elementary" in early March and continued into April. By the end of April, the copies of the book arrived in time for parent-teacher conferences.
Although her students get nervous when the time comes to write their final drafts for their stories, Kleinhesselink said they also are excited about the idea of seeing their work get published and sharing it with their family.
They had a chance to do that during a party in Kleinhesselink's room where parents were invited to come and hear their students read from the book. Smith said many parents attended the event and were excited to see the book the class had created.
Even though Kleinhesselink and Smith edited the book before sending it to the publishing company, they did not fix every mistake the students made in their writing. Kleinhesselink said that was because they wanted the students' writing to be as genuine as possible.
"I wanted the parents to pick it up and go, 'This is what my kid could do in first grade' versus 'What can Mrs. K do?'" she said.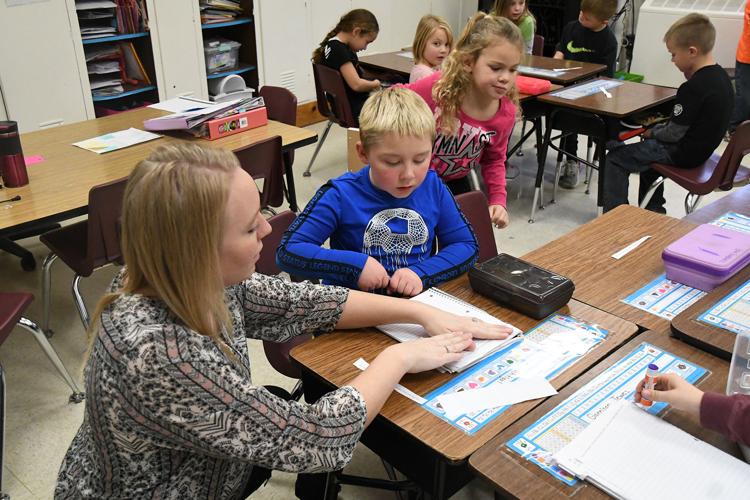 The elementary implemented a new writing curriculum last year that includes a 40-minute block of time in which students focus on writing and rewriting their stories.
Kleinhesselink said that year was the first that her students were able to take advantage of that time to work on their stories for the book.
In past years, the topics her students write about for their published books have changed.
For example, the first year Kleinhesselink began the project, her students wrote about endangered rain forest animals. Another year, the students wrote a cookbook filled with recipes and pictures they compiled with help from their families.
"They got to bring their recipes, and then we sorted them by category, like you would in a cookbook," she said. "So breads go together and meats and things like that."
Kleinhesselink did not want to give away too many details about the theme for next spring's book but alluded to the idea of connecting to previous Hartley-Melvin-Sanborn generations.
"This year's going to be a good one."