HINTON—More than seven million steps have been taken in support of Daxton DeGroot before he's taken his first.
Hopefully, those steps, along with donations and other support from friends, family and total strangers, will help 2-year-old Daxton someday walk, run and overcome the disorder he was born with.
Daxton was born with alternating hemiplegia of childhood, a rare neurological disorder which causes temporary bouts of paralysis accompanied by developmental delays.
It's a disease without a cure, but fundraisers to support Daxton have been a source of encouragement for his parents, Abbey and Derek DeGroot.
The couple, who are graduates of Central Lyon High School in Rock Rapids and make their home in Hinton with their three children, remember their life turning upside down when Daxton was just 6 months old.
Getting answers
When Daxton was 6 months old, Abbey found him unresponsive and struggling to breathe in his crib. The DeGroots rushed him to the emergency room at UnityPoint Health — St. Luke's Hospital in Sioux City where he was intubated.
An MRI scan showed abnormal development on the right side of his brain, which doctors told them might be the result of Daxton having a stroke in utero. Other tests showed Daxton was having seizures, so he was quickly sent to Children's Hospital & Medical Center in Omaha, NE, where they spent another three days before being sent home with seizure medication and big questions.
Although doctors could not tell the DeGroots what might have caused Daxton's stroke, it affected the right side of his brain and the left side of his body. As Daxton got older, it became clear that he could not use the left side of his body, particularly his left hand.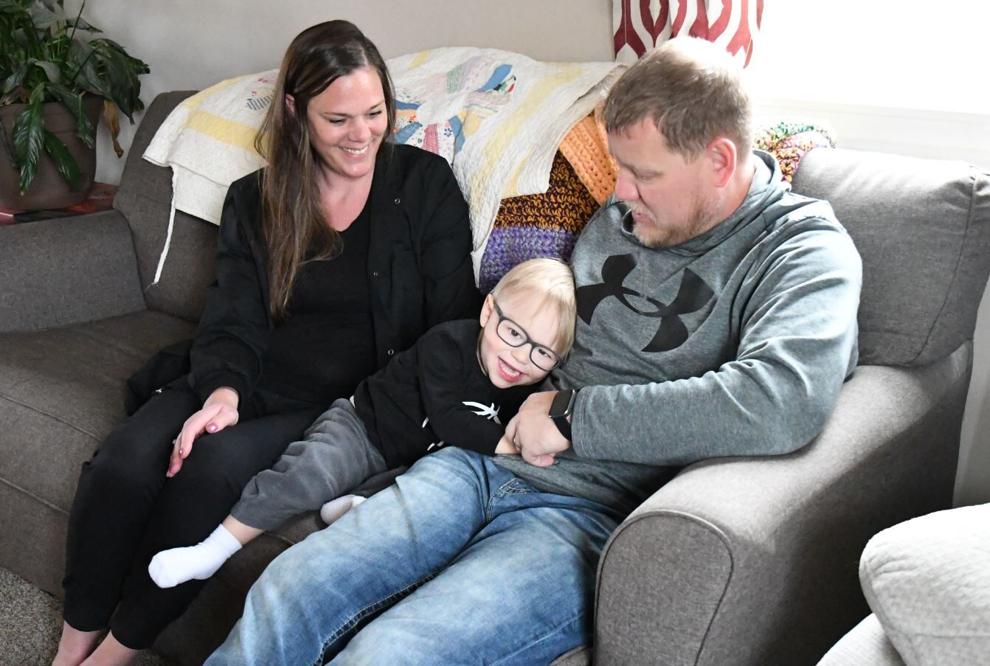 More than that, he continued to have bouts like the one that first sent the DeGroots to the hospital. He would be lethargic and unmoving for days at a time, crying constantly. Although they did not have a name for it at the time, these were symptoms of an episode of alternating hemiplegia of childhood.
"We really couldn't get any answers at first and we knew something was wrong," Derek said. "It was tough because we knew this kid was suffering."
One in a million
Daxton was diagnosed with alternating hemiplegia of childhood when he was 18 months old. Only two doctors in the United States specialize in helping patients with this condition. The DeGroots traveled to Nashville in April last year to meet with one, which was their first step on getting answers and help to manage Daxton's condition.
"It's a one in a million disease," Abbey said. "There's no cure for it."
An episode brings on temporary paralysis. Daxton goes limp and unresponsive. He got a feeding tube in February 2020 so his parents could feed him while he was having an episode.
"He can't move his head, neck, arms. He cannot move at all. It's like you're picking up a rag doll," Derek said.
Frequency of episodes is unpredictable. They could be weeks or months apart, but Daxton takes medication to shorten the duration of each episode.
"Before the medication, it could be a week, a week and a half when he couldn't do anything," Derek said. "Now he could be out of it in three days on average."
Episodes are caused by external triggers which vary from person to person. The DeGroots have identified a few of Daxton's, which range from general things like loud noises and very hot or cold temperatures to things more specific, like peanut butter.
Sleep helps him reset and recover, which is typical of people with this disorder. The DeGroots have been told as Daxton gets older the episodes will become fewer and farther apart, although they are not likely to stop completely.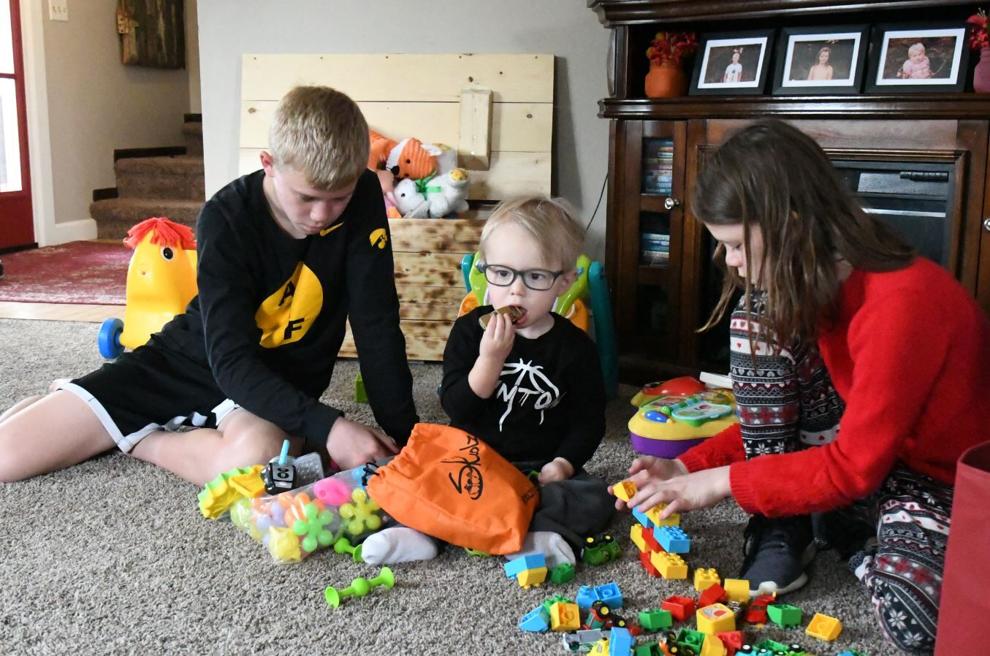 'A normal 2-year-old'
Daxton continues to take medication for epilepsy, something that's fairly common for children with alternating hemiplegia. However, his condition is further complicated by the stroke he had in utero, which has additionally delayed his development.
"They say Dax, he's almost 3 and they say he's probably at a year and a half level," Abbey said.
He is vocal but does not talk. Because of the weakness of his left side, he cannot stand or crawl yet although he can sit and is adept at rolling.
"He doesn't walk, he doesn't crawl, but he just rolls everywhere," Derek said. "He's like a normal 2-year-old. All his toys will be spread out on the floor."
Some of these delays are because of the disorder, but others are due to the stroke, which makes it hard for the DeGroots to predict when Daxton might be walking and talking. To help get him back on track and build important skills, Daxton does physical therapy two times a week and occupational and speech therapy once a week.
His parents also do almost an hour of therapy exercises or activities with him every day to help practice and push toward development goals. The DeGroots have a room in their basement devoted to Daxton's day-to-day therapy activities.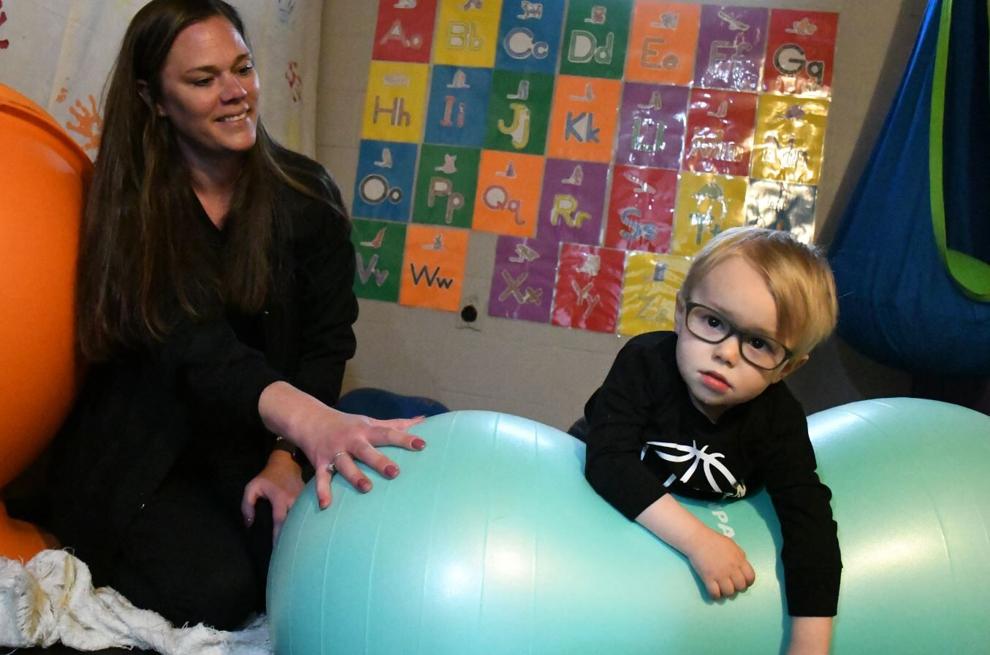 Since Daxton started these a year ago, he has made strides in gaining strength and coordination, although he is still learning to pull himself up to stand.
"Since therapy and everything we've started, he's way stronger," Derek said. "He couldn't roll over. I get frustrated for him, but it's nice to hear the therapist say he can sit on his own now, he can crawl on his own now. We kind of get lost in it because we're in it every day."
His parents hope Daxton will have gained enough strength and coordination to walk by the time he is 5 years old. However, he will continue to need a wheelchair because of his episodes. The DeGroots have ordered a custom wheelchair that Daxton will use when he starts going to preschool in the fall.
Dash for Dax
Since Daxton's diagnosis, the DeGroots say they have been overwhelmed with the support they have received from friends and especially their extended family back in Rock Rapids.
In March, several of those friends pulled together to organize a Dash for Dax fundraiser to help with some of the DeGroots' medical expenses, including an upcoming visit to see the specialist in Nashville in August. The event can be found on Facebook as "Dash for Dax."
The motto for people with alternating hemiplegia of childhood is "a million steps to a cure" and people have taken more than 5.5 million steps in the Dash for Dax fundraiser, which will culminate on May 8 with a buffet dinner and silent auction at Junkyard Pub N Grub in Hinton.
"If it was up to us, we wouldn't be doing it," Derek joked. "Throughout the whole thing our friends and family have been very instrumental."
Another fundraiser is being held 5:30 a.m. Friday, May 7, by REFIT with Shannon Monson of Rock Rapids. Monson, who leads group fitness classes, is holding a Dance for Dax class at the Central Lyon Activity Center in Rock Rapids and will donate the proceeds to support the Dash for Dax fundraiser.
Dash for Dax may become an annual event. If it does, the DeGroots hope donors and friends will continue to watch Daxton's progress and growth. The DeGroots also update Daxton's progress in the Facebook group "Got your back Dax!"
"He's a wonderful little kid and we hope that eventually he will be able to walk and talk and do normal things," Abbey said. "We just want him to be a normal, happy, healthy kid."