SUTHERLAND—Nancy Hill enjoys going to her local library, although she wishes a good friend of hers was still alive to enjoy it, too.
The 64-year-old became the new director of the Gen. N.B. Baker Library in Sutherland earlier this month. The Sutherland City Council approved her appointment to the position during its regular monthly meeting on July 9.
Hill replaces the late Daniel "Dan" Ray Wetherell as the person in charge of the public library at 315 Ash St. in the O'Brien County city of about 600. Wetherell died unexpectedly on May 20 at the age of 41.
The two Sutherland residents were good friends. Hill — who had been on the library's board of trustees since 2015 until she became the facility's director — misses working with Wetherell.
"He should be here, but I realize he's not," Hill said. "I do find comfort in being here."
Hill, who had been serving as the library board's vice president, and library board president Connie Cody of Sutherland have done their best to keep the facility operating as smoothly as possible since Wetherell's death.
Getting used to the day-to-day duties of the part-time job has kept Hill busy. For example, she is working on making an electronic entry for about every single item in the library's collection for a future in-facility, self-checkout system.
"This automation is what's really taking up my time," Hill said. "There are like 8,000 books that need to be scanned and put in the system. Then it'll be automated and people can check their own books out."
Hill plans to continue other programs that Wetherell started, such as putting together a community calendar of events each month and having speakers visit the library to give presentations, for example.
She mentioned that Betty Brandt Passick, an Iowa native who relocated to the Twin Cities during the 1980s, will visit the library at noon Saturday, Aug. 18, to talk about her newest book, "Gangster In Our Midst."
At 6:30 p.m. Wednesday, Aug. 29, the library will host Lori Vicker of Spirit Lake, who will talk about the Orphan Train Movement.
Vicker, a retired reading specialist, will share her interest and enthusiasm for this little known and forgotten era.
Hill said the library has new hours of operation: 10 a.m.-4 p.m. Tuesday-Wednesday; 1-6 p.m. Thursday; 1-4 p.m. Friday; 9 a.m.-noon Saturday; and closed Sunday-Monday.
In addition, the library will operate a booth during the 2018 O'Brien County Fair, which will run today (Saturday, July 21) through Thursday, July 26, in Primghar, and share the space with the Friends of Gen. N.B. Baker Library group, the O'Brien County Cemetery Preservation Association and Sutherland's Pear Tree House museum.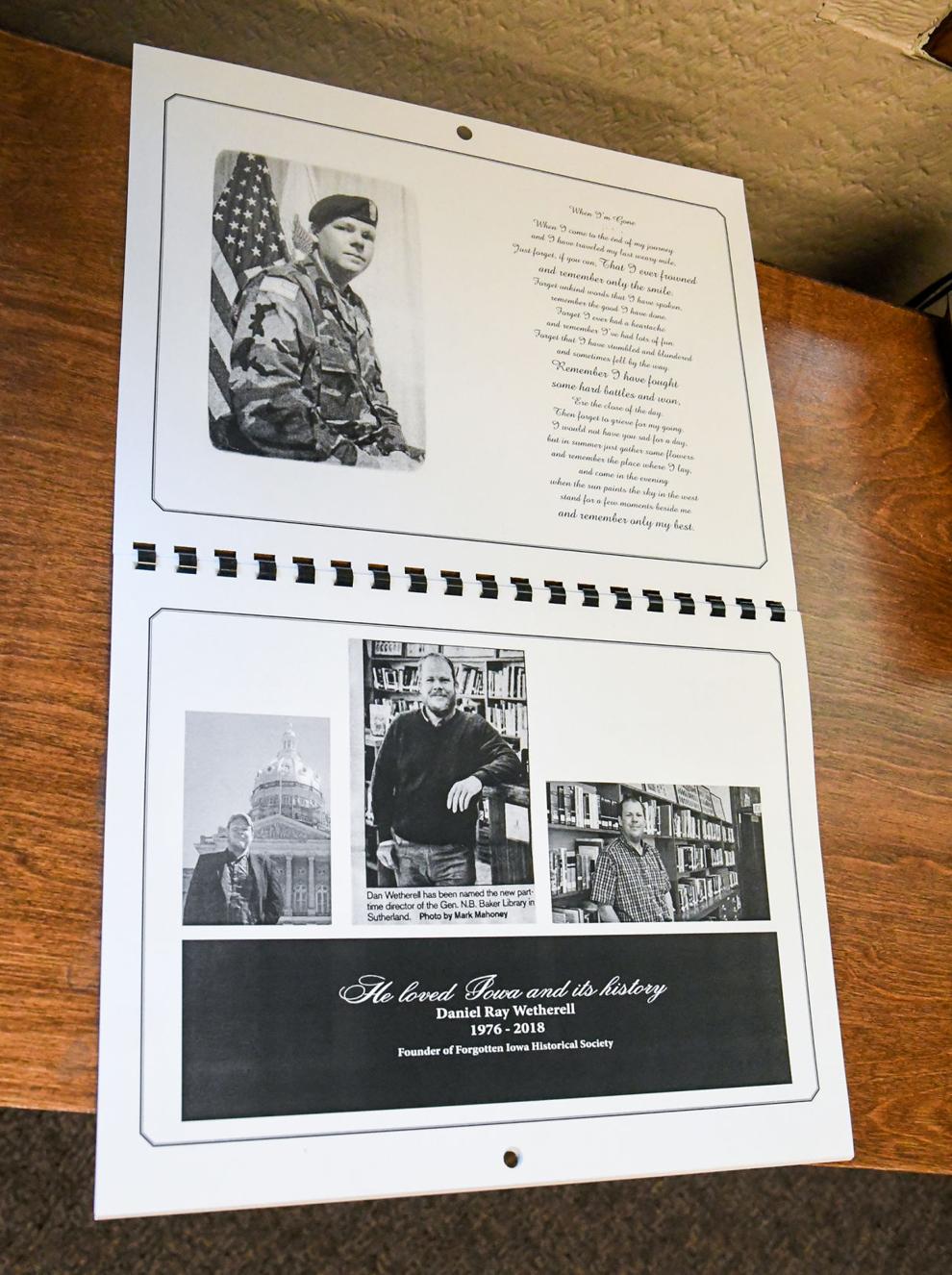 During the fair, the Friends of Gen. N.B. Baker Library will sell 16-month calendars for $10 apiece that will feature historical photos from the Calumet, Gaza and Sutherland areas.
The library group is selling the calendars to raise money to go toward landscaping around the outside of the facility.
In addition, the Friends of Gen. Baker will host a pie and ice cream fundraiser Monday, Sept. 3, at the library after the parade during Sutherland's annual Labor Day Celebration.
Money raised from that event also will go toward the library's landscaping project.
"Dan always wanted the landscaping done, so we're going to do that," Hill said.
Wetherell, Hill and Carolyn Rohrbaugh of Sutherland worked on putting the calendars together from the archive of historical photos that was created for the library.
"We want to take 100 to the fair and then we'll start selling them here because we've had a lot of people want them," Hill said.
Hill said Wetherell saw copies of the calendars during the week before he died. The calendars include pages that honor Wetherell's memory, including the words, "He loved Iowa and its history."
Wetherell, a history buff, founded The Forgotten Iowa Historical Society, which has more than 53,000 followers on Facebook.
"Anything he wanted done, I would do it for him," Hill said. "I helped him with the redecorating at the library. We worked on an obituary project together, where I printed 5,000 obituaries. Now I'm working on a photo archive. He instigated that. We have 4,000 or 5,000 of those now — any picture from Sutherland, Calumet, Gaza."
The library's Northwest Iowa History and Genealogy Research Area is going to be renamed in Wetherell's honor on Saturday, Sept. 29.
There also will be a flagpole dedication in his memory that same day outside of the facility, as well as a 200th birthday celebration for Gen. Nathaniel Bradley Baker, the library's namesake.
Hill, who retired in 2014 after a 26-year career as a medical transcriptionist for Cherokee Regional Medical Center in her hometown, had not been planning to re-enter the workforce, but that was before Wetherell's unexpected death.
"I had to really think about coming out of retirement," Hill said. "The last thing I was looking for was a job. I wasn't looking for a job, but he's got pretty big shoes to fill."
She still is getting used to taking Wetherell's place as the director of Sutherland's library.
"It's just all new yet," Hill said. "The projects are what I enjoy. That's what really drew me in here — and Dan's personality. He could draw anybody in here. We're going to continue as many programs as we can."