ORANGE CITY—More than 80 high school students from across the region convened Tuesday on the campus of Northwestern College in Orange City to help a real business solve a real problem.
The INNOVATE Competition is in its fifth year, and this year, the sponsoring business was Demco Products, the Boyden farm equipment supplier.
When the student competitors showed up on campus Tuesday morning, they had no idea what problem they would be asked to solve. They also had no clue who they would team up with to solve it.
"It was kind of scary not knowing what I was going into," said winning team member Carly Mohning.
She is a junior at MOC-Floyd Valley High School, and she registered for the competition along with classmates in her Dutch Designs course, a new marketing course offered at the high school in Orange City.
"I didn't really know what to expect," said Rock Valley High School sophomore Jocelyn Aranda.
Also a member of the winning team, Aranda registered for the competition because she is taking a class in entrepreneurship.
"It was nice building relationships with everyone in the group and encouraging everyone to talk and be enthusiastic," Aranda said.
Real-world problem
At the beginning of the day's events, students were grouped into 12 teams of six, and each team was composed of students from other participating high schools. Six high schools across the region were represented — Boyden-Hull High School in Hull, MOC-Floyd Valley High School, Rock Valley High School, Sioux Center High School, Spencer High School and Western Christian High School in Hull.
The competitors gathered in the De Witt Learning Commons, located on the second floor of Northwestern's De Witt Library, where they were asked by Demco representatives to bring a fresh perspective to a real issue faced by their business.
"How do we better market our innovative coupler?" asked Demco director of corporate culture Darin Partello.
Demco's line of EZ Latch couplers is designed to simplify the process of connecting a tow vehicle's hitch to a trailer, he said.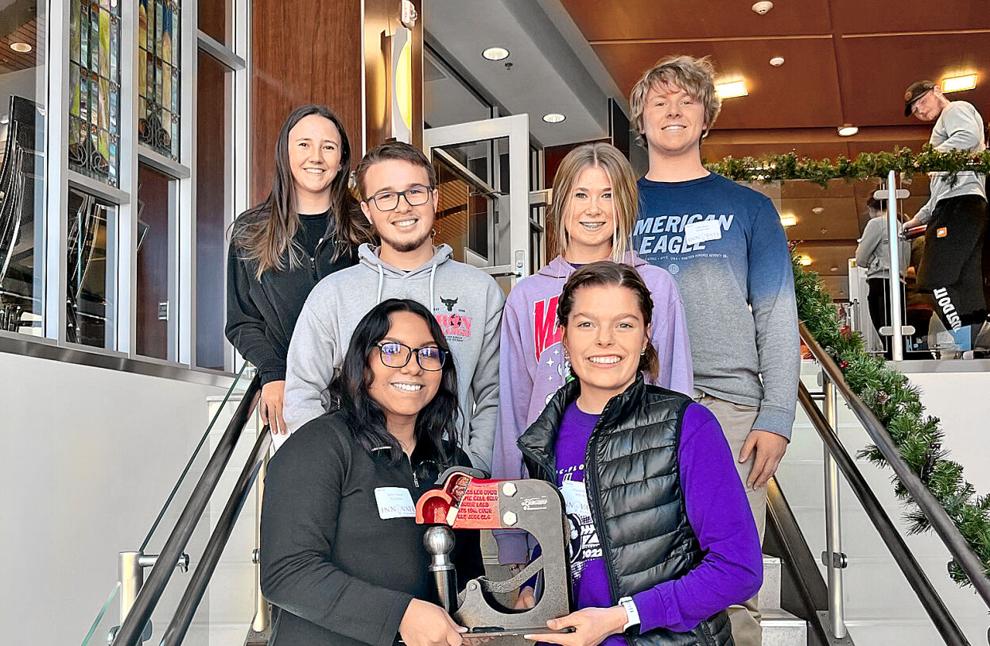 "The advantage of our coupler system is that, basically, when you go to hook a trailer up to a truck, or whatever vehicle is going to tow that trailer, you eliminate one whole step out of the process," Partello said.
Most couplers require a manual latching step to be secured, but Demco's line features a composite handle that allows users to secure the ball to the hitch in one step, reducing the chance of human or mechanical error, according to Partello.
Demco already advertises its EZ Latch line of products, but students were tasked with increasing brand recognition among consumers and with developing marketing strategies attuned to different demographics. Students were also encouraged to consider strategies that might reach untapped markets, including young people, who are not necessarily connected to ag industry or manufacturing.
"I had never heard of a coupler before this," said winning team member Luke Myers. "I kept saying coo-pler at first."
Myers is a senior at Boyden-Hull, and he nailed down the pronunciation of the word in time for the group's winning presentation.
On hand to answer students' questions — and to share their business expertise over the course of the day — were a dozen Demco employees, who were assigned as coaches to each of the teams. Two other employees were present as judges for the competition.
"We had some coaches that floated to different tables if needed, but that was kind of cool, because they were there to answer students' questions, and each coach had their own area they could rely on to help them problem-solve," Partello said.
The Demco coaches included some employees from sales and human resources, two from the company's quality team, and a handful of design and manufacturing engineers.
Students had time to work in groups during the day, collaborating on innovative approaches to the business task set before them. After a morning of brainstorming together, each group prepared to pitch their solutions to the assembled Demco representatives.
Win-win
Northwestern business professor Erica Vonk, lead organizer of the competition, said INNOVATE offers a win-win scenario for the students and businesses who participate.
Business leaders get the chance to pick the brains of young people, who bring new ideas and imaginative solutions. Students get the chance to tackle a real problem, knowing the solutions they propose might actually be implemented.
"That's been the value-add of this competition year after year — it's easy for me to ask businesses to participate because I can give them the past examples of what businesses have actually been able to implement," Vonk said.
The college has partnered with a variety of regional businesses over the five years the INNOVATE Competition has taken place.
Last year, Sioux Center-based Interstates partnered with Northwestern's business and economics department to sponsor the event, and students were asked to help the company develop its youth camps, which expose young people to careers in fields like programming, project management and engineering. In 2018, the sponsoring partner was Staples Promotional Products, based in Orange City, which tasked students with developing ideas for innovative services that might attract a new customer base.
Vonk is the director of Northwestern's Center for Innovation & Leadership, which develops leadership programs that foster connections between the college and various community partners.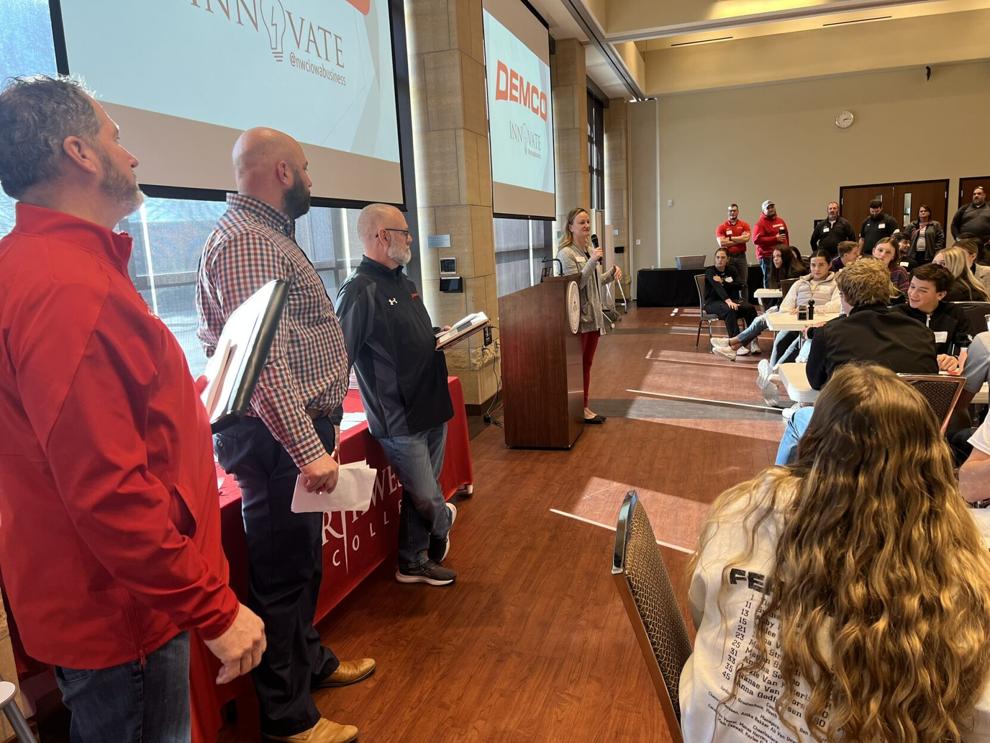 Vonk works with the sponsoring business for months before the competition, helping business representatives frame a problem or issue they'd like high school students to help them address.
"They're asking, 'How can we use young minds to think about something differently? How can we come up with a different answer than our employees are generating?'" Vonk said.
During their Tuesday afternoon presentations, students suggested new marketing strategies, including the use of influencers on social media to target young people who might use a coupler to tow recreational equipment like Jet Skis or boats.
One group suggested offering the coupler in a variety of bright colors, which might appeal to younger customers in a world saturated with rainbow-colored Apple products.
The Demco employees present were all ears.
"Even today, I think five of them already came up to me and said, 'Hey, we never even thought about changing the color on the latch,'" Vonk said on Tuesday.
Learning opportunity
Vonk said high school teachers in the region have embraced the competition as an opportunity for students to develop important skills, including critical thinking, clear and effective communication, collaboration and creative problem-solving.
"This is a real experience with a real company — you're helping them solve a real problem or issue or helping them rethink something," Vonk said. "Students don't always get that in a traditional classroom."
Winning team member Sawyer Bolton, a sophomore at MOC-Floyd Valley, said finding a rhythm as a team was key to his group's success. According to Vonk, what stood out to judges about the winning team was the video they created, which included a side-by-side demonstration of a typical hitch process and the one-step process using the EZ Latch.
"We did a great job designating who was doing what, so we could better the group as a whole," Bolton said.
The group divided duties according to its members' various interests and gifts. Some team members did more of the talking, and the two with design experience spearheaded the creation of the group's PowerPoint presentation.
Groups were judged by two Demco representatives and a representative from the college, who evaluated the presentations according to a variety of criteria, including group participation, presentation design and delivery and the merit of the team's business-related ideas.
Vonk said the soft skills students practice over the course of the day will serve them well in whatever careers they eventually pursue.
"How do you step up and be a part of a team for one day?" Vonk said. "Those are the skills I think the teachers are saying 'yes' to."
Partello said Demco employees will bring students' pitches back to their teams for serious consideration.
"They came out with some great ideas, and everything will be looked at for its potential," Partello said. "Everything that came out of the presentations has merit to us."