ORANGE CITY—N'West Iowa high school students got down to business in Orange City during Northwestern College's third annual INNOVATE competition Friday, Nov. 22.
About 50 students spent the day in the Vogel Community Room of the DeWitt Learning Commons at the college brainstorming ways the Orange City-based coating and paint manufacturer, Diamond Vogel, can recruit and retain young employees.
The goal of the INNOVATE competition is to give high school students interested in business an idea of the challenges N'West Iowa companies are facing, according to Ashley Stanislav, a faculty assistant for Northwestern's business and economics department.
Stanislav, along with professor of business Erica Vonk, have been putting on the competition since 2017.
"We want to give them hands-on experience learning some new things about the business world and the local business scene in northwest Iowa as well," Stanislav said.
The high schools that participated were Hartley-Melvin-Sanborn, MMCRU, Rock Valley, Sheldon, Sioux Center, Sioux City, Spencer and Western Christian.
The high school students were divided into 11 groups, with each group competing to find the best solution to Diamond Vogel's business challenge. The five teams had time to work on their plans throughout the morning and then presented their solutions in the afternoon.
The groups pitched their ideas to a panel of three representatives from Diamond Vogel: Doug Vogel, vice president of marketing and strategic relations; Steve Roesner, vice president and general manager of Vogel Traffic Services, a division of Diamond Vogel; and Gwen Plendl, the office manager for the marketing department.
A common theme the teams addressed in their presentations was that few, if any, young job seekers respond to traditional ways of advertising, such as through print ads or even Facebook ads.
Many of the groups argued Diamond Vogel should maintain active social media accounts such as Instagram, Snapchat, Twitter and YouTube to better reach a young audience.
They also encouraged the company to offer in-person opportunities for young people to connect with Diamond Vogel, such as job shadowing, internships, partnerships with high schools and colleges and offering tours of the facility.
After each presented, the judges deliberated to decide the top three teams.
Roesner said each group that presented had at least one solid idea in their pitch to the judges, but not every group addressed ways for Diamond Vogel to equally improve recruitment and retention. The judges decided the three winning teams they thought best tackled each problem.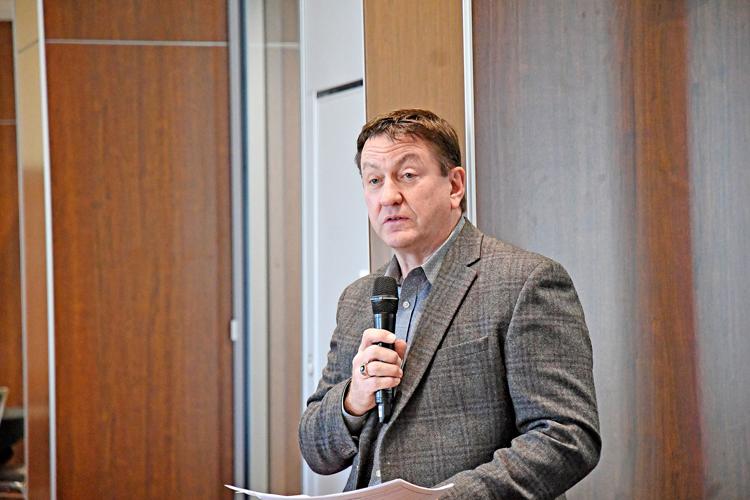 The first-place team was Group Eight, which consisted of Sheldon senior Caleb Farrell, Sioux City North senior Soren Peterson, Rock Valley sophomore Olivia Van Zee and Western Christian senior Morgan Andringa.
The judges praised the team's multipronged approach to recruiting high school and college students.
"What we decided was that there's not one thing that Diamond Vogel could do to solve this problem," Peterson said of the recruitment and retention challenge. "You have to pick at it from multiple different angles."
The first part of their plan included reaching out to high school guidance counselors so they can share career opportunities at Diamond Vogel to their students. It also called for a "college pathways" program in which Diamond Vogel would support a student through college provided the student uses their education to work for the company.
To improve retention, the plan would create a profit-sharing program to include employees in Diamond Vogel's financial gains and would cross-train employees in multiple positions to give them variety in their workload.
Plendl complimented the team's idea of cross-training and said it is important to diversify what Diamond Vogel's employees can do.
The second- and third-place teams were Group Five and Group Six. Group Five consisted of MMCRU junior Kristin Goth, Hartley-Melvin-Sanborn sophomore Aiden Jensen, Sioux Center senior Perla Muro and Spencer senior Andrew Christofferson. Group Six was comprised of Sheldon junior Elizabeth Carey, Hartley-Melvin-Sanborn sophomore Jasmine Lux, Sioux Center senior Domonick Roskam and Sioux City East senior Jacob Maxey.