HAWARDEN—Opportunities for summer reading have been popping up all over Hawarden since early June.
The Hawarden Public Library has hosted Pop-Up Library Story Time events where library staff members have brought books, games and activities to different locations throughout town.
"By going where the people are, we can promote library resources and, you know, engage kids that normally don't walk through our door," said library director Lori Juhlin.
Juhlin learned of the idea for the Pop-Up event from a librarian's Facebook group of which she is a member. She then proposed the idea to the children's librarians, Julie Coyle and Maddy Vlotho, who began leading the Pop-Ups during the first week of June.
"They do a fabulous job of it. I kind of gave them the idea, and I said, 'Here, you do it,' and they love it," Juhlin said. "I sometimes show up just for fun to see what's happening."
During the Pop-Ups, Coyle and Vlotho will either read to the kids as a group or let the kids choose books to quietly read on their own. The librarians also will bring games and crafting supplies for the kids to decorate their own bookmarks.
The first Pop-Up was at the Hawarden Swimming Pool on June 7. In addition to reading, the kids enjoyed summer fun by swimming and participating in a water balloon toss.
At a Pop-Up that took place June 25 at the West Sioux High School baseball game in Hawarden, kids were able to hit five water balloons with a plastic baseball bat for every book they read.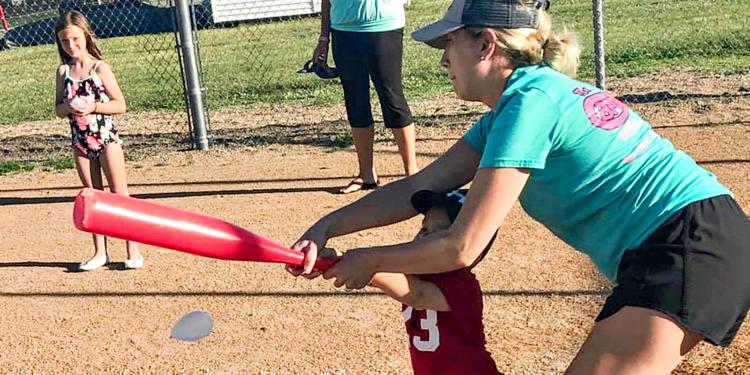 The library also has held events at softball games, Calliope Village and Sunshine Foods. Juhlin said Coyle and Vlotho do Pop-Ups in Ireton as well because that is another community the library serves.
The number of kids who show up to the Pop-Ups varies, Juhlin said, but it can be anywhere from 15 to 50. Although the events are geared toward children, she said parents also have enjoyed the activities.
To announce the events, the library will post on its Facebook page a day in advance to let people know the time and place of the next Pop-Up. Juhlin said Fridays are the most popular days to hold the events but that the library occasionally does additional Pop-Ups on different days.
By going out into Hawarden and Ireton to hold the Pop-Up events, Juhlin said the library is able to offer a relaxed atmosphere for kids to read and interact with the librarians. The events have also allowed the library to connect to the two communities in a way it hasn't done in the past.
"Everyone's super excited about it," Juhlin said of the Pop-Ups, "and we are, too, because we can bring people together that maybe may not meet on a regular basis and, you know, reinforce this community."