SHELDON—There will be no parades, speeches or oaths of office but the new president at Northwest Iowa Community College took the helm in Sheldon on Thursday, July 1.
John Hartog replaces Alethea Stubbe, who has been a faculty member since 1991 and spent the last 10 years in the top job.
Hartog — who has spent the last 10 years as the NCC executive vice president of student and academic services — earned the position after the board of trustees approved his hire in its February meeting.
"What we do, we do very well — again, one of the high-performing colleges in the entire country," he said. "In the days ahead, there will be challenges, but we want to have incremental improvements in any area in which we can improve. It's almost like a performance boost."
Stubbe praised her successor, noting his penchant for extemporaneous speaking.
"He's a better preacher than I am," she said.
Metaphorical and literal sermonizing are specialties of Hartog. Before coming to Sheldon, he spent 14 years at Faith Baptist Bible College in Ankeny. Ever the academic, he holds several postgraduate degrees liberal arts and religious fields.
Stubbe was instrumental in luring Hartog to her campus right after she assumed the presidency in 2011. She said she knew that he could be her replacement when the time came to retire.
"Whenever you hire, you want to hire someone who has strengths that you may not have. You want to surround yourself with smart people," Stubbe said. "Early on, I knew he was quality and could be — if we could keep him here, which we did."
Hartog takes over during an already-transitional period for NCC. Iowa's highest rated community college bulked up its curricula, facilities and other programs throughout Stubbe's administration. It is a trend the new president looks to continue.
"We will complete the health-care facilities upgrade, we will enhance technical education, we will expand our academic programming and we will grow our workforce trainings," Hartog said. "Building upon our strong heritage, we will push forward for the good of our students and area employers."
Two blockbuster ventures are in the works.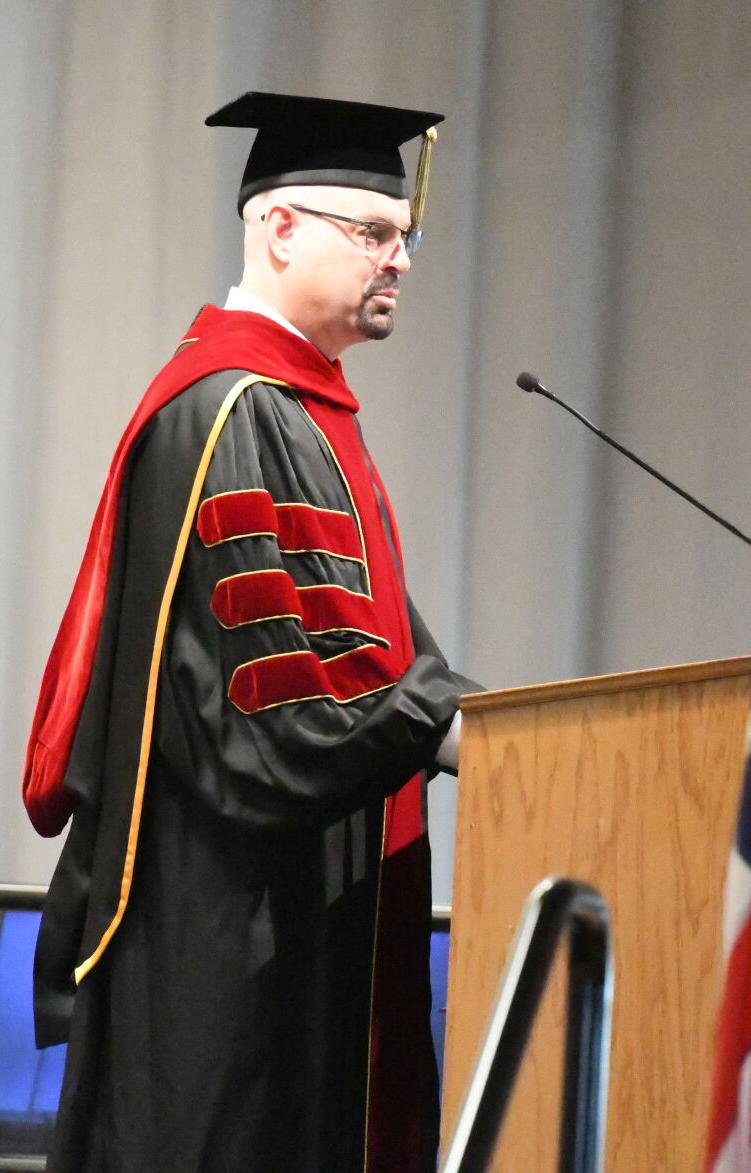 Expanding the college's athletic programming was a goal of Stubbe's and she laid the groundwork for Hartog to continue that effort. After sport shooting was added in spring of 2019, the Thunder look to start a soccer team in the near future.
The other major ongoing project is the Building H expansion. The $9 million, two-story complex will house the school's health science departments, including a simulation hospital and dedicated training spaces for nursing and radiological technology students.
Stubbe spoke at the building's groundbreaking ceremony in April.
"This new addition and expansion signifies growth and progress for the college and entire area, enabling NCC to meet our mission — we talked about our mission — as the region's workforce trainer, career builder and life changer," she said.
Hartog will not be alone as he takes on that mission. During its June 21 meeting, the board approved two new deans to help fill out the new president's administrative roster: Erin Latona and Leah Murphy. NCC also added a new financial head, Brian Nash, in May.
Building a collaborative, competent team is critical for success, Stubbe said, and Hartog agreed.
"A leader is only as good as his or her team, and at NCC, we have an amazing team of student-centered employees," he said. "I know this for a fact because I have worked with them, and I look forward to doing more good work with them in the years to come."
As the transition process ends and his presidency begins, Hartog said his eyes are on the future.
"Where will I lead this college that is already great? You've probably heard the phrase, 'Good to great,' and as I think about NCC's bright future, I think in terms of 'Great to greater.'"