HARTLEY—What started as two boxes of toddler clothing has grown into a donation center providing free clothes and household items to Hartley residents and beyond.
Hartley Community Outreach opened on Main Street in October, first as a way for Mari Howard of Hartley to give away some unused clothing from her grandchildren.
Although people came to pick up the clothes, others asked to donate their unused clothing for her to give away. Expecting just a handful of boxes, Howard agreed.
Within two weeks she received so many donations she had to move into a bigger building, also on Main Street.
"It blew up real quick," Howard said. "I kept getting boxes and people were donating all kinds of sizes."
Initially just accepting infant and toddler clothes, the outreach center now carries all sizes from youth to adult. Howard also accepts shoes, hygiene items, toys and some household items.
"At first we weren't going to take home stuff, but it kept coming and we decided we might as well in case someone has a house fire or moves out and has nothing, we can give them stuff to start," Howard said.
There are so many donations that Howard has a pile of bags and boxes upstairs still waiting to be sorted through and brought downstairs when there's room.
"The upstairs is kind of intimidating, there's so much," Howard said.
The center also has a food pantry, which started after Cooperative Farmers Elevator in Hartley donated part of its holiday food drive to Hartley Community Outreach.
The center is staffed by Howard and her mom, Louise Fennell, who also is from Hartley. Fennell works at Hope Haven in Rock Valley and Howard runs Club 288, the American Legion bar in Hartley.
They run the outreach center in their spare time, so the hours are a bit irregular, but they try to be open a few days a week 11 a.m.-2 p.m.
People also may call or text Howard at 712-363-1619 to schedule a donation drop-off or arrange a time to come and pick up items. The center is open to everyone, regardless of need or where they come from.
"We don't ask any questions. It doesn't matter where they're from, what their situation is," Howard said.
She does keep track of what items people take, only so she can put out a call for donations if there is a demand for a particular size or type of clothing.
She also will put out a call for particular items people need. At Christmas she received donations of food, clothes and toys for a Hartley family.
"When someone needs something, the community really does come together," Howard said.
The center is in one of two Main Street buildings Howard and her husband, Rusty, bought last summer with plans to open a business or convert them to storage. Starting a donation center is not what Howard expected to do with the space, but Fennell said the opportunity unfolded organically.
"As fast as this took off, it was meant to be," Fennell said.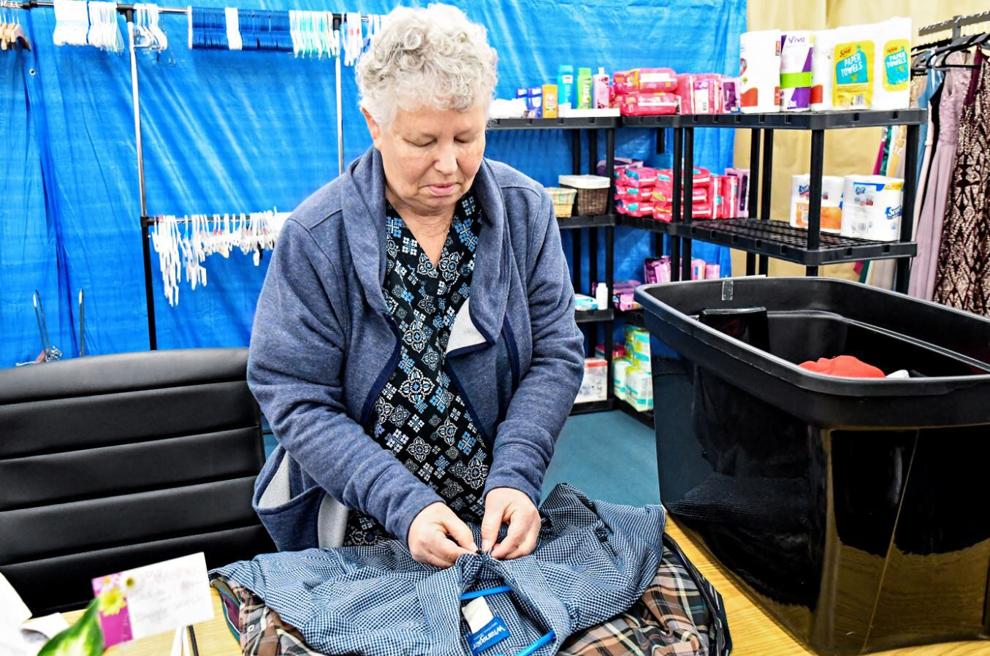 Howard's next goal is to turn Hartley Community Outreach into a nonprofit so she can start getting grants and county or state aid to pay the bills and improve the space.
Howard has been paying utilities for the building, which are $150-$300 per month, out of her own pocket. She already has spent several thousand dollars on hangars and shelves to organize and display donations.
Kristi Scharnberg of Hartley volunteered to help write grant applications once the center becomes a nonprofit. She nudged Howard to consider starting a nonprofit originally.
"As soon as she said she was doing this, I knew that eventually to be successful she'd need to be a nonprofit," Scharnberg said.
The legal process of starting a nonprofit will be $700 or more, but Hartley Economic Development has offered to help Howard secure grants to help cover those fees.
Howard hopes that once the nonprofit starts she can set more regular hours and bring in volunteers to help sort donations and manage the center.
"Once we get more set hours, if someone wanted to come in and volunteer time, that would be great," Howard said.
Fennell said she is proud of Howard for what she has accomplished in just five months since starting Hartley Community Outreach.
"Mari started with just two boxes and then it turns into this big blessing," Fennell said. "I just hope people from other counties will catch on, but I think we need to visit some churches and let flyers fly around. It's here for everyone."