HARTLEY—When Onica Jacobs decided to donate much-needed supplies to communities devastated by the Aug. 10 derecho, N'West Iowans opened their wallets to help.
Jacobs, a 27-year-old occupational therapist was home recovering from abdominal surgery when the storm happened.
East and central Iowa were battered with wind speeds of more than 110 miles per hour which left three people dead and 60 people injured and more than 595,000 households without power.
"Even though it was 200 miles away it just felt very close to home," Jacobs said.
In the days following the storm, she struggled to find anywhere to donate directly to affected communities and decided to cut out the middle man by taking supplies herself.
"I had the idea of why don't I just take supplies down myself instead of sending money somewhere and then they have to get all the supplies down," she said.
Immediate support from friends and family prompted her to post on Facebook asking for donations that would go toward purchasing two trailers worth of essential supplies the she would deliver to parts of central Iowa.
Money poured in immediately.
Jacobs made her post at about 3:30 p.m. Friday, Aug. 14, and by 7 p.m. the next day she had received more than $3,800.
"I knew that some people would be immediate in wanting to help out, but I did not expect it to kind of grow that big that quickly," Jacobs said.
"But kind of retrospectively, I don't know why I didn't expect it because I think that's just kind of the northwest Iowa way of helping people out."
Donations flooded in from family and friends across area as well as a few Jacobs said were from strangers as far away as Colorado who she assumes saw her post being shared on Facebook.
"That was pretty cool too, just the outpouring of people that you don't even know that still want to help," she said.
Much like the donations, help came from everywhere too. Because of her recent surgery, Jacobs was under lifting restrictions. Friends turned up to help load cases of water and boxes of food into two trailers she had borrowed from her dad, Rob Jacobs.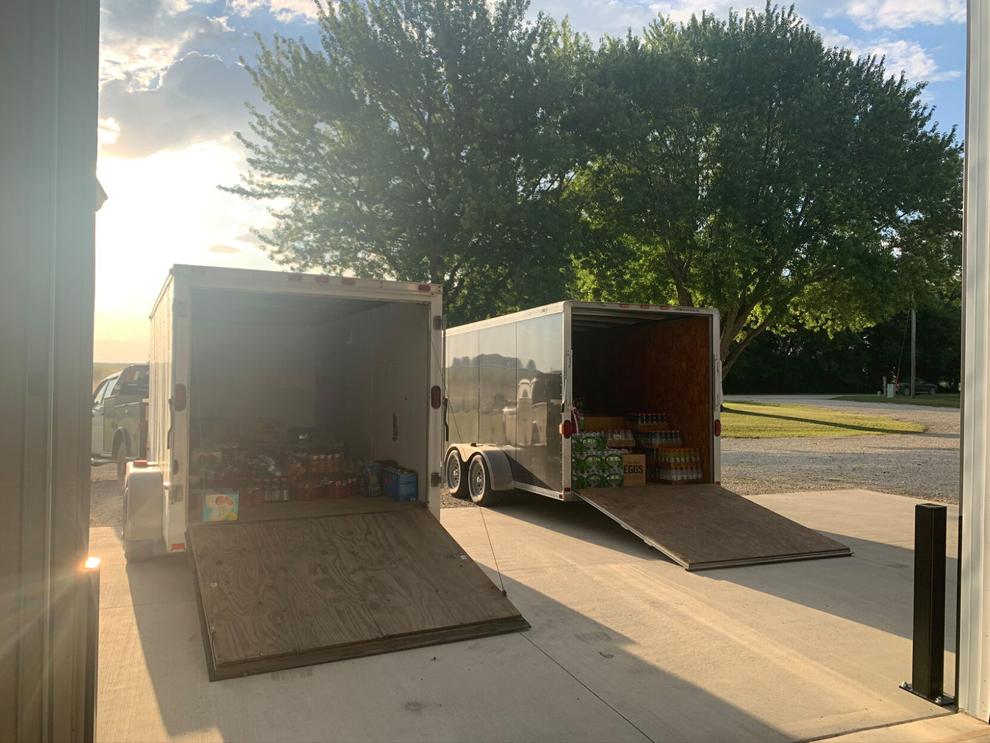 "I was kind of on the mend which is why I had so much free time because I wasn't back to work yet but it made it kind of hard to lift things too because I was on restrictions," Jacobs said. "I had to find something to do, and what better of a way to do it."
Hannah Rebollozo of Aurelia and Kailey Enger and Haley Hermstad of Hartley spent that Friday night and all of the following Saturday helping Jacobs buy supplies in Sheldon, Cherokee and Spencer.
Jacobs said she initially was unsure what was needed most: Food and water or supplies like power cords and trash bags, so she decided to get it all.
By the end of Saturday, both trailers were packed with more than 8,000 bottles of water, boxes and cans of nonperishable food, and as many household supplies, diapers, tarps and other supplies as they could fit in.
She also was able to purchase $600 worth of Hy-Vee gift cards for families to use once power was restored.
The following morning, Jacobs set out for central Iowa. She was joined by Austin Peterson and Kylie Wolthuizen, also from Hartley, and Andrew Richter of Paullina, who helped drive and carry supplies.
Jacobs said she did not have a firm itinerary, although she intended to make her biggest stop at Marshalltown, which she knew was badly damaged.
"We just kind of drove along the road and found towns and wanted to just do what we could," she said.
The N'West Iowa team made stops in Madrid, Slater and Huxley, resupplying linemen and local communities.
"You never want anything like that to happen but to see the amount of response and support even at the very local and individual level, it was kind of cool," Jacobs said.
The storm destroyed an estimated 10 million acres of crops.
Jacobs said her heart went out to farmers as they drove past fields of flattened corn and destroyed farm buildings.
"One of the craziest things that made me realize how strong with wind was, driving down Highway 30 there were multiple big signs with exit numbers on them that were bent completely flat by the wind," Jacobs said.
The N'West Iowa team met up with Salvation Army workers in Marshalltown for their final delivery, which took nearly an hour to unload.
"When we got there it was basically empty and they were using Sunday as a day to restock things, so they were super grateful," Jacobs said.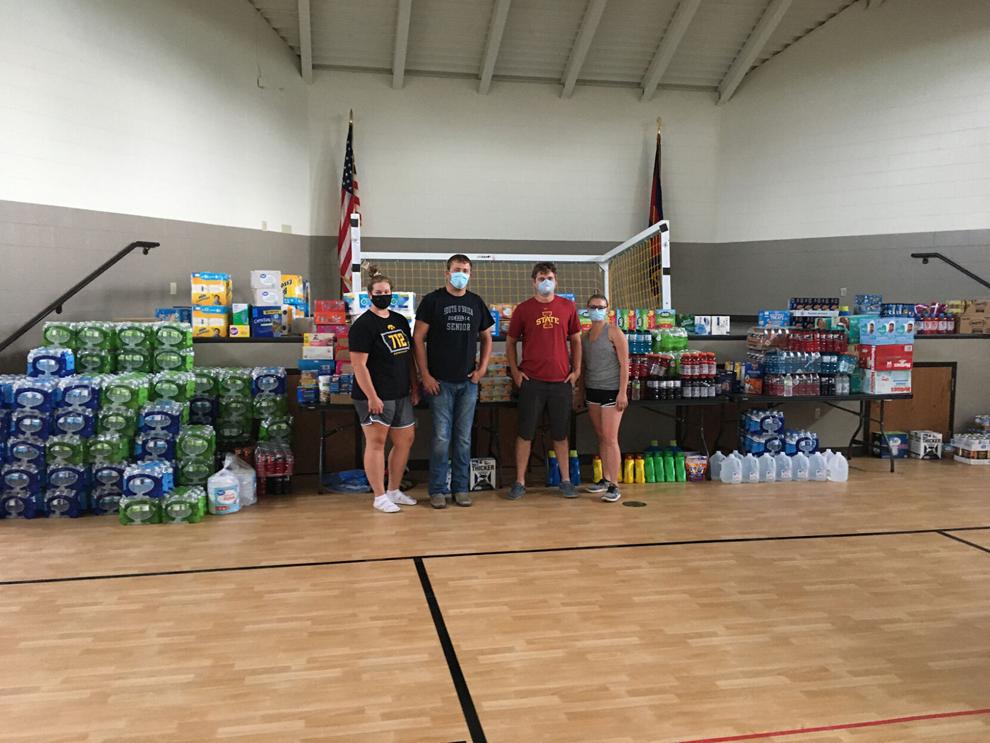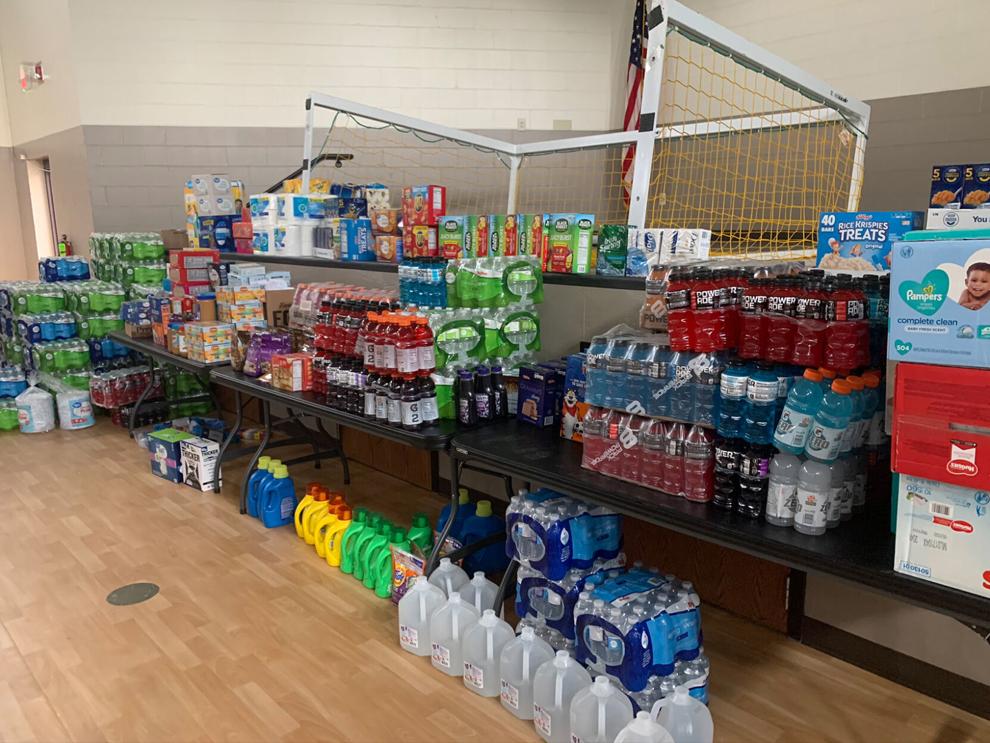 Although the supply run is over and Jacobs does not have a second trip planned, donations have continued to trickle in.
A full week after her initial post, she had received more than $1,000 in additional donations, raising her total to $5,000. She plans to wait a few weeks to make sure the last donations have come in before donating everything to the Cedar Rapids Disaster Recovery Fund.
"I've been grateful our area hasn't been affected but your heart goes out to them and you realize how long that process is going to be," Jacobs said. "I'm just glad northwest Iowa was able to help out our neighboring areas."