HARTLEY—It's all about multi-use learning spaces at the new elementary in the Hartley-Melvin-Sanborn School District.
The 40,000-square-foot building, which will open to students on Monday, has a unique design that utilizes features like sliding whiteboards and collapsible dividing walls to mix things up in the classroom.
"What I think is kind of cool about this building is we have a lot of versatility and flexibility built in," said district superintendent Patrick Carlin.
Each classroom is equipped with a large whiteboard. These are removable and can be slid to the side, allowing two classrooms to combine.
Similarly, garage door-style walls in some areas can be raised or lowered to further divide or combine groups of students and learning spaces.
Each classroom is configured for a pod approach to teaching. Classrooms also are connected to collaborative breakout spaces where a class or entire grade level can work.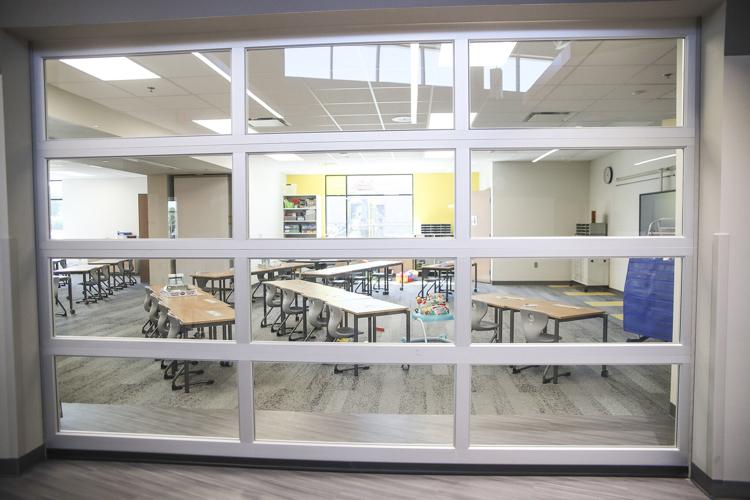 "If you have a lot of hands on, we'll have a room where kids can go for that. If you're teaching in groups, we'll have a room where kids can go for that," Carlin said.
The new elementary has the potential to have up to 20 teaching areas, both classrooms and collaborative areas that are set up for teachers who are pulling students out from other sections. This is slightly fewer classrooms than the old elementary building had, but Carlin said the increased flexibility will make the entire space more usable.
"We're excited, we're probably one of just a couple in the state of Iowa that has this model," Carlin said. "We're very unique in the state, and we're very excited to trailblaze and keep going in that direction."
The versatility of teaching spaces also will allow for some changes to the way teachers work with grade levels.
For instance, there are no teachers' desks in the classrooms. Instead, teachers share team rooms for each grade level where they can gather to share information and problem solve.
"The purpose there is to really capitalize on those informal conversations that teachers have and really bring teachers together to problem solve," Carlin said.
In the same vein, teachers will be working more collaboratively within grade levels, with more overlap between teachers and different groups of students.
"Instead of one teacher meeting the needs of all the kids in a grade level, we have three teachers meeting the needs of all the kids," Carlin said. "Instead of a mile-wide, inch-thick approach, they'll be more targeted to different levels of needs."
Last year, the district sent 34 teachers to a professional learning conference in Minneapolis for training on collaborative approaches to education. Although the coronavirus canceled the conference this year, that training will inform teachers this fall.
Carlin said the district has always tried to incorporate collaboration in teaching, but the physical limitations of the old elementary building, which Carlin described as "pretty traditional," did not always allow for it.
"We always tried to group kids, but this space really opens up and allows us to do it more effectively."
The new elementary is attached to the east side of the high school in Hartley.
Construction took just over a year, starting in May 2019 and finishing in mid-August. The project cost just over $9 million.
Middle school students in the district also will start the school year in a different building as a $9.2 million construction/renovation project begins on the middle school building in Sanborn.
Earlier this summer, the middle school was torn down, except for an addition that was built in the 1990s that remains functional. A new gymnasium and classroom spaces will be built.
For the 2020-21 academic year, middle school students will use the old elementary building, which is located in Hartley about a mile southeast of the high school.
"We've moved our 5-8 students to that elementary space for this year while we build our new 5-8 building in Sanborn," Carlin said. "Then next year we'll move it back and then at that point we'll kind of decide what opportunities there are for that vacated space."
The district also recently finished updates to the high school building, adding new roofs, a new HVAC system and a new entrance to the high school office. Additions also were made to the commons, kitchen and industrial tech spaces.
Funds for the project come from an $18.8 bond issue passed by voters in the district in April of 2018.