LARCHWOOD—Sports betting is coming to the table as part of a $10 million expansion plan for Grand Falls Casino & Golf Resort northwest of Larchwood.
The Show Lounge, which is located east of the gaming floor and features a stage for live music performances, will be renovated into a sportsbook. The sportsbook will feature large overhead television screens and monitors, betting kiosks, teller desks and a bar.
"I would say the guts or the foundation for the sportsbook truly are there. It will really be removing the show lounge stage and then adding a lot of technology," said Grand Falls general manager Sharon Haselhoff.
The Show Lounge already features a bar, but the sportsbook will add a food menu with items that will be prepared in the kitchen of Ruthie's Steak & Seafood.
The betting kiosks and tellers will give bettors the option of placing wagers on a screen and in person, but there will be another way to play.
"In Iowa, once you've signed up for an account you'd be able to place those bets on your phone as well," Haselhoff said. "We hope to have it ready by the NFL season."
Live music still will be a feature on the casino floor. The bar and lounge area located in the center of the gaming area will have a stage added to its east side for live entertainment.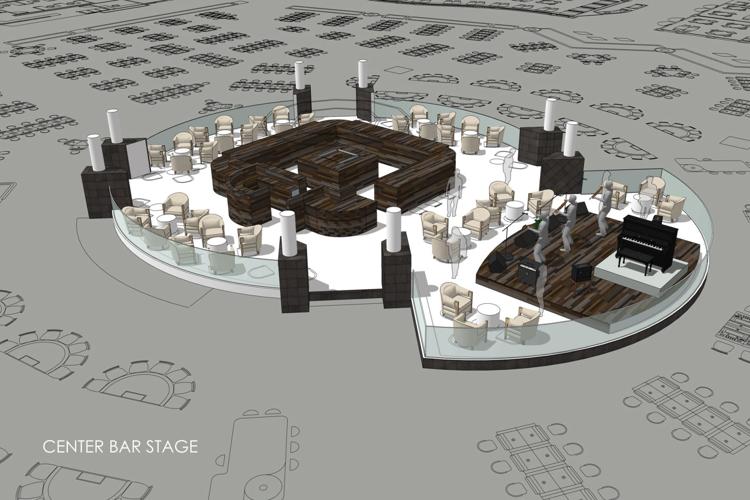 The sportsbook and entertainment renovations carry an estimated $1.5 million cost.
Groundwork for a new hotel wing is expected to begin in the fall.
The new addition to the hotel will add 63 rooms, bringing the total number of rooms to 160. The addition will be west of the pool area which is located southeast of the casino. The lower level rooms will have direct poolside access.
"It will kind of have an elevated corridor overlooking the pool. That will walk you to the new hotel wing," Haselhoff said. "The demand that we have from our guests are just really our basic king and queen rooms, so that's what we're focusing on for a majority of these rooms."
The recreational vehicle park will be expanded from its existing 14 sites to 25. The RV park expansion and hotel expansion is expected to cost an estimated $8.5 million. Haselhoff is targeting having these projects finished by next summer.
After completing the hotel addition, sportsbook and center bar renovations and RV park expansion, Haselhoff said the next phase will be renovating the entire casino floor and the restaurants. The existing hotel rooms were renovated last year.
"We've always been — for our company anyway — consistent with our business philosophy of reinvesting in our properties and keeping them pristine," Haselhoff said.
"We're just really excited about these new additions and I think it will be a nice addition to our entire resort and what we have built already."
Grand Falls opened in 2011.