DES MOINES—State Senate Republicans buried a bill Wednesday that would have protected Iowa farmers from forfeiting their land to multibillion-dollar pipeline companies.
"They're rejecting what the constituents want. It's so beyond me. I have a very hard time with that," Amy Solsma said.
An O'Brien County farmer and registered Republican, Solsma has been one of the leading local voices against the pipeline companies using eminent domain. The slogan writes itself:
"Eminent domain for private gain," Solsma said. "You can't allow private companies to get eminent domain. Where's it going to end then? It will end nowhere if you have enough money you can throw at something. Everything that you have can be taken away."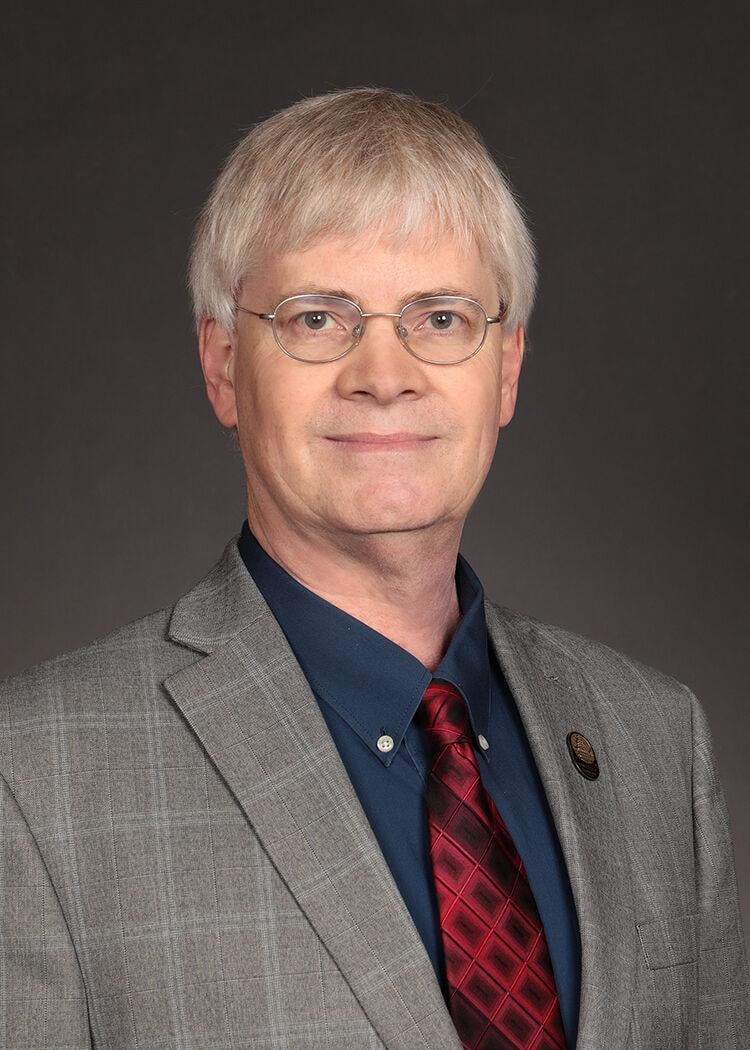 It has been an up-and-down week for the bill, Senate File 2160, which was introduced by Republican state Sen. Jeff Taylor of Sioux Center.
"It's officially dead," Taylor said. "It doesn't mean the ideas of the bill couldn't be incorporated as an amendment with some other bill, but the odds are against it. The factors that killed this bill would remain with an amendment to some other bill that would carry the ideas forward."
The legislation would have made it illegal for the state to grant eminent domain to private infrastructure projects such as the carbon dioxide pipelines proposed to cut through N'West Iowa.
Without eminent domain, the projects would have been effectively dead as their companies would need voluntary buy-in from all the landowners along their route.
Senate File 2160 was assigned to the Senate Commerce Committee, which first recommended then rescinded it from its agenda this week.
Tuesday
The bill's first stop was in a subcommittee hearing.
These meetings are typically small, perfunctory sessions where the public is afforded the chance to weigh in on legislation in Des Moines. Tuesday's hearing had more than 100 attendees.
"We got a lot of communication on this, maybe the most for any bill I've been involved in," said Sen. Craig Williams (R-Manning).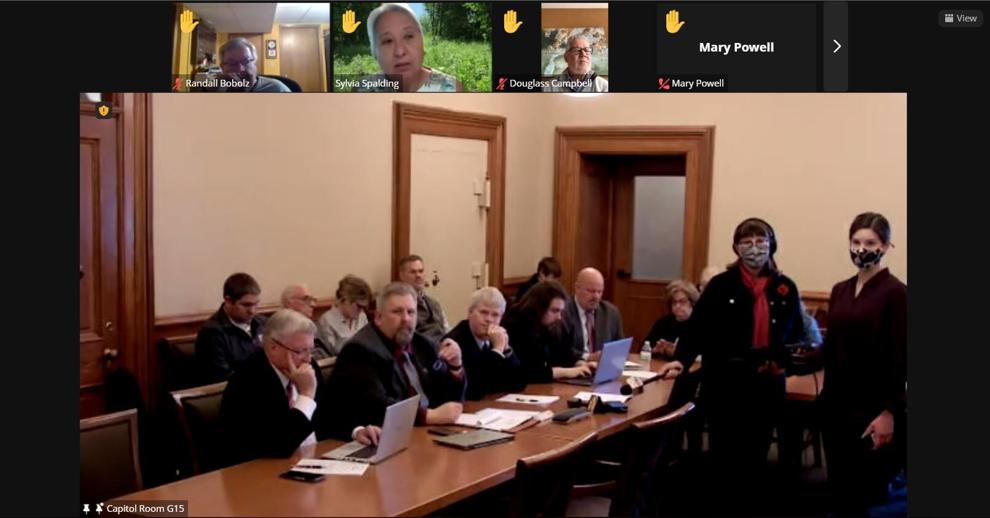 From internet video calls and in-person speeches, numerous Iowans from the northwest to the southeast urged the passing of Senate File 2160.
The only voices who spoke against it were a pair of representatives from the biggest pipeline company, Summit Carbon Solutions. The other major company, Navigator CO2 Ventures, did not show.
The main argument presented by the corporate spokespeople was that they had spent a long time planning the project and it would be uncouth for the state of Iowa to bar them now. That argument was targeted by several farmers at the hearing.
"Our family came here in 1843 and had been farming and stewarding this land along the South Skunk River for seven generations. What kind of rug is being pulled from under us?" said Sylvia Spalding of Mahaska County.
"We purchased land, we survived the '80s, we paid off the land and I have a deed. I thought I had property rights," said Dan Tronchetti of Greene County.
The three lawmakers who sat on the subcommittee voiced their favor of the bill. Since the GOP holds majorities in both chambers of the Iowa Legislature, the group had two Republicans — Williams and Sen. Mike Klimesh of Spillville — joined by lone Democrat Sen. Herman Quirmbach of Ames.
"I'm going to push forward on SF 2160. I think it has a lot of merit," Williams said.
Quirmbach concurred, saying that it was obvious that the will of the people was for the pipelines not to force their way through the Hawkeye State.
"I'm going to support the bill. I'm happy to sign on to move it forward," Quirmbach said.
Klimesh chaired the meeting. He had some issues with legalese and that the bill needed some revisions, but he still supported the cause and joined his colleagues in recommending it to the full Commerce Committee.
Taylor — who does not sit on either the sub- or full committee — also was at Tuesday's hearing. He reiterated the arguments he used when he introduced the bill on Feb. 1. As a political-science professor at Dordt University in Sioux Center, he cited small-government, property-rights arguments as well as the threat of GOP hypocrisy.
"Our 2020 platform is crystal clear: We oppose federal or state government taking private property away from the owner for use of another private party," Taylor said. "Eminent domain should be used only for public use."
Wednesday
Senate Republicans bucked their platform the next day.
Senate File 2160 was on the agenda for its meeting to decide which legislation the Commerce Committee would bring to the full chamber.
Quirmbach and the six other Democrats announced they were in universal support of the GOP-written bill as they awaited the arrival of the committee's 11 Republicans, including chair Sen. Jason Schultz of Schleswig.
Schultz took it off the agenda before calling Wednesday's meeting to order. Bills are like sharks; if they stop moving forward, they die.
"The pipeline companies, they're holding most of the cards," Taylor said. "They've got the deep pockets. They've got the attorneys on retainer. They've got the political connections at high levels. The average individual farmer is at a great disadvantage, and that's what I feel sorry for."
Schultz later said he supported the policy. Taylor also said he did not personally blame the chair. Sen. Jake Chapman, the Republican majority leader, has a commerce seat.
Purportedly, this means there were not enough votes in the GOP. Opposition votes are disregarded in committee, making the bill's bipartisan support irrelevant.
"I just feel especially bad because this is a defeat for landowner protection, for the farmers that came to the Capitol and participated in the subcommittee," Taylor said.
Thursday
The abrupt removal of Senate File 2160 from the docket sparked an abrupt demonstration.
A band of farmers and activists rallied and railed against the decision Thursday at the Iowa State Capitol. Their demand: Chapman must reassign the bill to the Ways and Means Committee to "give it a fair shot." Another possibility: Attach it as an amendment to another measure moving forward.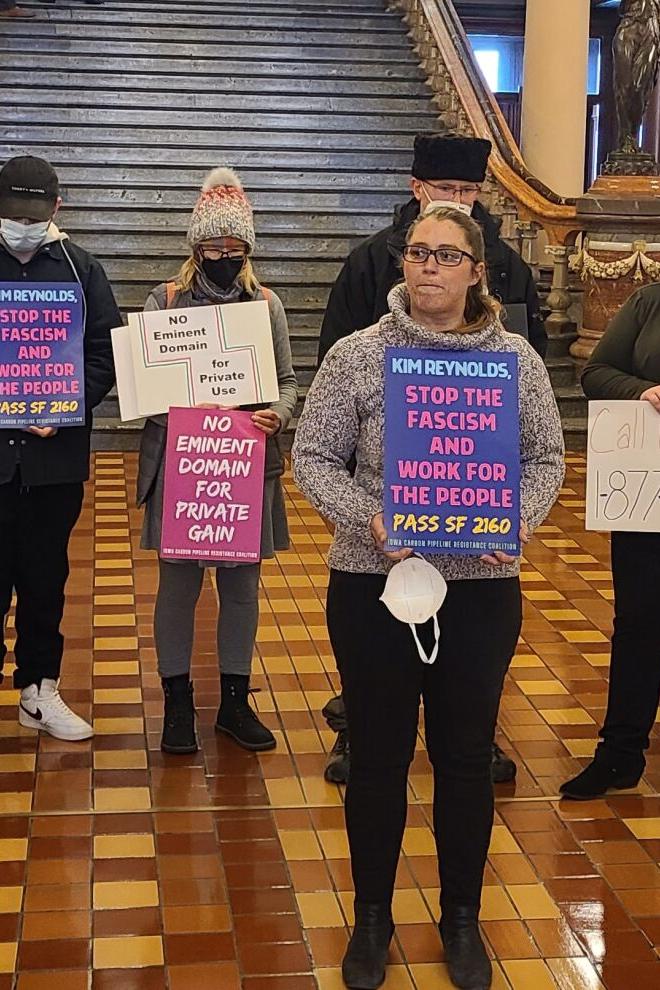 Jess Mazour, a leading advocate against the pipelines, said those avenues are unlikely but the overall fight is not over.
"We're not putting all our eggs in this basket. We have lots of other plans to stop these pipelines," she said. "It's not done yet.
Taylor said he will "keep an eye open" for another legislative opportunity, but he cannot make any promises at this point.
Mazour is a coordinator for the Sierra Club and has been organizing the hundreds of landowners who have submitted complaints about the proposed pipelines.
She described the Republican majority as turning its back on Iowans, saying they could go as far as to override a veto from fellow Republican Gov. Kim Reynolds, who is publicly in favor of carbon-capture projects.
"They can take orders from Governor Reynolds, or they can do what's right," Mazour said.
Future
Taylor said that the issue is not going away even if the carbon dioxide pipelines go through.
He added that if he is re-elected in November, he could see himself reintroducing his property-rights policy.
On the topic of this year's elections, Taylor said his party could be in trouble. The eminent domain question might not change votes red to blue, he said, but even a small decrease in participation could devastate his party.
"Farmers and the rural residents of Iowa, they are the backbone of our party. If the base of the party feels betrayed by the party leadership, it's possible that they may not vote in the kinds of numbers that they normally do," Taylor said.
Solsma said there is "no excuse" for what she sees as rejection of Republican values and betrayal of its supporters.
"I'm not a single-issue voter, but when it's in your platform and you still reject it, that's not part of your party. That is kowtowing to lobbyists and Big Money and rejecting the landowners, citizens and concerned people that are going to live on this path," she said.
As someone whose family has farmed in Iowa since 1895, Solsma said Senate File 2160 was the easy way to resolve the pipeline issue. Now that "momentum is on their side again," she said of the pipeline companies, the people's tactics will get tougher.
"We're in northwest Iowa and the vast majority are Republicans," Solsma said. "But it's changing after stunts like this."