GEORGE—Tyler Glanzer knew the 2020-21 academic year would be unlike any other when he took on the role of principal of the George-Little Rock middle and high school building in August.
"A lot of the COVID stuff is new for everybody. It makes it a little bit more of a challenge," said Glanzer, who also is the activities director for the middle and high school.
The 33-year-old Huron, SD, native applied for the post after the previous principal, Steven Green, resigned in July. After accepting the offer, Glanzer spent the summer preparing for an academic year in the coronavirus era.
"I'm a planner. I like to have lots of structure, but I had to be flexible here with things," Glanzer said. "Policies, procedures change quite often, and when things are very different and very new and it's something that no one's really been through before, it's hard to prepare for that."
He was grateful for the collaboration that took place between other George-Little Rock administrators and leaders from surrounding districts as they geared up for the academic year.
His favorite part about being principal is the opportunity to regularly visit all the sixth- through 12th-grade classrooms and observe what students are learning throughout the year. He contrasted this with his own time as a teacher when he could not always know what his fellow teachers were up to in their classes.
As principal, he also likes talking to the staff about how he can help them grow as teachers and how he can grow as an administrator.
"I, as an administrator, I know I have a lot of room to improve, but I also take my role pretty seriously about growing teachers as well and having honest conversations about how each teacher can continue to improve as a professional," he said.
It took Glanzer a few weeks at the start of the academic year to settle into his dual roles of principal and activities director, and he said balancing them can be difficult. However, his five years of experience as activities director has helped him, as has the support of the school staff.
"I certainly am very busy, but I also have really good people around me. We've got good staff that make my job balancing those two things much easier."
Glanzer said becoming a school principal has been a longtime goal of his.
"Mostly just because of the teachers and administrators and coaches that I've had in my life that have been so instrumental," he said. "That's what got me into education in the first place."
Besides stepping into the role of principal and his sixth year as activities director, Glanzer is entering his seventh year in the district overall. The past six years he taught math at the middle and high school levels.
He and his wife, Jessica, graduated from Northwestern College in Orange City one year apart: He graduated in 2010 and she in 2011. While Jessica was completing her final year — she also was studying to become a math teacher — he taught middle and high school math in Ellsworth, MN.
The teaching duo then moved to Perry, where two teaching jobs had opened up. They were in Perry for three years but longed to eventually return to N'West Iowa.
"She's originally from Rock Valley, we both went to Northwestern College, so we kind of just always had it in the back of our head, if we get the opportunity to move back to northwest Iowa we're going to take it," Glanzer said.
"After three years at Perry, a job opened up at G-LR and I took it and now the rest is kind of history."
---
SMOOTH REALIGNMENT:
A big change was afoot in the George-Little Rock School District well before the coronavirus pandemic hit in March or Tyler Glanzer took the helm as the middle and high school principal in August.
The district was considering a grade realignment that would move students in transitional kindergarten-fifth grade in Little Rock and sixth- through 12th-graders in George.
The plan was approved in the spring and implemented at the start of the 2020-21 academic year.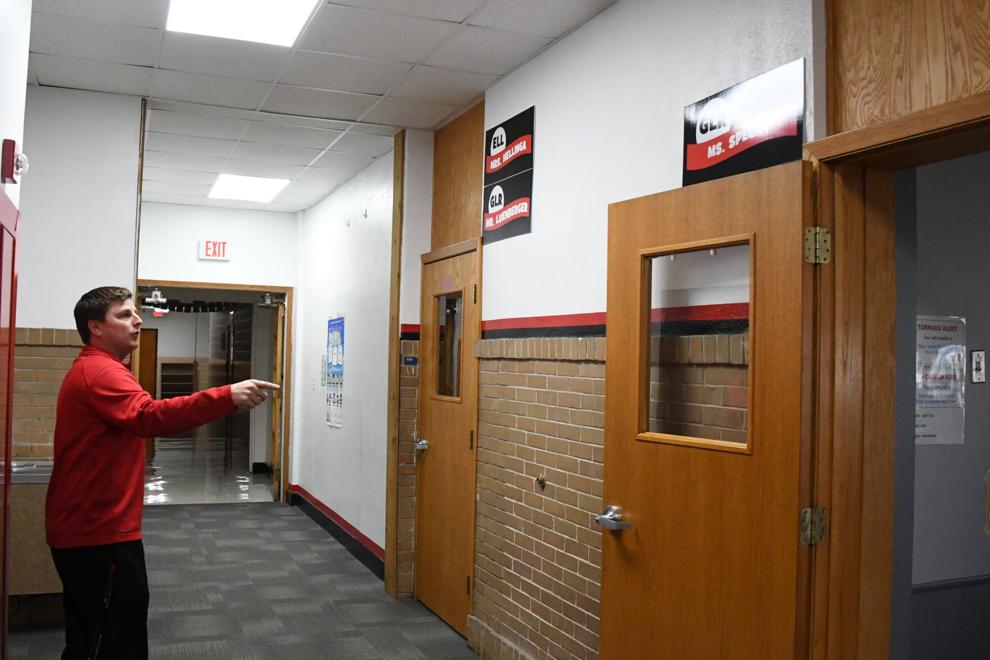 "It really has gone really well. It's been smooth," Glanzer said. "I have to give a lot of credit to the people who were in place a year ago when they were planning this and putting different things together and figuring out who was going to go where and how this was going to look and how the different logistical things were going to change."
One of the main benefits of the realignment is it allows teachers who lead middle and high school classes to remain under the same roof all day as opposed to traveling between George and Little Rock.
The realignment meant the former elementary school, located next to the high school in George, was turned into a multipurpose building. It houses the district's administrative offices, preschool classes, and the Lil Mustangs Child Care Center.
The building also is home to an expanded weight room for the district, replacing the smaller space in the high school building where the fitness equipment used to be.
"It wasn't a big enough space for a weight room, but it's a good space for storage," Glanzer said.
Coaches also may use the old weight room to watch game film.