SANBORN—Sun and sweat did not deter strawberry pickers from picking pounds of the fruit on opening day of strawberry season at Getting's Garden northwest of Sanborn.
The strawberry farm opened for the season June 15. Andy Getting, who owns the business with his wife, Karissa, and parents, Don and Mary Jo Getting, said turnout was at pre-pandemic levels.
"Our first day is always those eager people wanting to get out and get the first berries," he said.
Opening day at the farm was extra special this year with the unveiling of Getting's Backyard, a large playground area with games and activities for children.
The playground was built this spring as an extra attraction for the farm's visitors. Features include a sandpit, tire mountain, Jenga, a bounce house and bounce pad, a petting zoo, swings and a mega slide.
The mega slide, which visitors ride down while sitting in colorful tubes, was a popular activity on opening day.
"That's a new ag entertainment thing in the United States. I think there's maybe 20 sold in the United States, including us," Andy said.
Olivia Chapman of Orange City took turns on the mega slide with her children Cooper, 4, and Clara, 3, on their visit to the farm June 15. All three shrieked with excitement on the way down.
"This was so fun. I'm glad they added it; we'll have to come back again," Chapman said.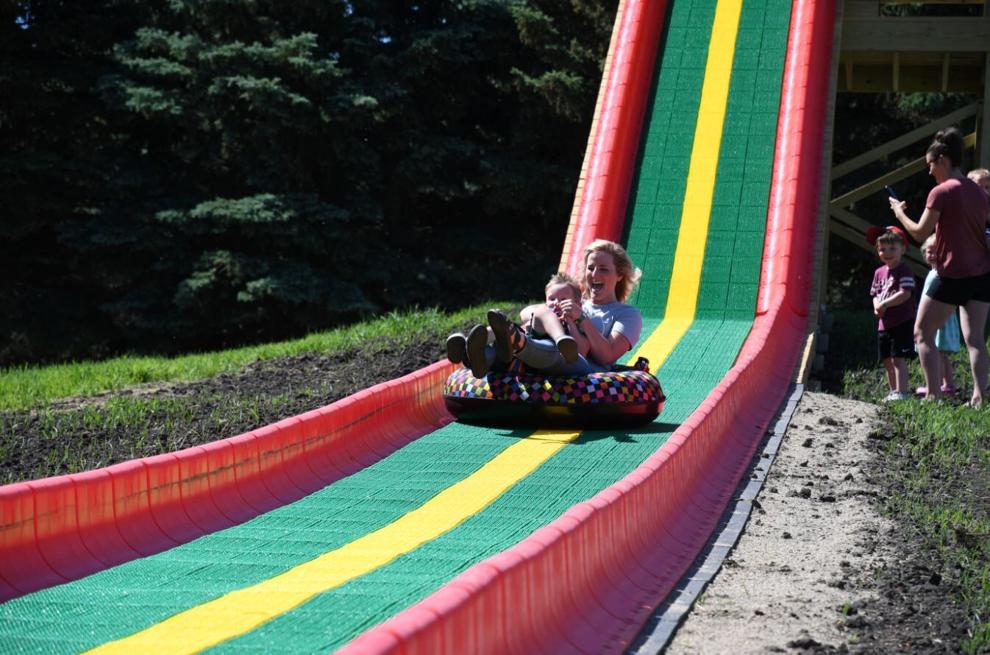 Other parts of Getting's Backyard also were well received. The only part that is not new this year is the petting zoo, which has been a feature of the farm for several years and includes goats, sheep, chickens, turkeys and a peacock.
"This was fun to do while Mom is picking strawberries," said Tom Lemmer of Minneapolis, who enjoyed feeding goats at the petting zoo with his 5-year-old son, Harris. "My wife has family in the area, so we're visiting and we were looking for something to do. This was great."
Andy said the addition of Getting's Backyard was prompted by business changes brought on by the pandemic.
"With COVID we realized, just like within our own families, gosh if there's something we can do outside as a family, it'd be nice," Andy said. "Last year we had to limit access to picnic tables and had a lot of people say, 'Gosh, we wish we could stay longer, we miss the zoo animals you had, the kids really missed that.' Other farms have playgrounds, amusement parks with their business and we decided to jump into that."
Getting's Backyard will be open during regular business hours for an admission fee. Children 2-18 get in for $10 and adults are $5. Children under 2 get in free.
Although the playground drew interest throughout the day, the berry patches were an equally popular place to be.
Dave and Judy Zoch of Fort Dodge have been coming ever since 2006. The only year they've missed was 2020 because of the pandemic.
"There's not many places around where you can pick fresh strawberries like this," Judy said.
Dave started coming to Getting's over 25 years ago. "My parents got me started. Now we come together and pick. It's good, we like to come out here."
The strawberry farm stayed open last year, though with some changes to picking and traffic flow. The Gettings have carried forward lessons learned from adapting to COVID-19 last year into this season, most noticeably with a new setup for traffic.
Vehicles enter off Pierce Avenue near Don and Mary Jo's home to park in a gravel parking lot and exit farther north at a field entrance.
Outdoor seating also has increased.
The market selling shakes, doughnuts and other strawberry treats is open but visitors make their purchases in a screened in area before heading outside to eat.
Several carports have been set up to provide extra shade.
Recent hot weather threatened to hurt this year's crop, but Andy said cooling with irrigation helped avert that in time for the season to begin right around the usual time.
"We had all those hot days, so we were concerned about how fast they'd ripen and if they'd ripen to the size we'd want them," Andy said. "We've been able to hold them where we want it to be and expect to be able to have a normal season."
Strawberry season should last three or four weeks. Andy expects the big finish to fall shorty after the Fourth of July, especially if temperatures drop to 70 or 80 degrees.