CEDAR FALLS—Whether she is in the director's chair or under the bright lights, no stage is too big for Abby Chagolla.
The 21-year-old graduated from Gehlen Catholic High School in 2015 and is near completing her bachelor's degree from the University of Northern Iowa in Cedar Falls. She is double majoring in communication studies and performance.
Chagolla grew up with a knack for singing and a love for musicals, but high school was where her desire to perform started to flourish.
"Individual and large group speech performances were really big — and my first musical 'Guys and Dolls,'" she said. "I always knew I loved singing because my elementary school music teacher always encouraged me to sing."
The graduate-to-be hopes to act and direct, but Chagolla also wants to be an agent of change on the stage.
"I want to bring more representation to stage. I didn't have a Latin/Mex person to look up to on theater growing up," she said. "It wasn't until high school that I had someone — if they can do it I can do it."
Lin-Manuel Miranda and Mandy Gonzalez of "Hamilton" fame are two of the stars that Chagolla said opened her eyes to the possibility of a career in acting.
"It's important to know when your voice needs to be heard, or not exactly yours but somebody's," she said. "It's time to just be open minded and inclusive in our everyday life and our work and at school."
Chagolla often performs as a soprano but has the range to belt out as an alto as well.
She spent her first year at college singing with the UNI Women's Chorus, but has switched more of her focus to theatre. She was a dancer for the university's 2016 production of "Dead Man's Cell Phone," a play by Sarah Ruhl. Last year she assistant directed the musical "Hair."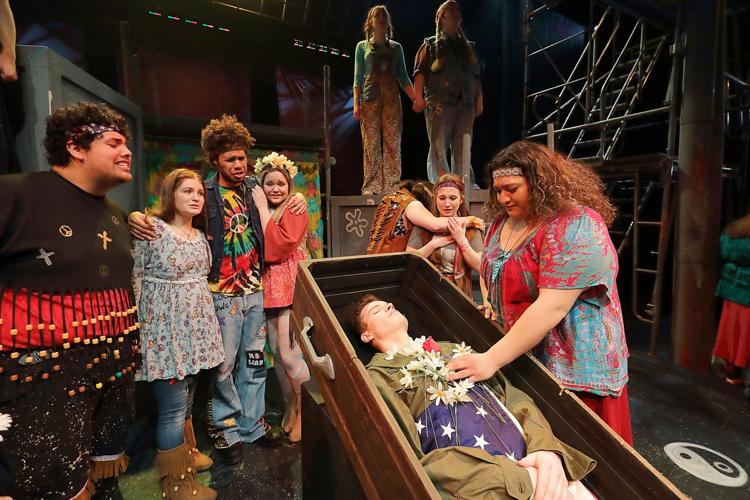 The budding stage artist is preparing for her biggest role yet. She will play the woman in the two-person play "Lungs" by Duncan MacMillan.
"It's one of the bigger roles I've had and also one of the more challenging ones," she said. "It's us two for 85 minutes straight with no breaks. It's a lot of dialogue. It is a very episodic kind of play. It jumps from one week to the next or from one week to three months. I'm lucky enough that it's a smaller stage and kind of an intimate setting. The audience should be really engaged."
The play will hit the stage at the Strayer-Wood Theatre April 6-7.
Chagolla plans to graduate in the fall, although grinding through 18 credit hours — which is a lot — and having two summers full of classes under her belt may convince her to spread her workload out through another semester. Even with those semesters with 18 credit hours, she has managed to land on the dean's list the last three semesters. She also rehearses throughout the week at three hours a clip and gets in hours working at a movie theater as much as she can. All of this with the hope of acting after college and possibly graduate school.
While the UNI campus has become her stage, Chagolla still remembers where she came from and credits Gehlen Catholic with helping her get to where she is.
"Their education system was fantastic and it really pushed me to knowing what I could handle," she said. "I love coming back to my teachers and being able to talk and find out what they're doing now, what songs they are singing."