ORANGE CITY—Orange City Elementary started a new Friday tradition four years ago.
As students walk up to one of the school's three entrances, there are volunteers there waiting, ready to greet them and deliver a high-five.
High-Five Fridays brings groups of high school students and other members of the surrounding community to the elementary to start the students' day on a bright note.
"It not only boosts morale, but it's a great way to make a connection with our community," said Orange City Elementary counselor Jackie Olson. She is responsible for organizing the weekly event.
"Sometimes it's six people, sometimes it's 30 or 50," she said.
Among the groups that have shown up bright and early, ready to deliver high-fives to elementary students as they arrive at school, are members of various high school athletic teams, volunteers from community businesses, students from Northwestern College in Orange City and members of the Orange City Fire Department, who don their uniforms for the occasion and roll up in bright red trucks, lights flashing.
"I'm not sure whose smiles are bigger — the kids or the volunteers that come to give the high-fives," Olson said.
One popular group of high-fivers at each year are the high school FFA members.
"They bring their tractors and park them on the concrete, and the kids just go nuts," Olson said.
High-Five Fridays have become something of a trend in elementary schools across the region, and along with Orange City Elementary, which houses grades TK-5, several other elementary schools have instituted the tradition, including Hartley-Melvin Sanborn Elementary, MMCRU Marcus Elementary and Okoboji Elementary.
Olson, who was formerly a Title 1 reading teacher, got the idea for Friday high-fives when she was pursuing her master's degree in school counseling, which she received in 2017. One of her professors mentioned it was a popular tradition at the elementary school where he also taught.
"He brought the idea up, and I just ran with it," she said.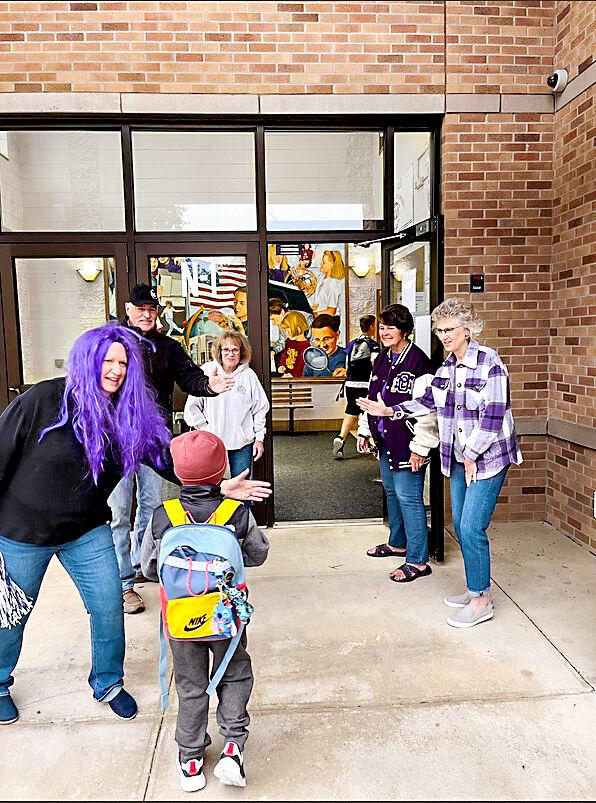 Olson has been inviting volunteers to school ever since, with one break from the tradition near the height of the pandemic, when unnecessary physical contact was discouraged.
It's the physical contact that is key, according to Olson. Along with the smiles and enthusiastic greetings students receive from volunteers, a high-five meets a basic need — the need for human touch.
"It's the physical touch that humans need every day," Olson said. "And along with the verbal 'Good morning!' or 'Happy Friday!' I just feel like it starts kids' days off in a really positive way."
As the school counselor, Olson spends much of her day attending to students holistically, and she said High-Five Fridays are one way to meet students' emotional needs.
"You just never know how a kids' day starts off. They could be extra tired — they could have had a rough night, or a rough morning. And so having something positive to start their day off is really great," she said.
It also is a way to create positive connections between students and adult members of the community, she said.
Olson has a quote from motivational speaker Josh Shipp displayed on her desk, and it speaks to the importance of forming these kinds of connections.
"I just love this quote from Josh Shipp, and I really believe it: 'Every kid is one caring adult away from being a success story,'" she said.
Olson looks for other opportunities throughout the year to help students make connections with positive role models in the community, including through a partnership with American Reformed Church in Orange City, which participates in a program called Kids Hope USA. Through the program, Elementary students are paired with an adult volunteer from the church, and they spend regular time together each week.
Olson said she became passionate about advocating for kids once she became a licensed foster parent, and her perspective as a foster parent continues to guide her work.
"I started doing foster care, and I realized I have a heart to advocate for all kids, but specifically kids who struggle — kids who maybe don't have the support that they need," she said. "The high-fives are just one way to continue putting positive people in kids' lives."