REGIONAL—Ever since artist Ray "Bubba" Sorensen painted the Freedom Rocks of N'West Iowa, the works of art have become part of the patriotic fiber of Lyon, O'Brien, Osceola and Sioux counties.
Sorensen painted the four Freedom Rocks 2013-18, starting with the Sioux County rock in Hawarden and finishing with the Osceola County rock in Ashton.
Each of the four rocks depicts military veterans and details specific to each county.
"Every county is absolutely unique," Sorensen said, "but we're all kind of the same in that, you know, we're all pretty patriotic, we're all Iowa nice."
Before he set out to paint Freedom Rocks in all 99 of Iowa's counties, Sorensen painted the original Freedom Rock near Menlo in May 1999 as a way of expressing gratitude to veterans.
"A lot of these guys' stories, they read like superhero comics because they do incredible things in their service and in a lot of times, ultimately, their sacrifice in giving their life for our country to preserve our way of life," Sorensen said.
Sioux County
The Sioux County rock is located on the west side of Hawarden in Veterans Memorial Park near Highway 10. Sorensen painted the rock in the summer of 2013, and it was dedicated later that year on Labor Day during Hawarden's Big Sioux River Days.
The rock displays three separate images each depicting a different facet of veterans and military service.
The largest painting on the Hawarden rock shows armed troops coming to shore by boat, helicopters and parachutes. On another side of the rock is an image of a prisoner of war behind bars who is gripping a ribbon with the words "Not forgotten" on it. The final image is of the American Legion seal made to appear as if it were set within the rock.
Lyon County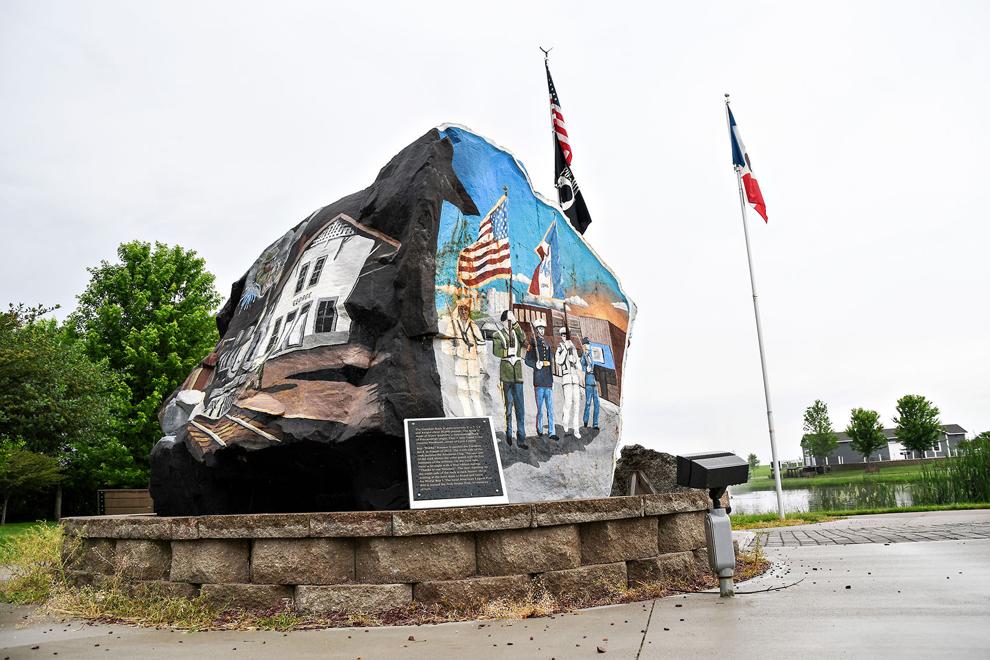 Sorensen painted the Lyon County Freedom Rock shortly after the Sioux County rock. It is located in Locker Park in George and shows a nighttime scene from World War I of a soldier waiting to board a train at the George depot.
According to Wendell DeBeer, commander of the George American Legion, the soldier is George native Jack Sauter, who was killed in the war. DeBeer said Sauter's legacy inspired the Legion's name: The Jack Sauter Post 404.
Also depicted on the rock are five veterans representing each branch of the military marching down a street.
"It does my heart good to see what it represents," DeBeer said of the Lyon County Freedom Rock. "We have a lot of people that come by the rock and stop by and look at it."
O'Brien County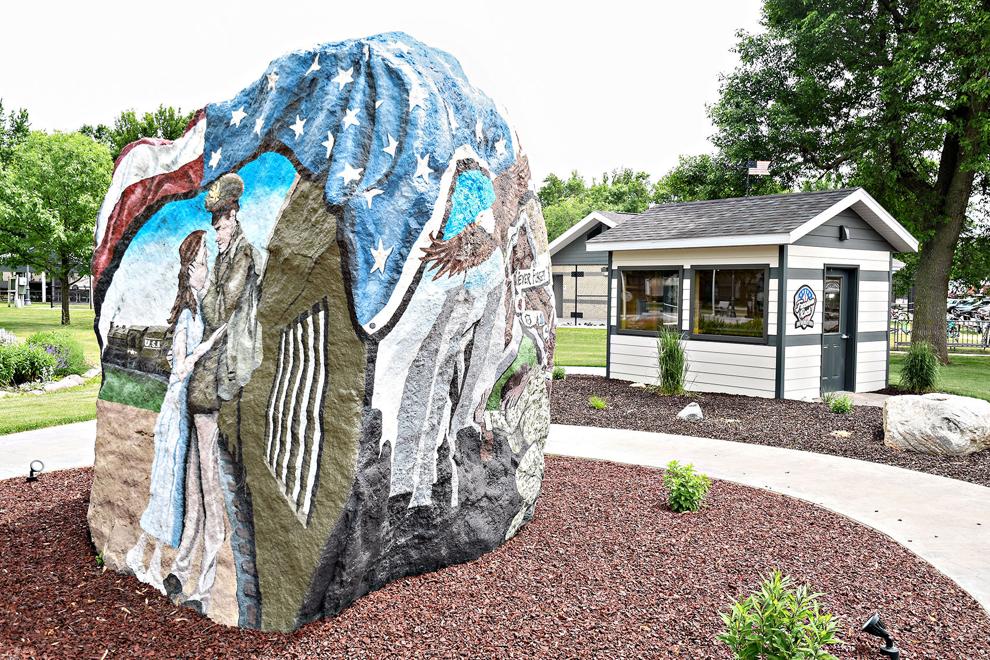 Sorensen painted the O'Brien County Freedom Rock in Sanborn in 2016. The rock stands in the city park at the corner of Highway 18 and Main Street.
The rock depicts three images of veterans: one of a soldier embracing a loved one next to a train, another of a soldier mourning next to the Twin Towers and an image of Civil War soldier Daniel "Grandpa" Pippinger, who was from the Sanborn area.
Sanborn resident Rich Vander Werff, who spearheaded the process of bringing the Freedom Rock to Sanborn, said he still hears from people commenting about the rock.
"There's even groups of people, you know, like there will be a group of motorcycle riders that their goal is to stop at every Freedom Rock in the state," Vander Werff said.
"It's just been a tremendous positive," he added.
The rock attracts particular attention around Memorial Day weekend and the Fourth of July, Vander Werff said. It also sees a lot of visitors during the town's annual Railroad Days celebration when many former Sanborn residents come back to visit.
"It always serves as a great reminder that if we didn't have our veterans, we wouldn't be doing what we're doing today," Vander Werff said.
The Freedom Rock has not only acted as a tourist attraction but as an ongoing service opportunity.
Vander Werff said a group of middle school students started volunteering earlier this year to maintain the information building next to the rock as a service project. He said their service project is a win-win because while they maintain the building, the students also have developed a better appreciation of the Freedom Rock and its history.
Osceola County
The final Freedom Rock of N'West Iowa is the Osceola County Freedom Rock that sits in Wayside Park in Ashton.
Sorensen finished painting the 16-ton rock in March 2018. It depicts three veterans from Osceola County: World War I veteran George Veenker of Ashton, World War II veteran Emma Schweer of Ocheyedan and Korean War and Vietnam War veteran Leland Zahn of Harris.
Sorensen said he hopes people who see the Freedom Rocks feel a sense of pride and honor for the United States and are inspired to find ways to serve their communities.