ORANGE CITY—Ray "Bubba" Sorensen painted the Sioux County Freedom Rock almost a decade ago, but the Iowa muralist returned to the county Thursday, Jan. 6, to discuss his art career.
The 42-year-old Greenfield man spoke to assembled Orange City Christian School students, staff and local U.S. military veterans that morning about how he came to paint patriotic portraits in all 99 Iowa counties.
Sorensen grew up in a patriotic family and recalled watching fictitious TV shows like "Combat!" and "Tour of Duty," which respectively tells stories of U.S. soldiers fighting in World War II and the Vietnam War.
He also mentioned relatives of his who served in the U.S. military, including his uncle Ted Tucker. Tucker served multiple tours in Vietnam 1967-69, and Sorensen said he was mistreated upon his return to the United States.
"That never sat well with me. Our government sent our men and women over to fight, we didn't treat them very well when they came home," he said.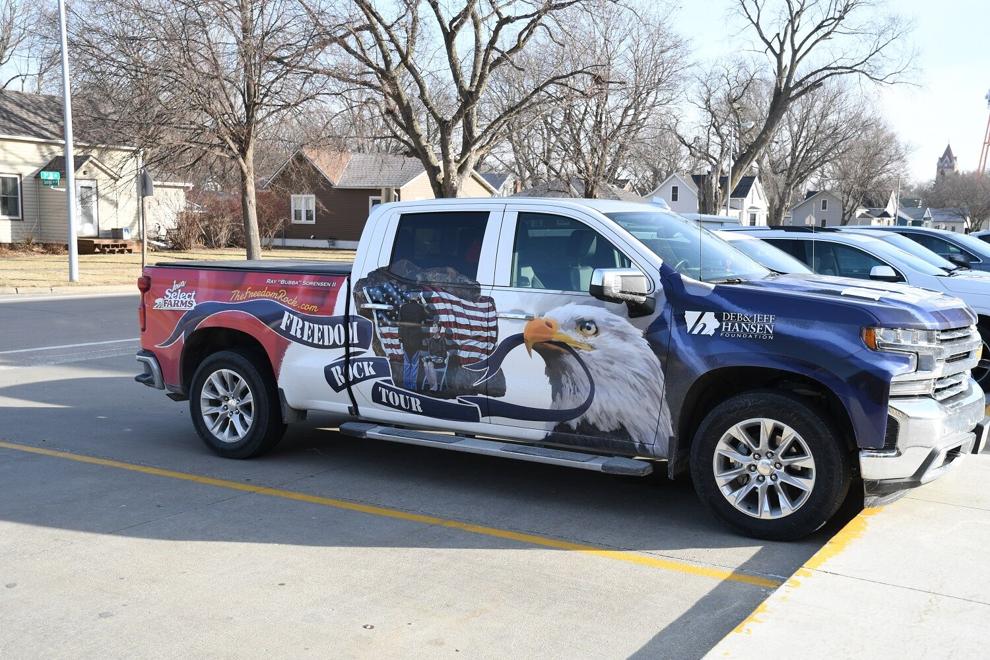 The spark that inspired him in 1999 to paint the original, 12-foot-tall Freedom Rock — located along Highway 25 near Menlo — was watching the 1998 World War II movie, "Saving Private Ryan."
After calling the nearby rock quarry for permission to paint the boulder and securing $50 worth of paint from his parents, Sorensen recreated the 1945 photo by Joe Rosenthal of U.S. soldiers raising the flag at Iwo Jima. Next to the scene, he wrote the words, "Thank you veterans for our freedom."
"I had no idea what I was doing. I hadn't even taken a painting class at Iowa State (University) yet. I used acrylic oil painting, which is a huge no-no; they don't mix," he said. "But I did my best."
Although the artwork was vandalized a few weeks later, Sorensen returned to repaint different patriotic images on the rock over the next five years as a way of continuing to express his gratitude for veterans.
He planned on quitting the annual tradition after the fifth year, but a viral e-mail campaign about the Freedom Rock led to Sorensen receiving calls and letters from around the world from people urging him to keep painting it.
"I got a letter from a guy that lived in China. He had run a Chinese restaurant over here in America and appreciated the freedoms in America so much, he sent me little pieces of Chinese art," he said.
"I thought how incredible that was, that this little painting in southwest Iowa in the middle of nowhere had reached all over the world."
The artist eventually started receiving queries from Iowans who wanted similar rocks closer to their own communities. That in turn gave birth to the idea of the "Iowa Freedom Rock Tour" in which Sorensen committed to painting a rock in all 99 counties.
Within the first week, he had booked rocks in 10 counties, and by the end of the first year, he had 60 rocks scheduled. He opted to paint the rocks in the order in which they were booked, which meant he zigzagged across Iowa until completing the 99th rock last September in Linn County.
He painted the four Freedom Rocks of N'West Iowa 2013-18, starting with the Sioux County rock in Hawarden in the summer 2013. Later that year, he painted the Lyon County rock in George's Locker Park.
The O'Brien County Freedom Rock is located at the corner of Highway 18 and Main Street in Sanborn and was completed in 2016, while the Osceola County rock was painted in 2018 in Ashton's Wayside Park.
Sorensen meanwhile has kept repainting the original Freedom Rock each May.
One image he always recreates on the boulder is of a green, Vietnam-era military helicopter. A tradition that goes along with painting the aircraft is mixing into the paint ashes of deceased Vietnam veterans that he receives in the mail from their family members.
His fame across the Hawkeye State as the Freedom Rock painter also led to the Iowa Lottery asking to use his artwork in scratch tickets to raise money for the Iowa Veterans Trust Fund. He agreed, and ticket sales wound up raising about $4 million for the fund.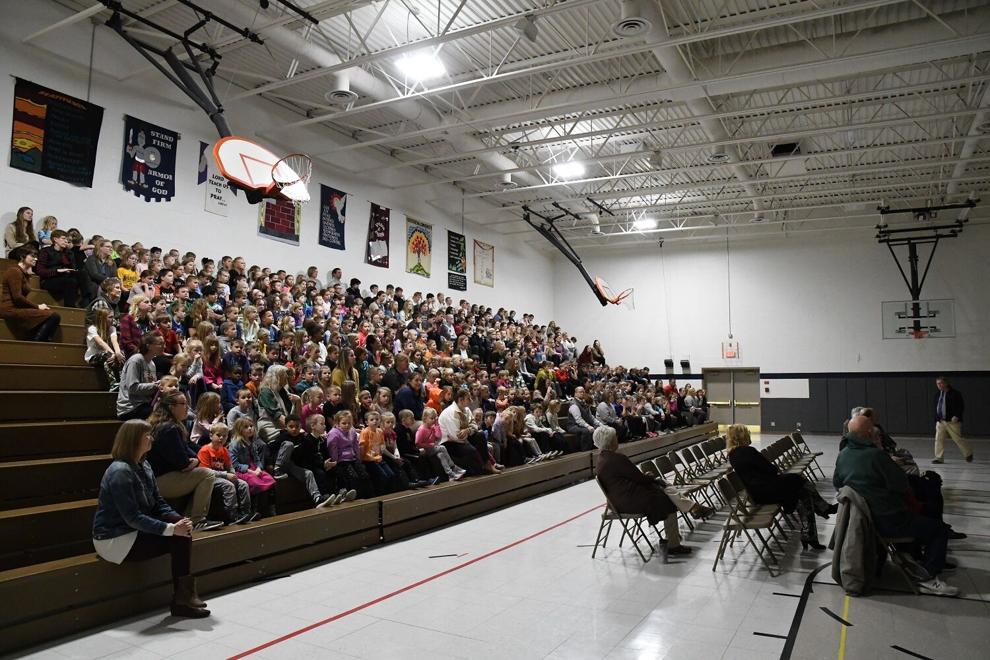 He also has painted a handful of what he calls "non-Freedom Rocks" around the state such as the Liberty Rock, the Memorial Rock and the Veterans Rock. He likewise has painted murals for various Iowa schools and businesses and has begun a "50 State Freedom Rock Tour."
Orange City Christian students submitted prewritten questions for Sorensen before the assembly, one of which asked him what his favorite Freedom Rock is. He answered that it is the original one in Adair County because he gets to paint it anew every year.
He also was asked how much paint he goes through for each rock. He said it varies for each one but that he has to use a special type of paint on the rough boulder surfaces.
"There's only a couple places in America where you can get it. The cheapest is $250 a gallon. Sky Blue is about $650-$700 a gallon, so it's not cheap stuff," Sorensen said.
He was asked how he likes to spend his free time but said he does not have much of that. Besides running his mural-painting business, Sorensen also serves as a Republican in the Iowa House of Representatives for District 20.
However, when asked about his dream job, he referenced the person who invited him to Orange City Christian: art teacher Sue Siemonsma.
"I've always thought it'd be really cool to be an art teacher at any level — elementary, high school, college," he said. "I've always thought that would be really awesome."