OCHEYEDAN—Waffles are Jeanie Adams' culinary specialty but are far from being the only menu item at The Ol' 9 & 59, a food truck-style eatery she opened a year ago June 1.
As the name indicates, the restaurant is located at the northeast corner of highways 9 and 59 west of Ocheyedan.
"When I was starting to get it ready, people would stop, they'd be like, 'Oh, that's out where the old 9 and 59 Club used to be that burned down in the '70s,'" said Adams, who grew up in Gregory, SD. "I'm like, 'Well, that's the name then.'"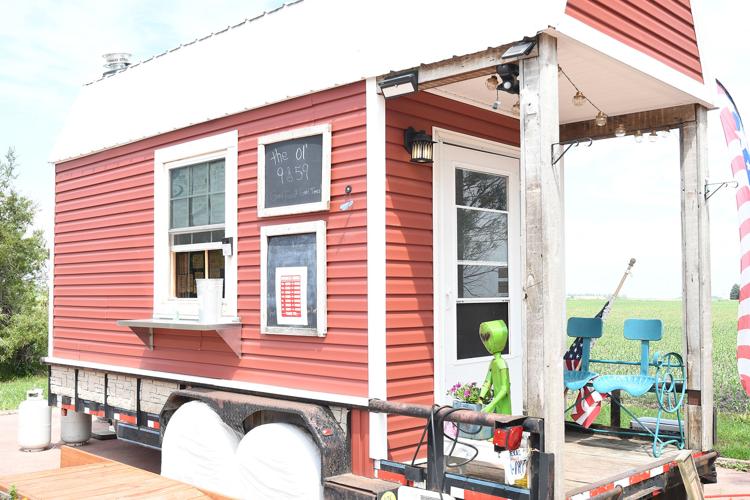 She updates the restaurant's menu each day on signs posted on the food pickup window.
"The waffles are my thing," Adams said, explaining she makes sweet and savory varieties of the batter-based treat.
The sweet versions include Belgian waffles as well as Liege waffles, which are thinner, sweeter and made with pearl sugar. The savory dishes involve pairing the waffle with a meat element such as barbecue pork or chicken, chili Verde or even Philly cheesesteak.
"Anything can go on a waffle, honestly," Adams said.
Tacos are another recurring item on the menu and come in varieties such as beef, pork and chicken.
"Everyone loves the tacos. It's a great go-to," Adams said. "I have these two little girls who live on a farm around here, and they won't eat tacos anywhere else. I'm the taco lady. They wait for me to come back in the spring and they always show up."
Besides waffles and tacos, the menu often includes Adams' personal takes on burritos, wraps, sandwiches and food bowls that combine several food elements.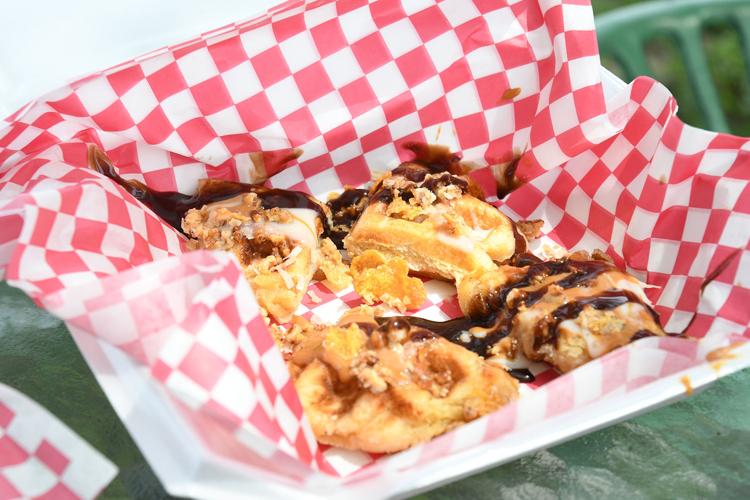 Customers can stop by and order from the window then stay and eat at picnic tables set outside or order to-go. To do the latter, Adams said they should message the restaurant's Facebook page to place an order.
"I have work crews, farmers, all of it, they all call in and get 10 meals to go," she said.
Adams worked as an in-home child-care provider for 20 years before opening The Ol' 9 & 59.
"One of the things that I focused on that the parents who came to me really liked was the quality of food I served," Adams said. "I have a natural ability to cook."
Another inspiration for the home-style nature of Adams' restaurant came from Rosie's Cafe in Sioux Falls, SD, where the three women who run the cafe often come up with new creations day to day.
"What they serve today becomes something else tomorrow, and they make their menu as they go," Adams said. "I thought that was cool, that would suit me. So when I saw this piece of land has such busy traffic patterns, I thought, 'Well, hot diggity dog. Let's try it.'"
The Ol' 9 & 59 is open from Memorial Day through Labor Day. The hours are typically 7 a.m.-3 p.m. Monday-Saturday, with extended hours until 8 p.m. Wednesday.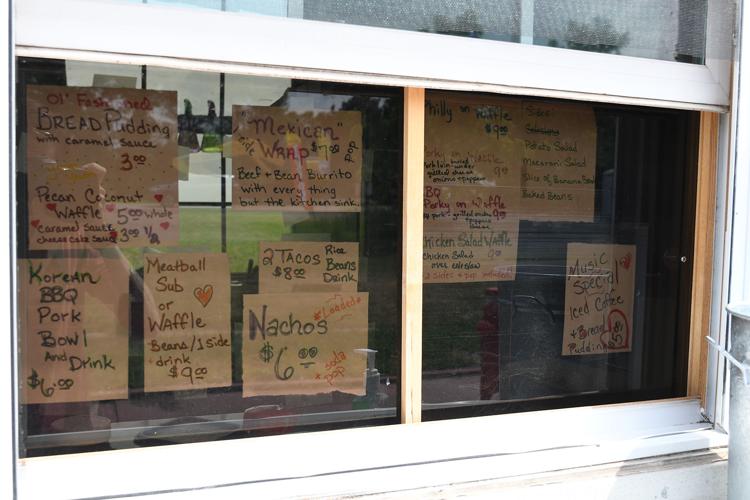 However, Adams sometimes opts to be open outside the business hours in accordance with the restaurant's slogan — "If the flags are flying, the food you can be buying" — which refers to the banners next to the road in front of the eatery.
She originally tried to be open every evening, but that became too much work given that she is the only person who runs the business.
"The dream is that I'd be so busy that I'd have to hire a bunch of people, but for now it's still just me," she said.
The Ol' 9 & 59 did, however, recently begin offering live music performances Wednesday evenings when the weather permits. The shows feature local performers, including herself and her husband, Tom Binford.
"He's a master guitarist. He's been around the area forever," Adams said. "I call him the house band."
She said she still is building up her clientele and that she would like to set up more signage to advertise the restaurant's location.
"I'm kind of tucked in, but I'm starting to get the lake traffic, people are starting to notice," Adams said. "And once they come, they come back."