ORANGE CITY—Steve Mahr was disappointed but not surprised when two flags that hang outside Town Square Coffee House + Kitchen's storefront in Orange City were recently stolen.
"It's why I bought backups," said Mahr, who owns the coffee shop located at 125 Central Ave. NE in the Sioux County seat community.
"I don't want to assume negative things are going to happen, but I know the flags kind of stand in contradiction to what a lot of the ideologies are here locally."
Mahr first noticed the rainbow flag that symbolizes lesbian, gay, bisexual, transgender and queer pride was gone when he and his staff came into work early the morning of Saturday, June 12. He assumed the person or people that took it did so Friday night, June 11, or earlier Saturday morning.
The shop's Black Lives Matter flag, which hangs next to the pride flag, also was swiped either Sunday night, June 13, or early Monday morning, June 14.
Town Square has since put up new flags.
The shop began flying the flags in late May 2020 following the death of George Floyd in Minneapolis. Before that, flags of Amsterdam occupied the poles to go along with Town Square's logo.
"I felt like it was important to communicate to the marginalized folks in our own community, 'We're going to put this up as a way to let you know that this is a safe space for you,'" Mahr said.
The restaurant had not experienced thefts or vandalization of its flags before June 12. The only other time Mahr used the shop's backup supply of flags was when it installed fresh ones in May before Tulip Festival.
Mahr notified the Orange City Police Department about the thefts to make the agency aware of the situation. The coffee shop also checked if the cameras across the street at Northwestern Bank captured footage of the thefts, although Mahr said the devices were too far out of range.
Rather than seeing whoever took the flags be punished, however, Mahr would prefer to talk to them about their actions and what motivated their behavior.
"I'm less interested in catching somebody and more interested in leaving the door open for a future relationship," he said.
Mahr called the flag robberies minor inconveniences and did not personally feel threatened by them. However, the business employs many LGBTQ people as well as some people of color, who felt more targeted by the flags being removed.
Tucker Schneider, general manager of Town Square, said the incident made him feel unsafe since he is part of the LGBTQ community. He acknowledged it was just flags that were stolen and was glad no physical violence took place.
"I just hope that it doesn't escalate to anything further because that is literally terrifying," Schneider said.
"Those are the types of things that keep people from being their true selves, by keeping things like that silent because they fear the consequences or the people who retaliate in those types of ways. That's the scary thing for me anyway."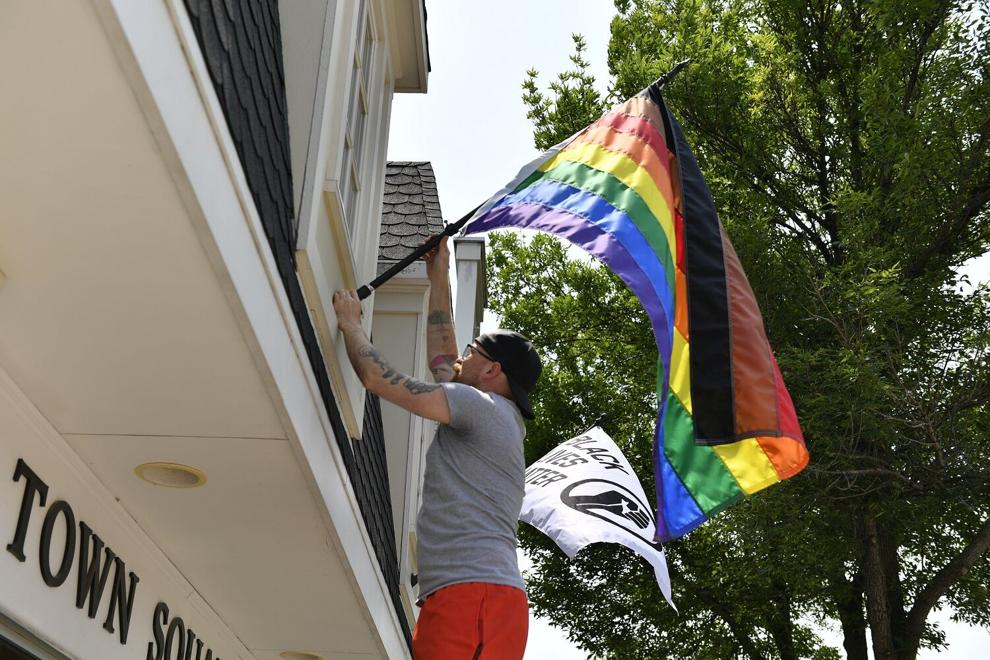 Schneider echoed Mahr's point about being willing to have constructive conversations with people who disagree with the flags' messages. He also said the eatery still is dedicated to being a safe space for people and cultivating an atmosphere of love and peace.
After the first flag was stolen, Town Square announced it would be donating to Bago Pride at the Winnebago Reservation in Nebraska for each pride flag that gets stolen. The shop will likewise donate to the George Floyd Memorial Foundation for the Black Lives Matter flag being stolen.
Mahr and Schneider spoke of the outpouring of support Town Square has received in the wake of the flag incidents as several people have offered to buy new flags for the restaurant and join it in donating to the nonprofit organizations.
"It just makes me feel so embraced, and I hope that it makes other people feel that way too," Schneider said of the positive response.
Mahr said the support from the community has been affirming and a good reminder to him and the staff that the business' advocacy for LGBTQ pride and Black Lives Matter is appreciated.
"Even just this morning somebody called the shop — they aren't from here — they just said, 'Hey, I just want you to know we saw your response to the flags, and we want to tell you that you're doing a good thing and we think it's beautiful and keep doing what you're doing,'" Mahr said Tuesday.
Donors also contributed to Town Square so it could put on its first "Queer Joy Sunday" event the morning of June 13 free of charge to participants. The occasion was specifically for people in the queer community and involved a yoga session at Windmill Park followed by mimosas and brunch at the coffee shop.
Mahr said the event — which is part of summer programming Town Square plans to hold Sundays-Wednesdays — was a way to energize shop staff members as well as LGBTQ people in the community.
"These community members, who can often feel drained, had an opportunity to feel filled up and rejuvenated so they can go into their workweek knowing that they're loved and they have a chosen family that cares about them," Mahr said.