SIOUX CENTER—The voices in Kendra's head were telling her to jump off a bridge, but Ernie Stevens and Joe Smarro convinced her she was stronger than her personal demons.
The exchange in which the then-San Antonio police officers talked down the woman from a suicide attempt on May 13, 2017, was captured on their dashcam footage and later included in HBO's 2019 documentary, "Ernie & Joe: Crisis Cops."
A 25-minute version of the documentary was screened Friday, Feb. 19, in B.J. Haan Auditorium at Dordt University in Sioux Center during an expert panel discussion on mental health and policing.
The event — moderated by Dordt instructor of social work Leah Mouw and instructor of criminal justice Jon Moeller — saw an in-person attendance of about 150 people while another 80 tuned in via Zoom. Stevens and Smarro also joined remotely.
The documentary chronicles how Stevens and Smarro responded to people having mental health crises in a nonconfrontational way and eventually helped start the San Antonio Police Department's Mental Health Unit and Crisis Intervention Training program.
Other clips showed Stevens and Smarro on patrol, responding to mental health calls and talking people down from their crises before connecting them with clinical help.
In one scene, the duo train their fellow officers in crisis communication techniques. They advise the other officers to strike nonthreatening stances by sitting down or leaning against a wall when talking to someone in crisis. They also emphasize the importance of building rapport with the person and getting them to open up about their problems.
'It provides hope'
After the screening, Smarro spoke about the impact of the San Antonio Police Department's innovative approach to mental health issues and the boost it has received through the documentary. He said it is not meant to be a blueprint for telling other police agencies how to address mental health, but he does hope it acts as a conversation piece.
"It provides hope as well that if this can happen within Texas of all states — a very proud state and one that acts as its own continent — and if it can happen where the population that we have in a community that is nearly 2 million people in a large department have 2,400 sworn officers for San Antonio, if we can make it work here at SAPD, it can absolutely work in other areas, those large and small," Smarro said.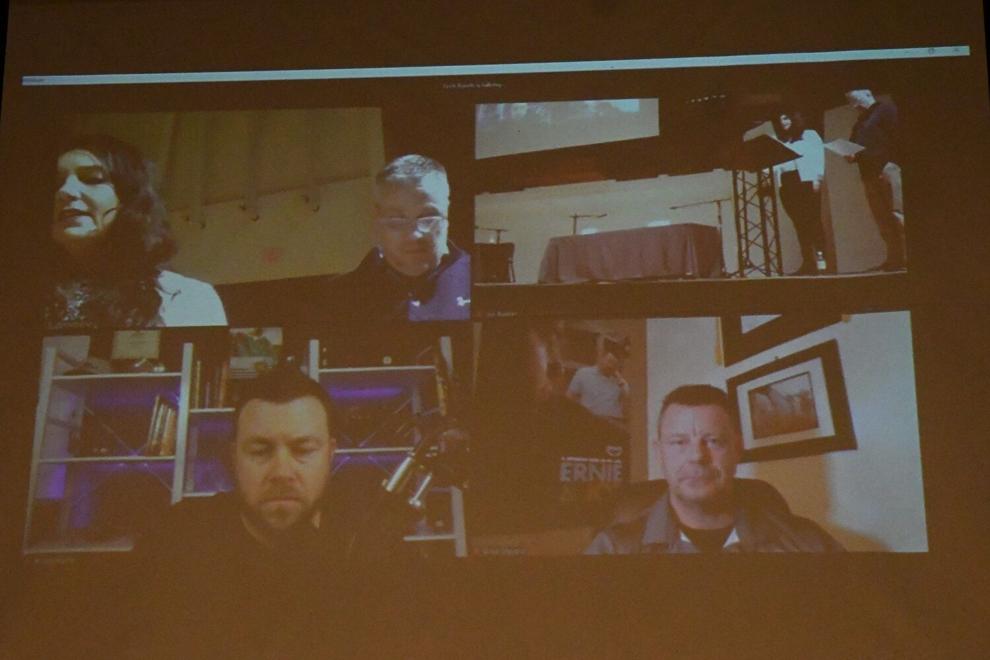 Stevens also discussed how he and the other officers in the Mental Health Unit worked alongside clinicians and medics on mental health calls. That three-pronged approach helped better connect those in crisis to resources they needed.
The main role he and the officers played on such calls was making sure the scene was safe for the medical professionals so they could perform triage and determine what services the person needed.
"For example, does the patient need medication? We had a budget for that. Did they need a doctor? If they didn't have a doctor, we had a doctor. Do they need transportation? Clothing? Food stamps? Social Security benefits?" Stevens said.
"The ID part of it was huge because so many of the people that I was dealing with were unhoused and they couldn't even get into a shelter because they didn't have an identification card. So we had to go through the entire process of finding out and meeting that patient where they were at in the moment to provide the resources they needed."
They said following up with people after they come down from a mental health crisis also is critical — not just to ensure they remain emotionally stable and seek help — but to remind first responders such people are humans who shouldn't be defined by their crises.
"If we only deal with them when they're in crisis, it's pretty easy to forget or to see them as something other than a person," Smarro said. "So when you get that equal interaction with them, I think it's actually more important to remember that, 'Oh yeah, this is just a normal person who sometimes has a bad day and that's OK.'"
'Didn't realize the toll'
Stevens and Smarro were asked how they took care of their own mental health while working as police officers.
Stevens spoke about his faith in Jesus Christ and reliance on prayer.
"It's just something that's innate inside of me that I know gives me peace," Stevens said.
He meets with a Bible study group each morning and enjoys working out. He said he and Smarro also understand the necessity of taking a day off when needed.
Smarro discussed the significance of going to therapy and how it's helped him work through his own mental health issues.
Before he became a police officer, Smarro was a combat veteran in the U.S. Marine Corps who honorably served two tours in Iraq and Afghanistan. He later was diagnosed with post-traumatic stress disorder.
In the documentary, he recalled the carnage he witnessed in Iraq, including one encounter in which he briefly made eye contact with a young boy who had a severe head injury — Smarro described it as half the boy's head being gone.
"I didn't realize the toll it would take on me. I was 18 years old, and I remember I just shut down," Smarro said.
He said it wasn't until about three years into working with that San Antonio Police Department's Mental Health Unit that he realized the hypocrisy of helping people with mental illness while not seeking treatment for himself.
"Once I started finally going into treatment myself, it really opened my entire life because I was now learning a new skill on how I can process trauma — I mean years and years of trauma," Smarro said.
"I was taking those same skill sets that I was learning in therapy and using them when I was at work. I have no doubt as to why I became very good at my job as a mental health officer: It was because I was doing a lot of the work at the same time that I was then showing up to work and providing people with these different resources."
'What do I do?'
Stevens and Smarro no longer work as police officers but still are passionate about educating others about mental health.
Stevens travels the country leading other police departments in crisis intervention training, while Smarro is chief executive officer of a training and consulting firm he founded called SolutionPoint+. The company leads seminars and training programs to maximize mental wellness for clients.
Panelists who spoke during the discussion were Nicolle Eaton, program director for Sioux Rivers Regional Assessment and Stabilization Center in Sioux City; Sioux County supervisor Mark Sybesma; Iowa District 3A Court Judge Shayne Mayer; Sac County sheriff Ken McClure; Dr. Dayton Vogel of Creative Living Center in Rock Valley; and Dr. Jason Koelewyn of Sioux Center Health.
Koelewyn said if he were to get a patient in the emergency room at Sioux Center Health that's potentially suicidal, one of his first thoughts would be the person would take a long time to treat.
"And you have a busy ER, and you have other patients that makes that difficult and challenging," Koelewyn said.
Mayer discussed how messy the legal process can look when it comes to determining if a person should be involuntarily committed to a treatment facility. The process typically involves having family members fill out an affidavit to then have a judge decide if the person should be committed.
"That's how they're supposed to come in. How they come in is at 2 a.m. law enforcement gets called to a domestic and you find out that someone is actually in crisis and what do we do with this person in crisis? The spouse doesn't want them to go to jail, they just want them to get help. And now you have a law enforcement officer sitting there going, 'What do I do?'" Mayer said.
Iowa Code allows for law enforcement or other professionals to call a judge to request a 48-hour hold, where the person in crisis could be placed in a hospital or emergency room for two days to receive an evaluation.
Sybesma, who also sits on the governance board for Sioux Rivers Mental Health & Disabilities Services, discussed the challenges of mental health resources in the region. A particular obstacle is providing an access center that would serve the 100,000 people that reside in the mental health region.
"For one thing, there's not a lot of people that necessarily need those services, so from a financial standpoint it's sometimes hard to justify providing a facility that's a half a million dollars, for instance, and staffed by several people," Sybesma said. "That's hard to do in a region our size."
Vogel meanwhile discussed what goes into assessing someone who is suicidal, homicidal or has a mental illness.
"I'd like to tell you it's an exact science, but it's not. There is a checklist of factors that you explore with people," Vogel said.
He said there are individual factors that can change how a person might experience mental crisis, such as their age, gender and whether or not they are having passive or active thoughts about suicide or other types of harm.
Vogel also echoed Stevens and Smarro's point about the importance of establishing a connection with people.
"People tend to assess a therapeutic encounter as successful when they believe that encounter was genuine and that there was a sense of warmth to the person that I was engaged with and that they provided some level of hope," he said.