ORANGE CITY—Presidential candidate Elizabeth Warren called for sweeping changes to the U.S. economy and political system at a town hall Friday morning at the Prairie Winds Event Center in Orange City.
The 70-year-old Democratic U.S. senator from Massachusetts addressed a crowd of about 275 people, laying out a progressive agenda that would include fighting corruption in Washington, D.C., canceling student loan debt and providing free education at public colleges and universities.
Warren spoke about her personal background, such as how she was born in Oklahoma and grew up in a low-income family with three older brothers who served in the U.S. military.
Her mother had never worked outside the home until Warren's father had a heart attack and was not able to work for a long time. To keep their house and pay for household expenses, Warren's mother got a full-time, minimum wage job answering phones at Sears.
"That minimum wage job saved our home. More importantly, it saved our family," Warren said.
She said at that time, a full-time, minimum-wage job was enough for a family of three to live on.
"Today, a full-time, minimum-wage job in America will not keep a mama and a baby out of poverty. That is wrong. And that is why I am in this fight," she said.
Warren taught as a special-needs public school teacher before later attending public law school and eventually becoming a law professor and U.S. senator.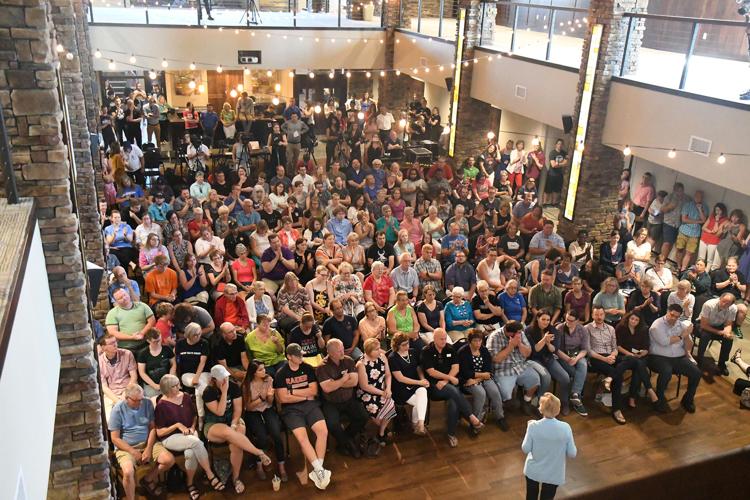 She said one of the main problems in the federal government is corruption and the influence of wealthy corporations on public policy.
"Washington works great for giant drug companies, just not for people trying to get a prescription," she said. "So it is time for us to fight back."
Warren said she has introduced "the biggest anti-corruption bill since Watergate," which would, among other provisions, sharply limit corporate lobbying and reduce the potential for conflicts of interest among public officials with regards to their connections in the private sector. She also would require all people running for public office to disclose their tax returns online, which Warren has done on her campaign website.
Another central part of her policy agenda would be enacting "structural changes" to the economy.
Those changes would include enforcing antitrust laws, empowering labor unions and passing a wealth tax on the top one-tenth of the top 1 percent of earners in the country. Warren explained the wealth tax would not impact the first $50 million people earn, but it would tax 2 cents for every dollar above that point.
With money generated from the wealth tax, Warren said she would pay for universal child care for children up to 5 years old and universal preschool for 3- and 4-year-olds. Additionally, she would cancel student loan debt and provide free-tuition education at technical and community colleges and public universities.
The third part of her agenda would be to protect democracy in the country by supporting a constitutional amendment guaranteeing the right to vote for all U.S. citizens, rolling back voter-suppression laws and overturning the 2010 U.S. Supreme Court decision, Citizens United.
The town hall drew a diverse crowd of people, many of whom had a positive reaction to what Warren said.
"I love Elizabeth Warren," said Norelia Martinez, an 18-year-old student who attends Iowa State University in Ames and studies political science.
Martinez said she likes how Warren came across as relatable by talking about her family's background and enjoyed hearing her speak about making life easier for working people.
Warren's message also resonated with Erica Okine, an 18-year-old from Sioux City who said she plans to vote Democratic in 2020.
"I really liked how she talked about how the government, like Washington, should work for people and not for big corporations," Okine said.
Caroline King, 58, said she made a commitment to see all of the Democratic candidates in person, which is why she drove from Ankeny to hear Warren speak.
"She connected well with everybody and those personal stories were really compelling," King said.