SHELDON—Coming off his unsuccessful run for Iowa's 3rd Congressional District, Des Moines businessman and community organizer Eddie Mauro is back on the campaign trail to challenge U.S. Sen. Joni Ernst (R-Iowa) in 2020.
Mauro stopped by Iowa Information Publications office in Sheldon on Friday, July 5, to share why he wants to unseat Ernst.
He thinks the U.S. government, and the Senate in particular, is broken due to the influence of special interest groups.
Mauro took aim at Ernst, who he said has sold out Iowa to large, corporate interests.
"She represents special interests and big industry and folks like the Koch brothers, and it's not representative of the people of Iowa from the outset," he said. "So I'm running to make sure that somebody can really stand with the people of Iowa and be a people's senator."
Mauro, who runs an insurance business based out of Des Moines, lost the Democratic primary for U.S. House of Representatives in 2018 to Cindy Axne, who later defeated then-Rep. David Young.
The 56-year-old said he thinks his run for U.S. Senate will be different because he entered this race sooner than he did for the U.S. House race. He also thinks he will be a more successful statewide candidate than a 3rd District candidate because his insurance company has done business in all 99 Iowa counties.
Mauro previously has worked as a teacher and a community organizer. He is a founding member of A Mid-Iowa Organizing Strategy (AMOS), a Des Moines-based organization involved in social justice work.
Although he lives in Des Moines, Mauro said he has lived and worked in rural Iowa communities.
"Rural Iowa, these rural communities are very, very important to me because that's where my mom's from, it's where I started my teaching job, it's where I do a lot of business. And I want to keep these communities open and vibrant for the next generation," he said.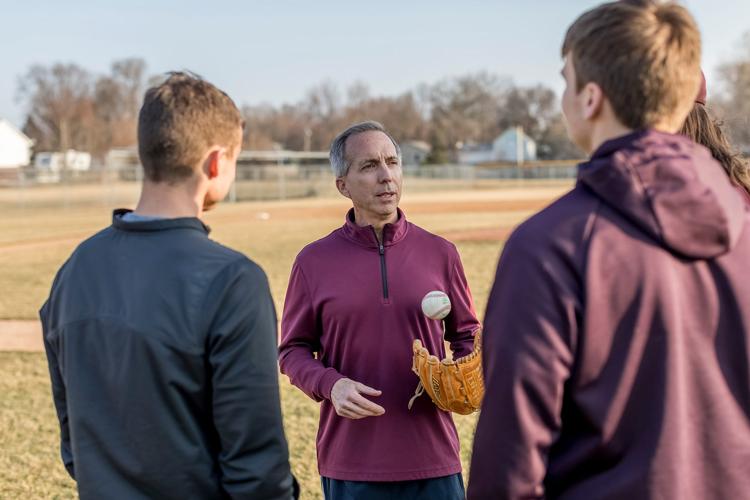 Among the policy issues he discussed were health care, education and climate change.
Mauro said he wants everyone to have access to quality, affordable health care. To do that, he would support expanding the Affordable Care Act and adding a public option to the health insurance market. He also wants to find a way to expand Medicare Supplement Insurance for people still lacking insurance.
He also voiced concerns about the potential merger between UnityPoint Health and Sanford Health that was recently announced. He echoed comments U.S. Sen. Charles Grassley (R-Iowa) has made about the merger, saying it could drive up health-care costs as a result of corporate consolidation.
Regarding education, Mauro said his experience as a teacher in public and private schools gave him insight into the struggles teachers face and would help him when it came to shaping education policy.
He mentioned Iowa's suburban schools are doing well compared to the urban and rural schools, which have struggled to receive sufficient resources.
"Everybody should get a quality education regardless of their ZIP code," he added.
Of all the topics important to Mauro, he said climate change is the most urgent because it impacts people in all communities and bleeds into other policy areas such as agriculture and national security.
"Every national event that I go to, the most well-attended committee meeting is about climate chaos. We're seeing more wind damage, more hail damage, more flood damage, more fire damage across the country and across the globe in the last 20 years than we've seen almost since the beginning of modern insurance," he said.
Mauro said the United States should take a lead on driving down carbon emissions and creating jobs in renewable energy, especially in places like Iowa.
In addition to policy, Mauro said he has talked with people on the campaign trail about how his religious faith informs his world view.
"I'm a Catholic with a Jesuit bent: Social justice, economic justice, environmental justice," he said. "I'm looking forward to come up in communities like this and talking to fellow people of faith about what how our faith calls us to helping people more and judging people less. And I think that's a message that will resonate up in these areas."
Mauro is competing in the U.S. Senate primary against Des Moines businesswoman Theresa Greenfield and Indianola lawyer Kimberly Graham. The Democratic primary will take place June 2, 2020.