ASHTON—The commander in chief was in Iowa on Tuesday, and while another ethanol facility was preparing his arrival, the Ashton plant had to settle for different visitor.
"I'm sorry you're stuck with me instead of the president," said U.S. Rep. Randy Feenstra (R-Iowa), settling into his seat.
President Joe Biden an­­nounced Tuesday, April 12, his ad­­min­­istration was temporarily ex­­panding E15 biofuel sales through the summer season. To make the announcement, he traveled to the POET Biorefining location in Menlo, a short drive west of Des Moines.
The move comes with broad support from the establishments of both sides of the aisle. Republicans, such as Feenstra, say selling higher blends of ethanol gasoline will bolster the agriculture industry. Democrats, such as Biden, add that the immediate effect will lead to more affordable fuel as gas prices shot up in late February.
"I'm here because homegrown biofuels have a role to play right now — right now as we work to get prices under control and reduce the cost for families," Biden said.
All together
A couple hours before the president spoke, the congressman from Hull led a roundtable attended by a dozen POET-Ashton employees and a few local business executives.
"It's bipartisan," Feenstra said. "Congresswoman Axne on the other side, we work together on whatever we can do collaboratively. It's all about making sure this industry has a strong footing and continues to grow."
U.S. Rep. Cindy Axne, a Democrat from Des Moines, joined the president — who called her "one hell of a champion for you" — and she spoke before him in Menlo. The town of 350 is in her 3rd Congressional District, which borders Feenstra's 4th to the south.
About half the Iowa corn crop goes to ethanol production, made by companies such as POET, which runs 33 facilities from its headquarters in Sioux Falls, SD.
POET has contributed $10,000 each to Feenstra and Axne for the 2022 campaign cycle.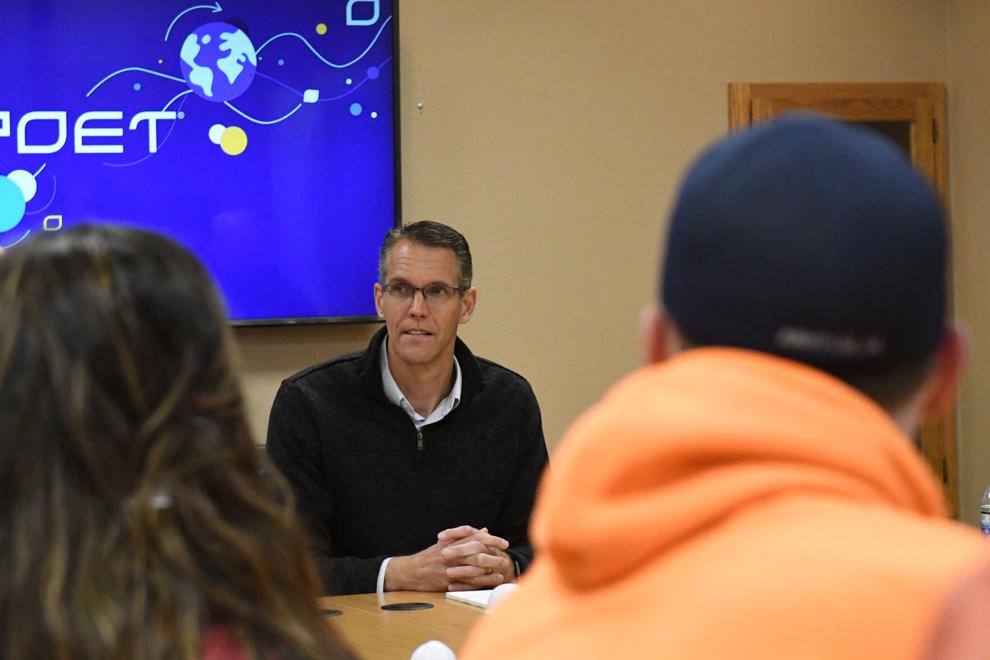 Brandon McClellan is in charge of the company's Ashton plant. He said it was encouraging to see relatively swift action from the federal government. A sign taped onto his office's front desk reads "Thank you, Mr. President for #E15now!"
"It's a big day for politics in Iowa and for POET today," McClellan said.
Fifteen percent ethanol used to be a seasonal sale, with the U.S. Environmental Protection Agency reasoning that the fuel pollutes more in the warmer months.
Former President Donald Trump tried to suspend that ban in 2018, but it got tied up in federal courts and the ban remained.
Biden did not touch it last year, though the White House calculus changed when gas costs surged after Russia invaded Ukraine, disrupting the energy supply chain and broader economy.
"I'm doing everything within my power by executive order to bring down prices and address the Putin price hike," Biden said of Russian leader Vladimir Putin who has controlled that country since the turn of the century. "Your family budget, your ability to fill up your tank, none of it should hinge on whether a dictator declares war and commits genocide half a world away."
Not so much
Feenstra praised Biden's move at the roundtable before speaking to his long-established opposition to electric vehicles.
He said the proliferation of EVs has been too aggressive and chided Biden for pledging to make his federal fleet all-electric. Feenstra argued that there will always be a need for motors powered by liquid fuel, especially in rural areas.
"That's what we're trying to push the administration on," Feenstra said. "That's why I'm so glad he's down here. Never once did he talk about it; he always talks about electric vehicles. We got to get him and the administration past that."
Feenstra went on to say the need for gas will not be met without biofuels, calling petroleum a "dead" industry. He said the Midwest can help bridge the gap. He also wants to see more research and development toward higher ethanol blends that can be used in regular cars and trucks.
As for E15, the Iowa House of Representatives passed a bill in early February — before the Russian invasion — that would mandate all gas stations to sell the blend by 2026.
The passage came with the support of Republican Gov. Kim Reynolds and a bipartisan 82-10 majority. But, like Trump's try to expand ethanol, checks and balances have halted passage so far in the Iowa Senate, where the GOP also has a majority.
A similar bill was spiked in the eleventh hour of last year's state legislative session as well. The stoppage has not blocked the market for biofuels.
Long term
POET-Ashton saw record production in 2021. When the COVID-19 pandemic first hit Iowa in the spring of 2021, the plant paused work and furloughed most of its workers. Since then, it has hired back every position and then some.
McClellan said the plant still is looking to take on a few more hands to keep up with demand and that his plant is well-positioned for E15 expansion.
"We're proud to say that," McClellan said. "We've gone through a lot of adversity, a lot of changes, and we were able to come out on the other side of it with a lot of positive goals while achieving those goals."
Success stories such as these demonstrate the power agriculture has politically and otherwise, Feenstra said.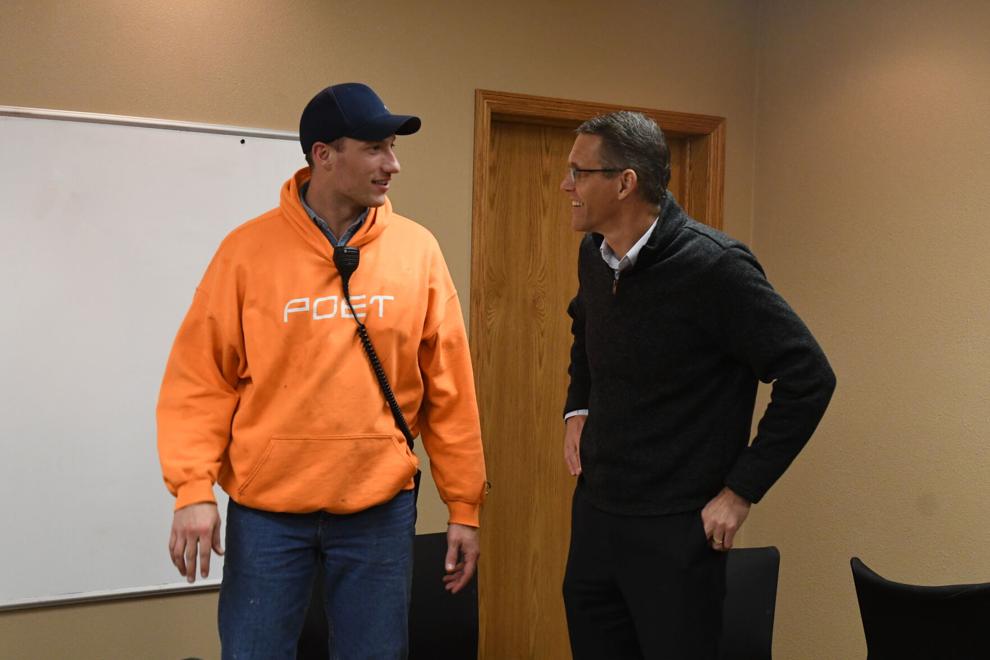 The congressman sits on the Agriculture Committee in the U.S. House of Representatives. He mused that the group is much friendlier than the Budget Committee, his other assignment, which he called the "bomb-throwing committee."
Despite Republicans being in the minority and unable to force policy decisions, Feenstra said he is regular talks with other pro-biofuels lawmakers and can move the needle.
"I want to be your voice. I truly want to be the leader in this area," he said.
The E15 expansion is not legislative though. The EPA is in Biden's wheelhouse.
Iowa attorney general, Democrat Tom Miller, formally petitioned the agency to rebroaden E15 sales earlier this month alongside Kansas attorney general, Republican Derek Schmidt.
"I grew up in a family, not a joke, where if the price of a gallon of gasoline went up, it was a conversation at our kitchen table," Biden said. "It mattered. It mattered with my mom and dad. It made a difference. We felt it."
According to the White House, about 2,300 gas stations sell E15 across the country. At least seven locations are in the N'West Iowa counties of Lyon, O'Brien, Osceola and Sioux.
In addition to the temporary expansion of summer sales, Biden announced a $700 million federal investment in biofuels. That money is set to go directly to manufacturers such as POET and a list of program beneficiaries is scheduled to be announced at the end of April.
"This industry has a role to play in a sustainable energy future," the president said.
Pipeline push
McClellan said although he is pleased with Tuesday's news, he worries the political sands could shift again.
"Any time you talk about policy or politics, we get real excited about things and see some changes, and then we may have some battles and policies that change it back. That's constantly how it feels, this back and forth the whole time," McClellan said. "There are positive and negative policies that take place. Right now, this is one of those positive instances, then we'll have some new battles we'll have to face."
One of the battles on the docket is carbon dioxide pipelines. The multibillion-dollar projects need to dig through hundreds of miles of Iowa farmland, hooking up ethanol plants to a system that would lower their carbon footprints.
POET is not a partner of any of the carbon dioxide pipelines.
One pipeline, run by Summit Carbon Solutions of Ames, already is pending state clearance. Construction could start as early as next spring, but a vast coalition of Iowans opposes the likely use of eminent domain to complete the private projects.
A pair of recent polls reflect the Hawkeye State's mixed opinions on ethanol production.
A Public Opinion Strategies poll found more than 90 percent of Iowans in both parties think the ethanol industry is important to agriculture and the state's economy. However, 80 percent are opposed to using eminent domain to build carbon dioxide pipelines, according to a separate poll from Change Research.
For his part, Feenstra is largely staying out of the issue, and he said — when he was away from the roundtable — that it's up to individuals to figure out the pipeline problem.
"It's so important that these conversations have to be held between the pipeline organization and the farmer and the producer. They've got to negotiate what's best for them," Feenstra said. "The bottom line is government has to stay out of it and it's got to just be between the pipeline and the people where the pipeline is going."
Summit's parent company, Summit Agricultural Group, is Feenstra's second-largest donor, giving $14,100 to his 2022 campaign.
The visit to Ashton was one of several the congressman had that day, checking off Osceola County on the 39 County Tour of his congressional district. His itinerary also included stops in Sheldon, Rock Rapids and Spirit Lake.
Feenstra said he is enthusiastic about the federal movement in favor of biofuels, and he looks forward to growing that support in the future.
"This is who we are. This is the Midwest," he said. "They have to embrace E15."