ROCK RAPIDS—Diversified Technologies Inc. officially secured public support for its multimillion-dollar expansion project Tuesday, Jan 24.
The Lyon County Board of Supervisors signed off on a contract pledging its financial support for the manufacturer's new facility on its campus near George. DTI owns the Sudenga and Dur-A-Lift brands.
County economic development director Steve Simons joined DTI plant manager Mike Domnick at the board meeting.
"It's great to see them making the investment here in Lyon County and us helping them make that come true," Simons said.
He explained that DTI also is getting assistance from the Iowa Economic Development Authority. To be eligible for state funding, however, the company needs what is called a "community partner" to show there is local buy-in.
Supervisors approved tax increment financing in July, eliminating the levy burden on the project, which qualifies the county as a community partner.
The TIF is worth up to $800,000 in taxes abated, but Simons said DTI is not likely to reach that figure.
TIF deals are usually be­­tween governments and businesses before starting a project. For the duration of the TIF, the government will ignore the new tax value created by the business' improvement, such as a new building. A TIF's duration can be set for a number of years or a dollar amount of would-be taxes abated.
Tuesday's contract signing was the final local stamp of approval. With the company headquartered in his district, supervisor Cory Altena made the motion.
"This is really exciting. This is one of the bigger projects in Lyon County in a long time," Simons said. "We have a long-term business making a long-term investment in our county and that's great."
DTI will have a new 150,000-square-foot manufacturing facility. Budgeted at $8 million, it will streamline work on Sudenga's grain and seed equipment and Dur-A-Lift's bucket trucks.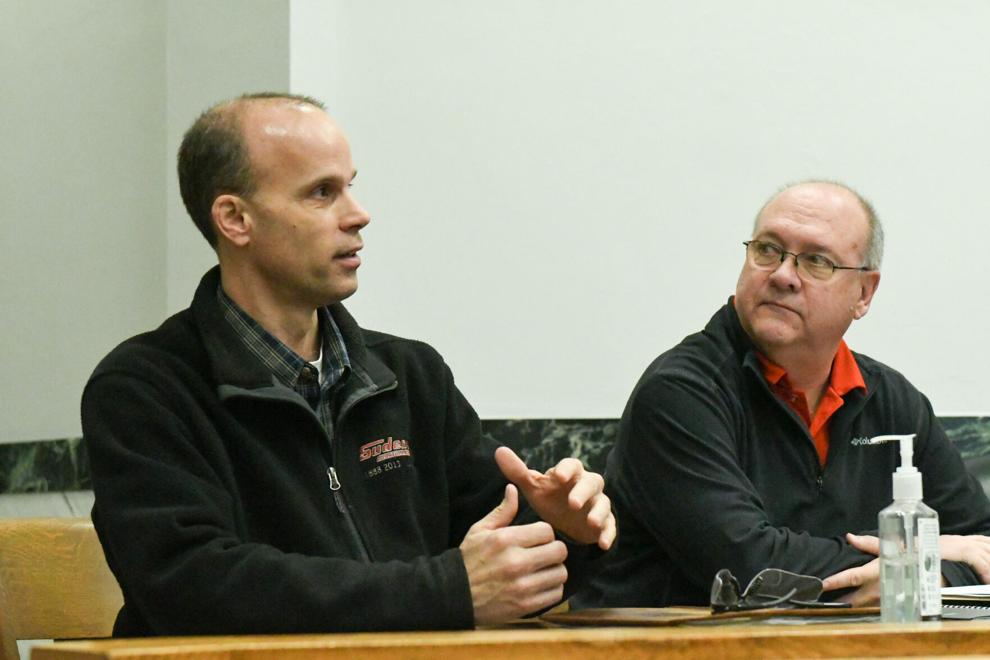 Domnick said there is a lot of room to improve efficiency at the plant northeast of George. There are 17 buildings scattered across the campus. The diffusion complicates assembly and storage.
"That's what we're focused on. Any one-and-done we can do, we're focused for the future on that," Domnick said.
DTI is the second-largest employer in Lyon County — behind Grand Falls Casino & Golf Resort northwest of Larchwood — with about 200 workers. It also is one of the oldest ventures in the area, tracing its founding all the way back to 1888.
The new facility aims to be fully online sometime next year.
In December, DTI president Chuck Sjogren told The REVIEW the building will significantly expand the company's service capacity.
"Imagine what we can do with just a little more wiggle room. A lot of times, we're playing musical chairs without the open chair," Sjogren said.
At Tuesday's meeting, Domnick said DTI plans for about 10 new jobs coming out of the publicly supported project.
"'Really, only 10?' Well, if we can get more than 10, we'll probably get more than 10. But our focus is efficiency," Domnick said.
The plant manager added the facility will run on geothermal energy and possibly add solar panels later on.
"We're trying to set it up so we have long-term efficiency in the plant," Domnick said.