Development team also provides insight
SANBORN—Downtown development experts recently provided insights on the strengths and weaknesses of downtown Sanborn.
Three specialists — Jim Engle, director of the Iowa Downtown Resource Center; Tim Reinders, design specialist for Iowa Economic Development Authority; and Breann Bye, executive director of 6th Avenue Corridor of Des Moines — visited Sanborn Monday-Wednesday, Aug. 20-22, to conduct a downtown assessment.
The assessment was sponsored by Sanborn Savings Bank, the chamber of commerce and the city.
On Wednesday, Aug. 22, the experts gave a presentation of their findings at the Sanborn Community Building.
"We were impressed by the community amenities," Engle told the audience. "We thought that the housing stock in Sanborn was particularly nice. We were also amazed at the number of really good gardeners."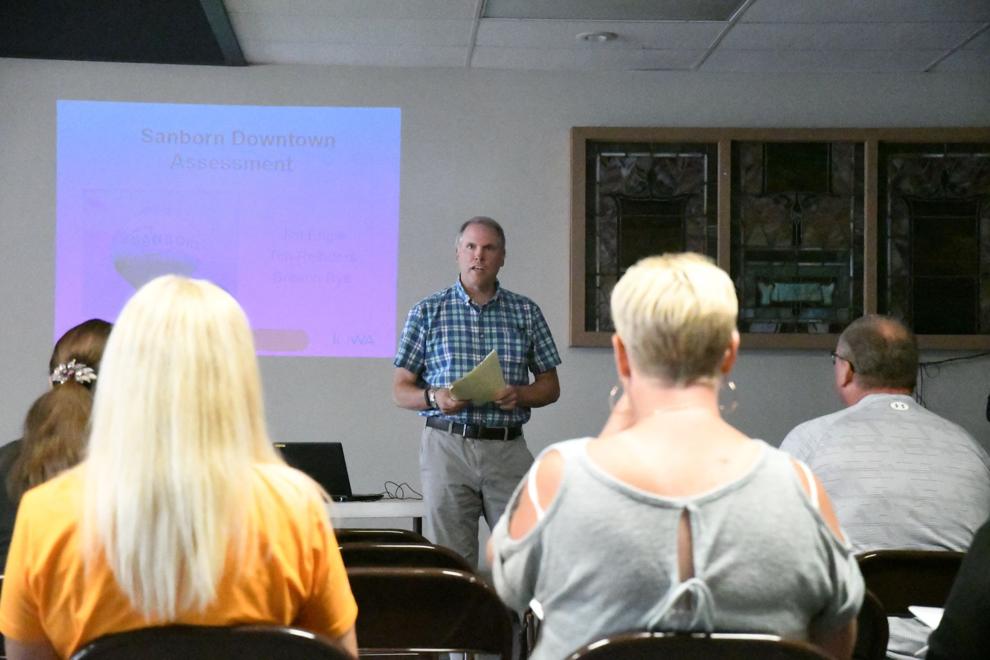 One measure of success for a community these experts looked at was how residents spend their money locally. By considering averages that a community of Sanborn's size — population 1,400 — spends on items like groceries and retail, and comparing that to business sales, some strengths and weaknesses can be identified. Reinders referred to these as surpluses and leakages.
Auto parts, building materials, groceries, florists and lawn and garden equipment were among the surpluses, or categories that performed higher than average.
"You're actually almost double the average of what a grocery store does in a town this size," Reinders said. "That tells you the grocery store is doing pretty well."
A lack of retail stores and general merchandise was an area that community members voiced concern about and the data confirmed.
"They brought to light a lot of things that I saw needed improvement," said C.J. Schroeder, retired Sanborn resident. "I thought that it was a wake-up call that was positive for the town."
Many of the issues facing downtown Sanborn are common, according to Engle.
"We felt that perhaps Sanborn is a bit below average in the activity in the community, especially in the downtown area," he said. "What we would like to see you do is start off with a few smaller events. I'd do them like a promotional series."
Other issues discussed were store hours, business signs and the general upkeep of buildings downtown.
"You're doing some amazing things downtown. You have some really great moments," Bye said. "We think that you have an opportunity to build on those moments of success and do even more."
The complete report of the assessment findings will be sent to organizer Mackenzie Jenness, a loan officer at Sanborn Savings Bank, in about six weeks. She will distribute the report to the community digitally.
"These were all things that we're all aware of. It's just a matter of how do we do anything about it," Jenness said. "We want to get people involved and see what we can do for Sanborn — making downtown special."