SHELDON—Mark Trego apologizes for the pun, but he thought Downtown Grounds made for the perfect fusion with his other downtown Sheldon business that shares a space with the new coffee shop.
Downtown Grounds opened Monday, July 6, and the coffee shop is owned by Trego and his brother-in-law/business partner, Chris Nuckols.
The store is open 7 a.m.-5 p.m. Monday-Friday and 9 a.m.-3 p.m. Saturday and Sunday.
Nuckols and Trego took possession of the former Marigold's building downtown in October and converted the clothing, home goods and knickknack store into Fusion Workspace, Sheldon's first co-working space.
"Turned out to be a pretty good name," Trego quipped.
Nuckols and Trego want the two halves of their business to bounce off each other although the coffee shop has taken precedent recently after being placed on the back burner while they got Fusion up and running.
"We've been working on it over the last month or so," Trego said. "The space was pretty much the way it is; we just needed to get this equipment in here and flooring and stuff like that."
Since buying the building, Nuckols and Trego have been remodeling it while also renting out space to other people for the Fusion side of things.
Opening a coffee shop in the front part of the building that used to host Marigolds' counter area also was part of the duo's long-term vision.
When the Village Northwest Unlimited announced it was closing Fantasia Gift Shop in February, the pair scooped up its coffee equipment as well as some of the employees including popular barista Lori Meendering.
Christine Reiter, a former in-home child care provider from Sheldon, is the manager of Downtown Grounds.
Her day care was shut down due to the coronavirus and after 13 years of doing that, she was ready for a change and accepted the offer when Nuckols approached her.
"My kids are all older and they are all doing their own thing so it was time," Reiter said.
Downtown Grounds gets its coffee beans from The Lantern in Sibley and a bevy of caffeinated beverages are available as well as smoothies.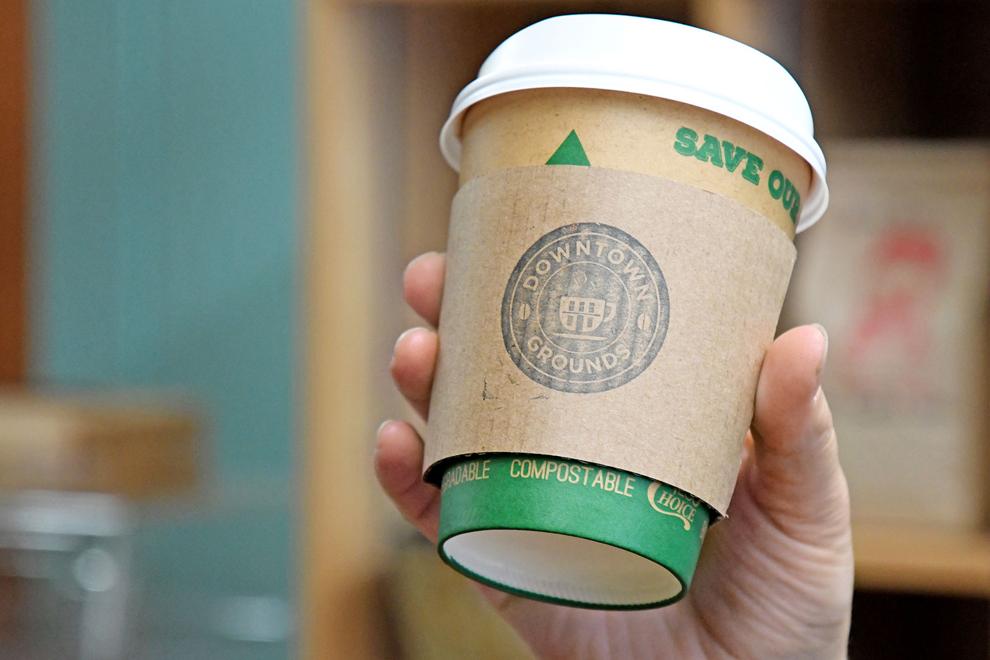 Reiter and her crew also offer baked goods, salads, sandwiches, soups, wraps and ice cream.
"A little something for everybody," Reiter said.
Downtown Grounds is on the Joe app and customers can place orders through it or pickup or delivery. Text "coffee" to 474747 to download the app.
Surprisingly, Reiter said it was not that big of a learning curve going from running a day care to working at a coffee shop.
"Just getting out and being among people my own age again," she said. "Working with the state, I had menus and I had 10-15 kids to feed a day. It's just getting everything up and ready to roll."
While Reiter has the organizational and food parts down, she and Trego noted Meendering and the other Fantasia transplants will come in handy for the coffee side of things.
"It's going to be a learning curve for kind of everyone," Trego said.
So besides synergizing with Fusion, Trego laid out the grand vision for Downtown Grounds.
"We wanted a coffee shop and access to healthy food for people that are using Fusion — that's kind of the main concept — and then obviously we wanted this to be open to the community as well," Trego said.
"We saw a need for healthier food options and a coffee shop, something that's open on a Sunday and place where people can go and hang out that's family friendly as well and anyone can come in at any age."